2022-04-07 17:24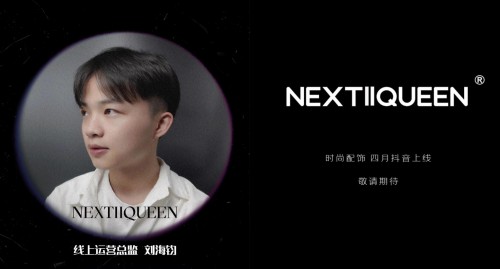 Small character
Light luxury fashion jewelry Nextiiqueen will launch a brand flagship store in Douyin this month, which is a brand new attempt by the brand in marketing channels. The author learned before that Nextiiqueen just released its new spring series in March. It is worth noting that the series is mainly based on the precious metal metal. The design of exquisite, luxurious, and niche in design. At the same time, the new model was found on the official website of its brand to open the official website purchase channel. Users can place an order through the official website to directly taste the new spring new models.
For this reason, the author contacted the brand as soon as possible, and Mr. Liu Haijun, the director of online operation of Nextiiqueen, accepted the media interview: "I want to ask, what kind of surprise will you think the NEXTQUEEN Douyin is launched? "The reporter asked.
"After this Douyin flagship store is launched, the official website of Nextiiqueen will be connected to the official Douyin store, and the company will conduct some promotion activities in the Douyin flagship store. It has a surprise price. And this time the Douyin flagship store will add a series of value -added activities such as one and one certificate, freight insurance, SF free shipping, seven days without reason. Corresponding protection. "Mr. Liu Haijun, the director of online operation of Nextiiqueen, said in an interview with the media. "Our goal is to give Nextiiqueen a certain reputation and influence in the shortest time."
"I want to know how long will this surprise NEXT QUEEN last?" The reporter asked.
"We have developed a detailed strategy. We will achieve leapfrog development within one to three years. The Line of Douyin is the first step to play a good brand strategy and strive to achieve the best results. "
The reporter continued to interview some other issues. During this period, the majority of partners in the sea issued an invitation, hoping to cooperate and win a win -win situation!
About nextiqueen
Nextiiqueen fashion brand, all brands of Shenzhen Dingfeng Baiyi Trading Co., Ltd., were established in 2019. It is the leading female light luxury fashion brand designed, established, and operated by the young beginner from Shenzhen. Its products include fashion accessories and fashion women's clothing. The concept is that after defining women's self -confidence, courage, with high and passionate support to support their own "Queen Crown" on each side of the journey of life.