Sichuan online reporter Xu Denglin Xue Weirui text/photo
Four women, three flying needles and threads, and one responsible for miscellaneous work. In front of them were two long tables on which were several finished woven objects—Tibetan bowl bags.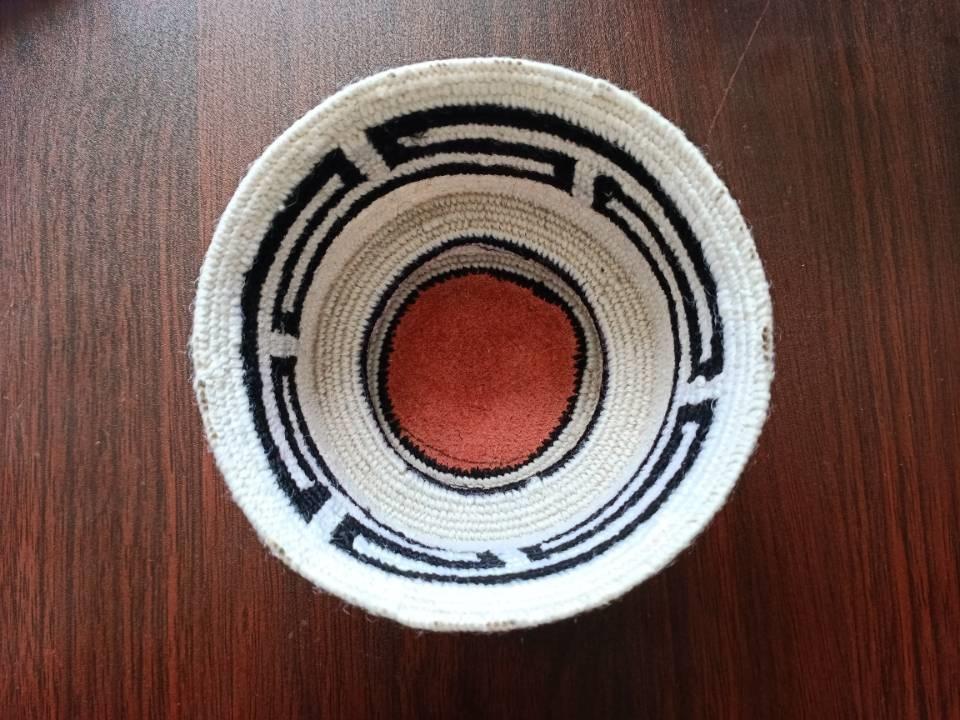 On October 26, in Xiaharama Village, Anqu Township, Hongyuan County, Aba Prefecture, Zhang Wenhao, first secretary, took reporters to the office of the village tourism association, pointed to the freshly made bowls and bags, and said: "This is full of dreams of people who have been lifted out of poverty and continue to increase their income." "
The woman sitting by the window, Zelang Tso, 33, had half woven a bowl bag in her hand. I saw her pinching the bowl in one hand and a needle in the other, and the needle with wool was wrapped around the bamboo fence on the edge of the bowl. "The size of the bowl and the pattern of the hook are all based on feeling." Zelang Tso said.
Zhang Wenhao said that before settling down, herders in the Hongyuan pastoral area lived in water and grass, and tents and furniture were easily damaged when they were transferred, especially bowls. The locals weave beef wool and wicker into bowl bags, and the bowls put into the bowls are not so easy to break.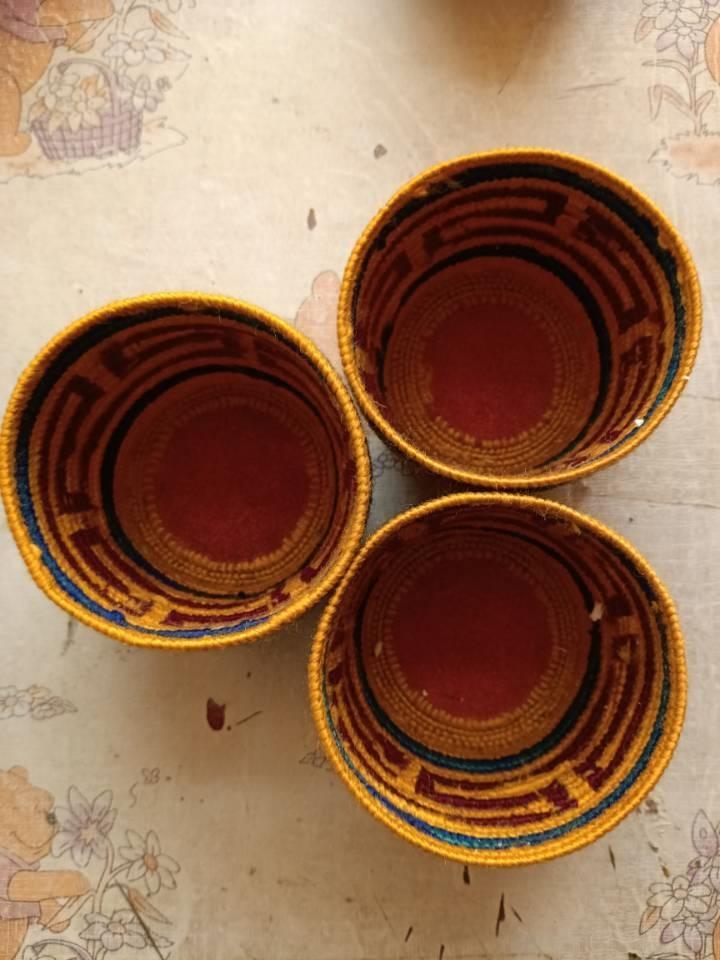 "Not only in our Hongyuan County, but also in the surrounding counties, bowls and bags were more prevalent in the past." Siraham, Director of the Culture, Art and Heritage Protection Unit of the Hongyuan County Culture, Sports and Tourism Bureau, said that bowl and bag weaving is part of the Aba Prefecture-level intangible cultural heritage project – Tibetan cow wool weaving technology, and in Hongyuan County, Lower Harama Village is the first place to pass on this intangible cultural heritage item alive and explore industrial transformation.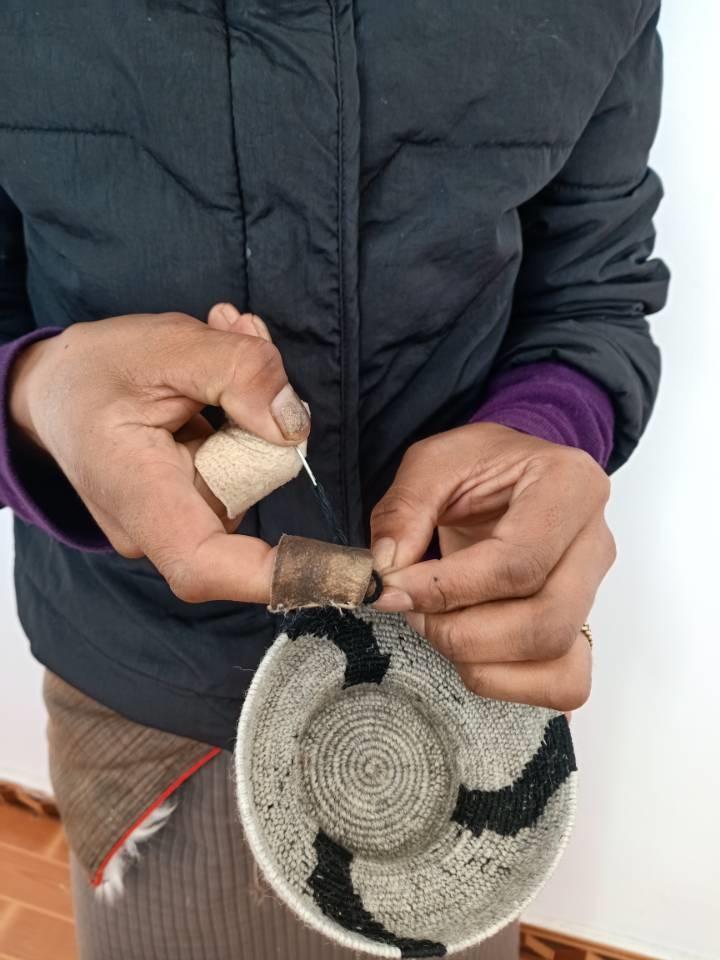 Lower Harama Village is a registered poor village with 236 households and 1,002 people, including 55 poor households and 176 people. "In 2017, the whole village was withdrawn from poverty." Zhang Wenhao said that the village plans to industrialize the weaving of bowls and bags, so that it will become a driving force for the poor people to continue to increase their income.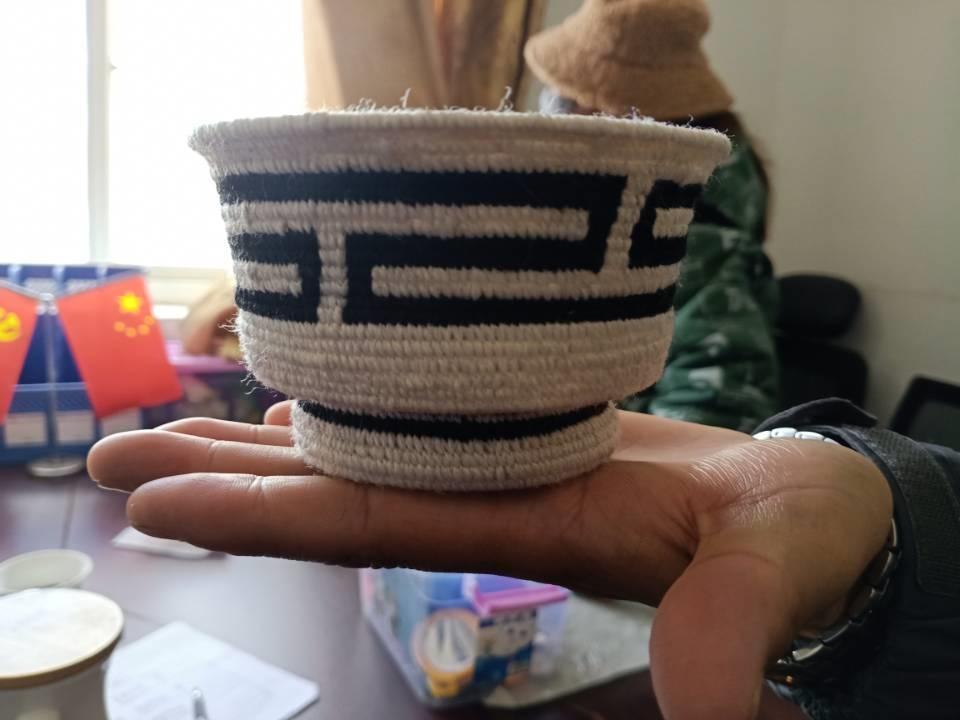 "I now rely on weaving bowls and bags to achieve flexible employment at home, with a stable income of 1,000 yuan per month." A few of Zelang Tso's fingers were wrapped in duct tape, and she said that the work was not tiring, but it hurt her fingers when it was cold.
The reporter saw a lot of various bowls and bags that had been packed in the warehouse in Lower Harama Village, colorful and very beautiful. There is also a price tag on it, and the price of large bowls and bags is more than 600 yuan, and the small ones are also more than 100 yuan. "Because there were no channels and markets, the sales of these bowls and bags were not good before, so there were not many poor households participating." Zhang Wenhao said that at present, Murakami has established Hongyuan County Good Handicraft Co., Ltd., which is responsible for the research and development, production and marketing of bowls and bags and other products.
In recent years, the weaving of bowls and bags in Lower Harama Village has undergone some improvements thanks to the efforts of the master of the craftsmanship, Pu Mo, such as changing the bowl tire rack from the former wicker to bamboo fence, so that the bowl is smoother, and the cow hair is changed to wool, and the raw materials are easier to obtain.
In June last year, cadres of the two committees of Xiaharama Village and representatives of the village were engaged in bowl and bag weaving to visit and study in Bamboo Art Village, Daoming Town, Chongzhou City, Chengdu. "They have many varieties of bamboo weaving there, and the degree of docking market is deep, which gives us great inspiration." Zhang Wenhao said that now, the village has also developed new products such as vases, fruit plates, drawer boxes, mobile phone covers, and key bags.