Source: Yangtze Evening News
October 29th,
A set of screenshots of a group of couples with children's watches aroused heated discussion among netizens.
It is outdated to send a ring with each other,
After 95, couples use the positioning function of children's watches,
Realize the sharing of the daily location of the two to prevent the other party from derailing.

Express your sincerity.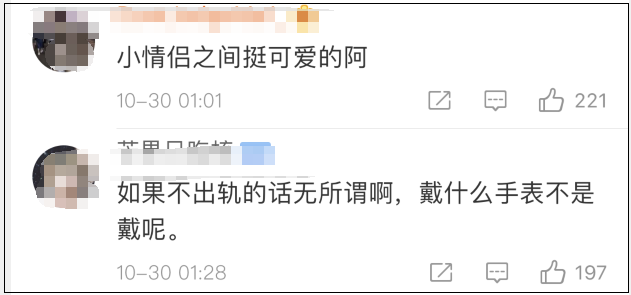 However, some merchants were interviewed and said:
The main customers were bought for children.
It is not unusual for couples to send watches, but this children's watch has a positioning function and can be monitored in real time. It is controversial. Netizens have different views on this. Some people think that people who have careful thinking in their hearts will feel horrible, and people who are bright and clear will feel very sweet and romantic.
Supporting netizens believe that: very childlike, very interesting, just be happy with each other.
Opposed netizens: Sooner or later without emotional trust.

Some parents said: Buying this watch for their children feels a monitoring. I do n't know what to think.
Some people call directly: This is the morbid love.
Some people say that girls have no sense of security as soon as they fall in love. In the matter of detecting, they are comparable to Holmes. Some netizens said that they once "turned tens of thousands of messages to find his@有" and "found derailment through Netease Cloud Music."

Review ↓

Netease Cloud Music ↓
Enter Ctrl+F ↓

For this reason, many young people said that it is really difficult to fall in love now.

Can the positioning function of the children's watch really prevent derailment?
What do you think?