I have recently received enthusiastic readers who recommend me to recommend watercolor tools,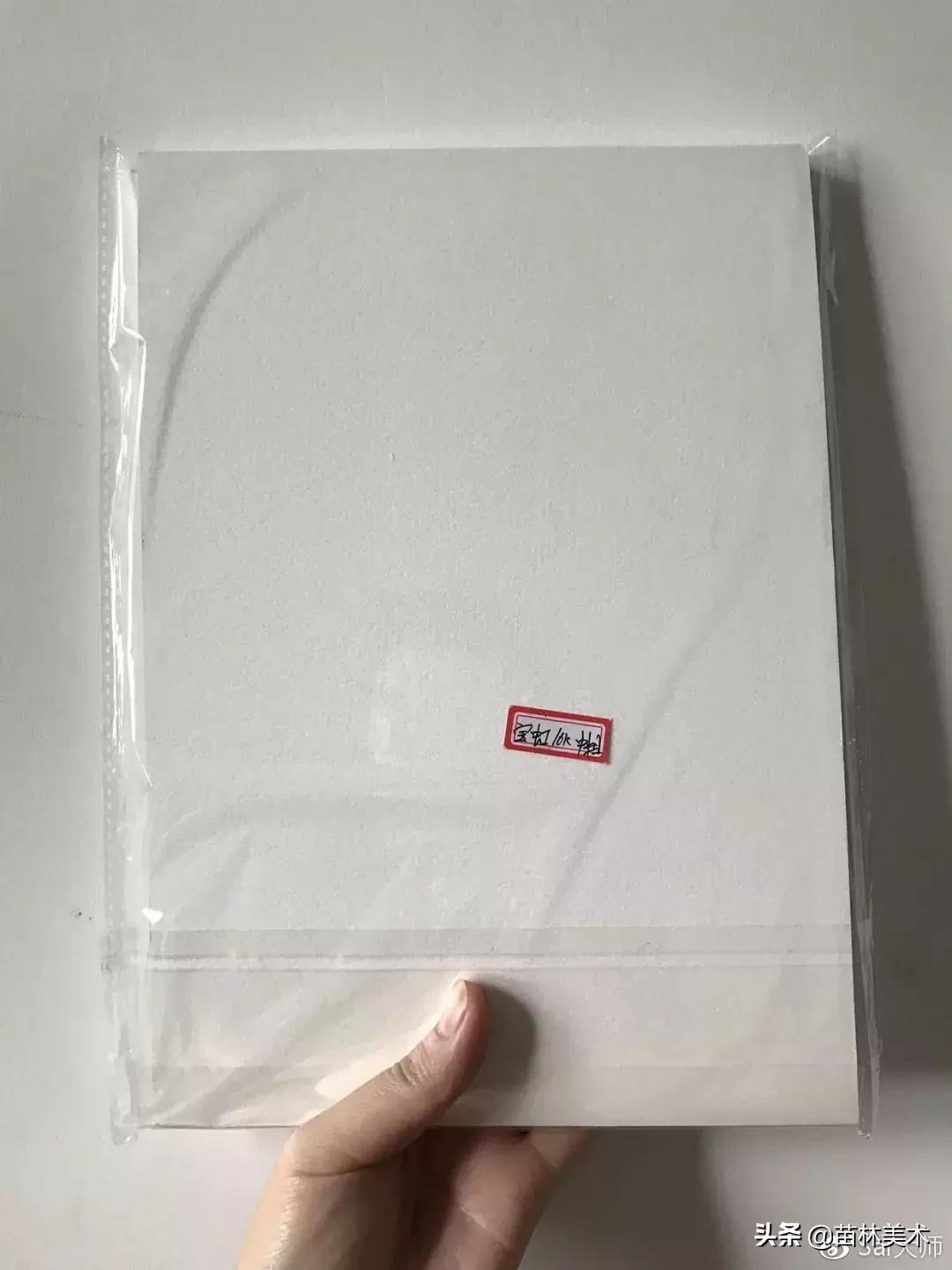 Because there are many things,
So sort out a tool introduction,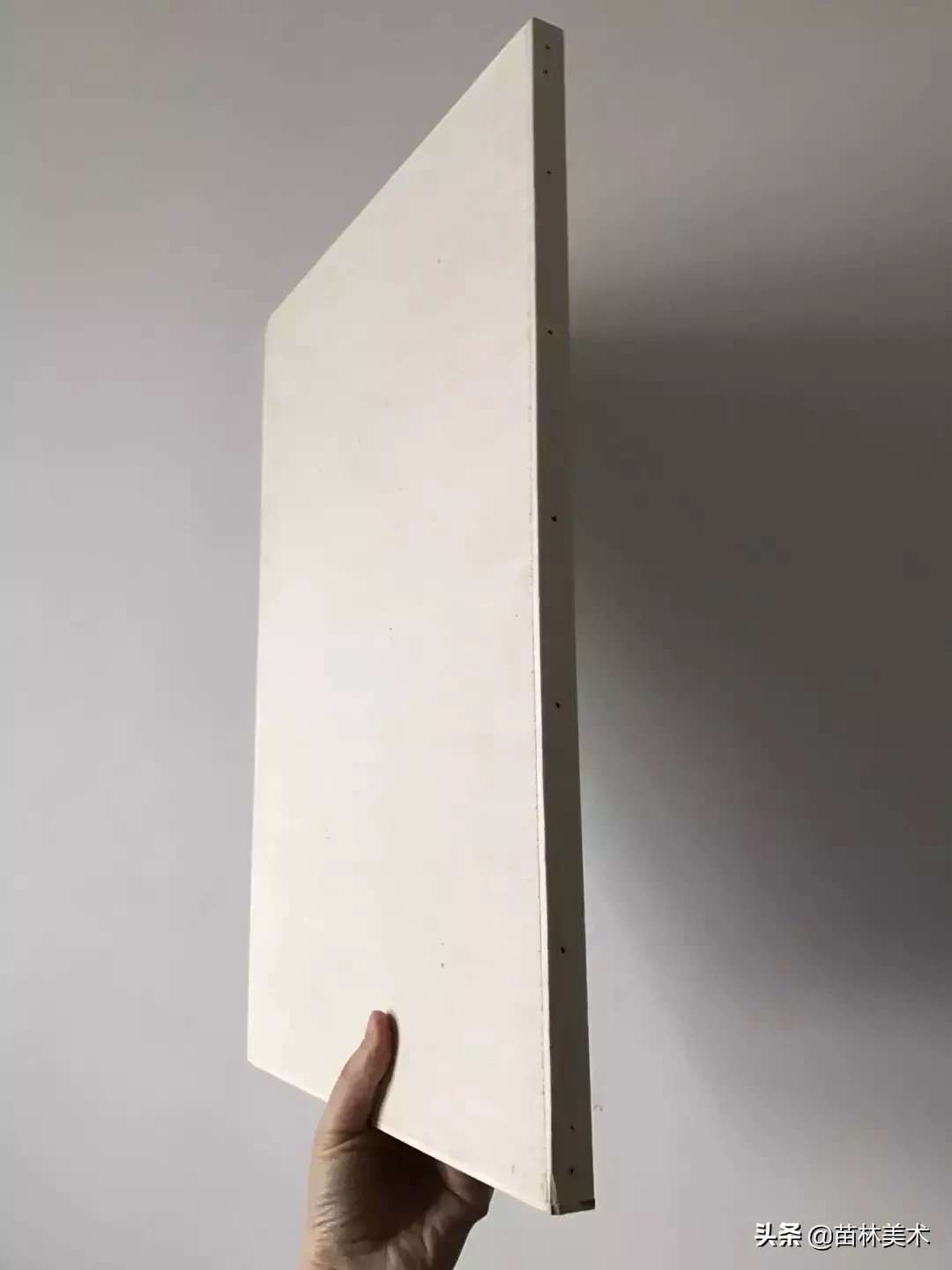 The content of this issue is very detailed,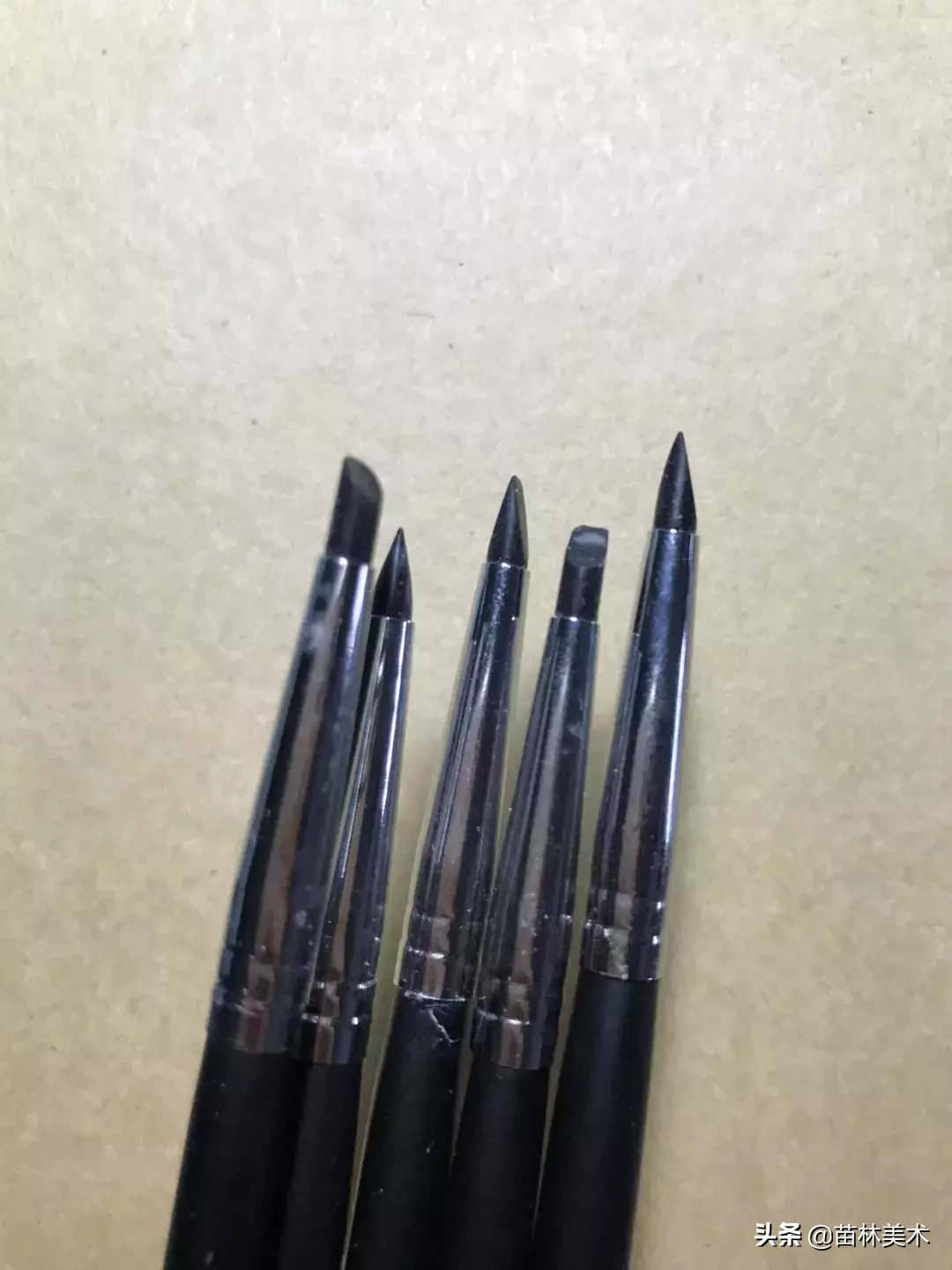 Please move the small bench,
Do not take notes!
Afraid of the little friends who can't remember for a while,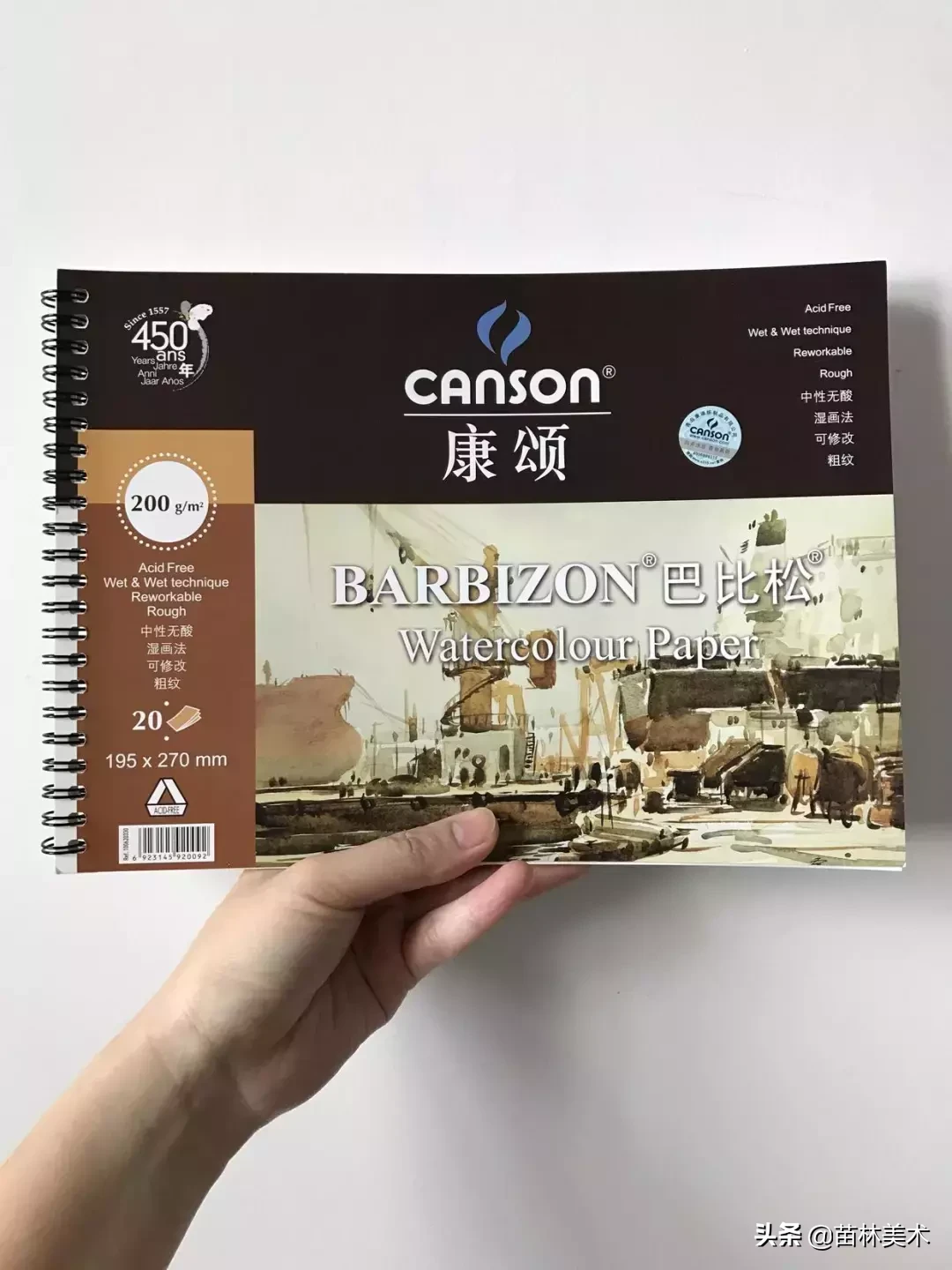 Can be collected slowly or retweeted slowly
More people who love watercolor watch
This way, everyone looks more convenient ~
Photo Township Tower, although he did not take everything!
Let's introduce it one by one ~~
1. Watercolor paper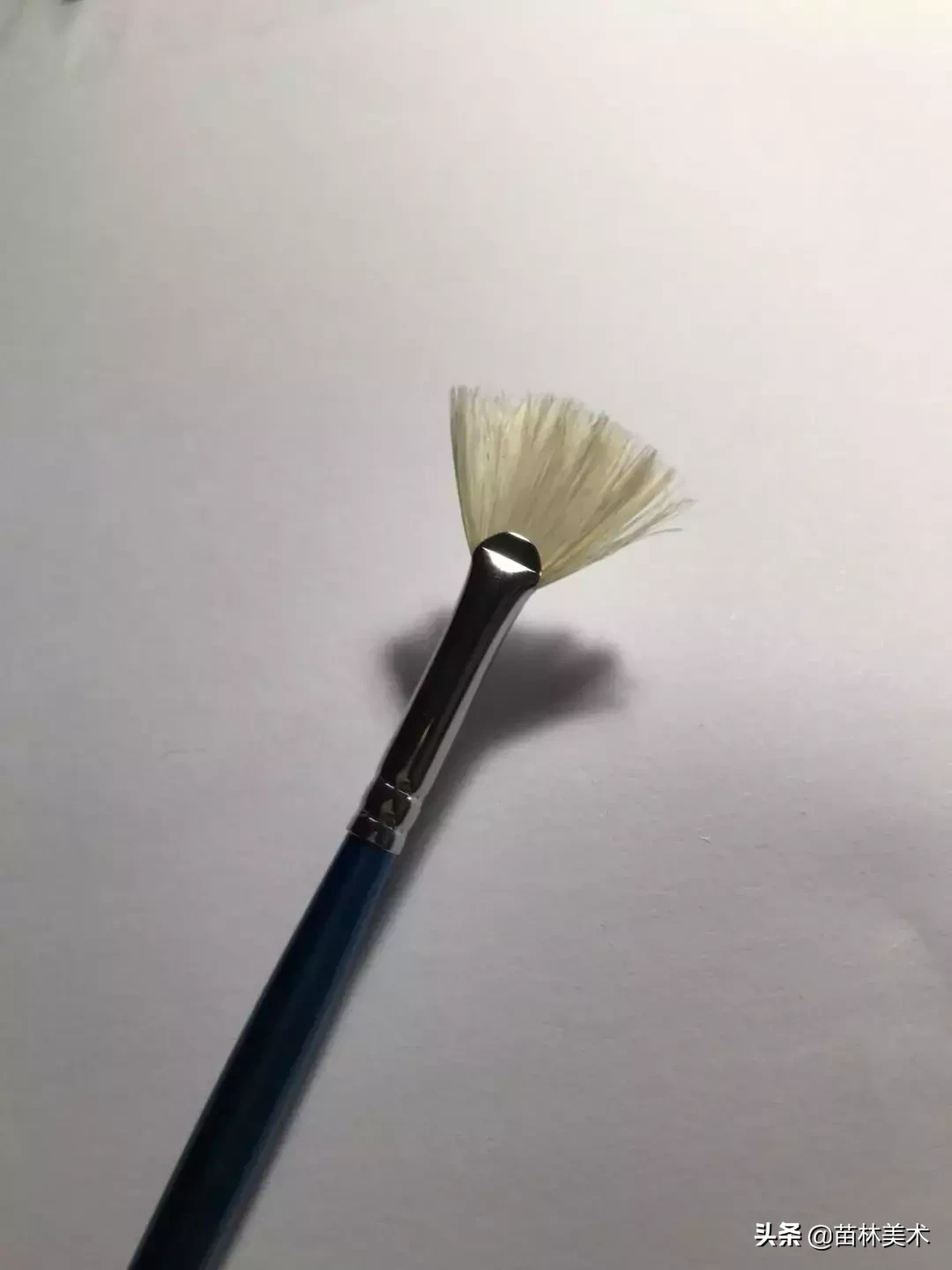 It is said that painting watercolors, paper is the most important, this is true. There is no good, using good pigments and brushes, it is also in vain!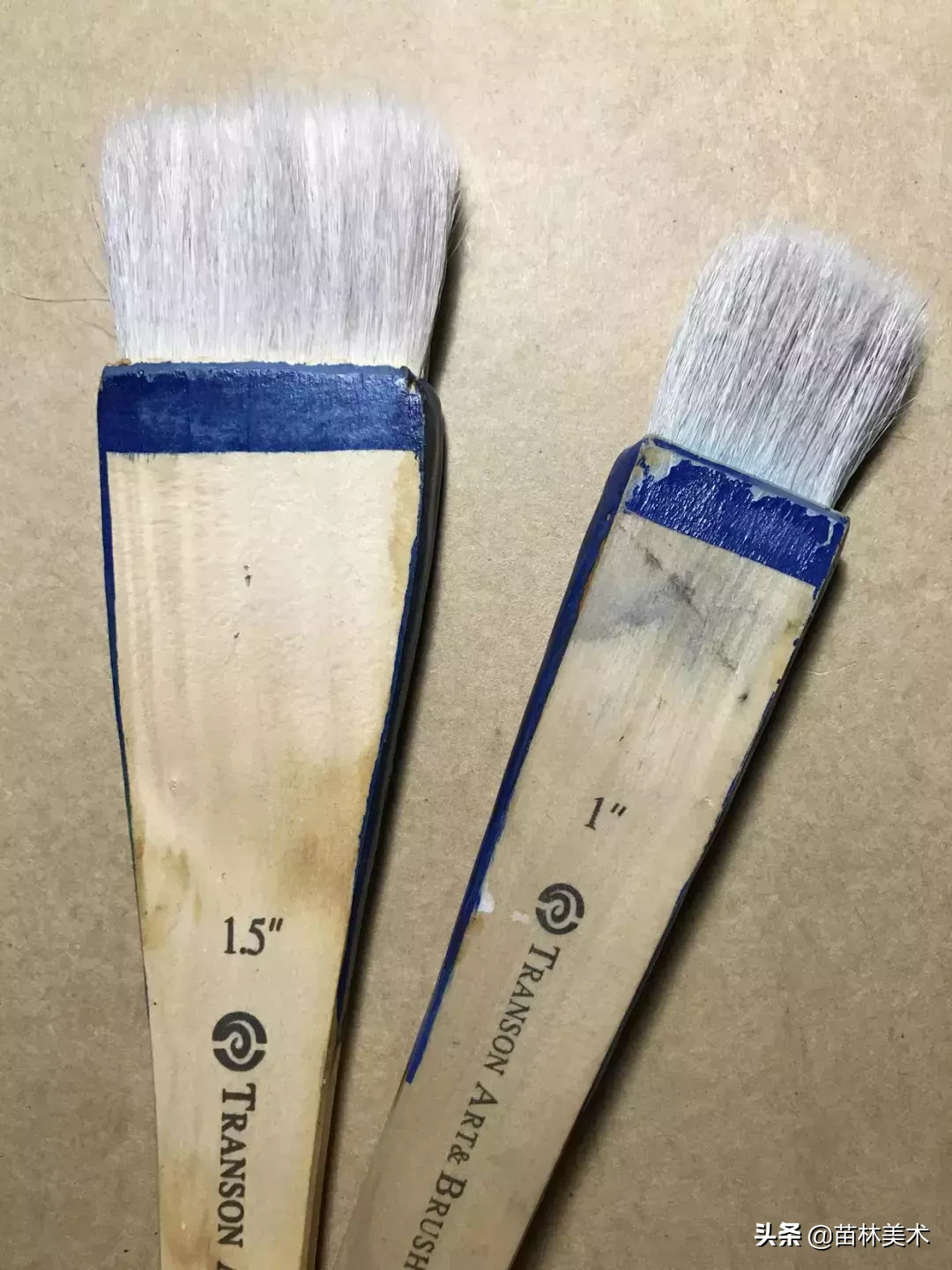 Watercolor paper is divided into cotton pulp and wood pulp. The cotton pulp is well absorbed, and it is not easy to produce water marks. Wood pulp does not absorb water, and the pigments are easy to float on paper. Cotton pulp is expensive, and wood pulp is relatively cheap. But this does not mean that wood pulp paper is not good. Different styles of painting should be used. Specifically.
Whether it is cotton pulp or wood pulp, watercolor paper will be divided into fine lines according to the lines, three kinds of thick lines, and thick patterns, and it is also necessary to choose according to the style of the painting.
The number of paper represents the thickness, the larger the gram, the thicker. Usually 300 grams is enough.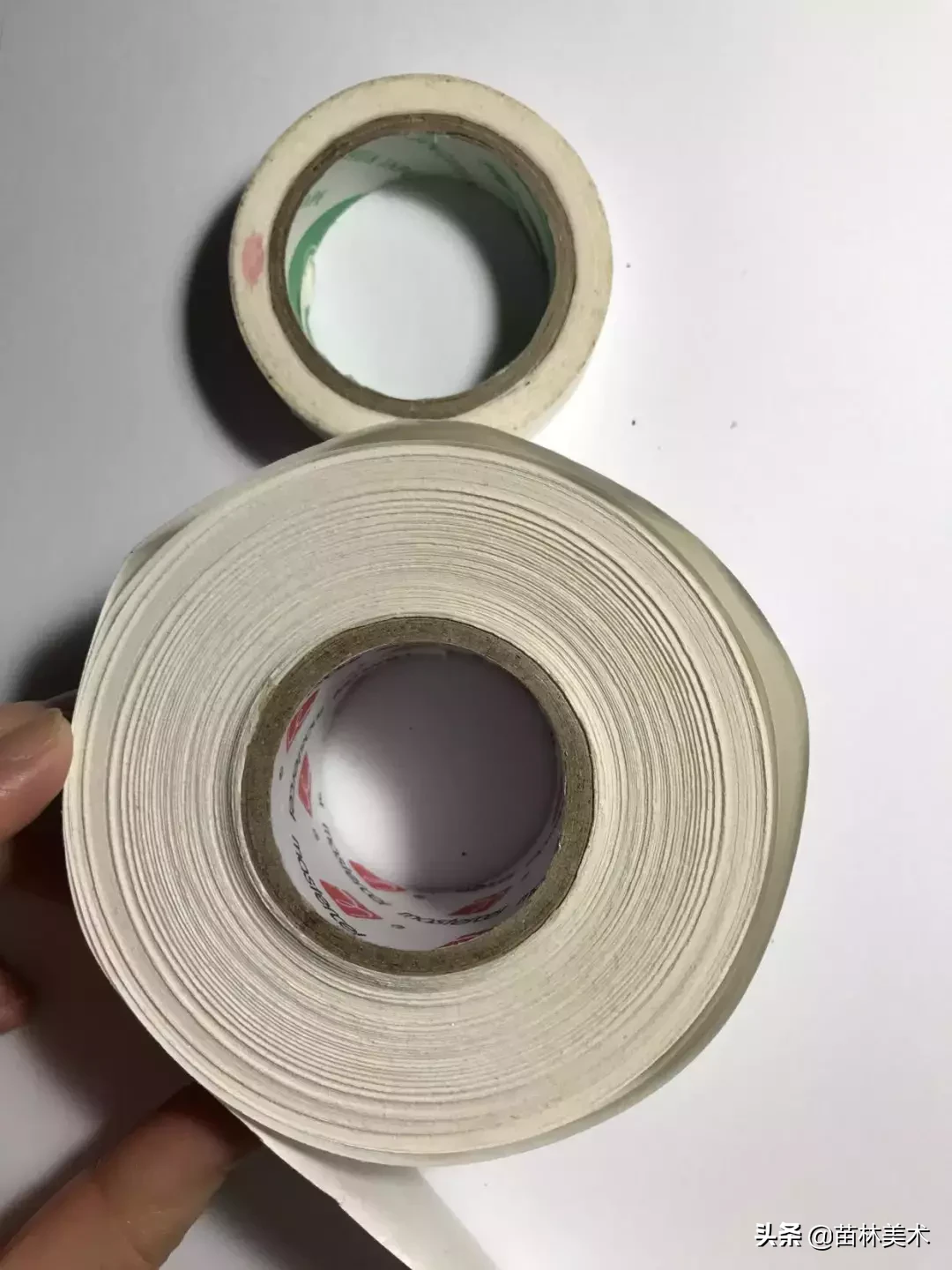 1. Baohong cotton pulp 300 grams of coarse patterns
I bought this loose paper for 16. Baohong is a domestic brand. It is cost -effective, cheap, and easy to use. The most suitable for starting a lot of exercises.
Mid -ripped cotton paste is suitable for drawing starry sky, sky, ocean, such landscape.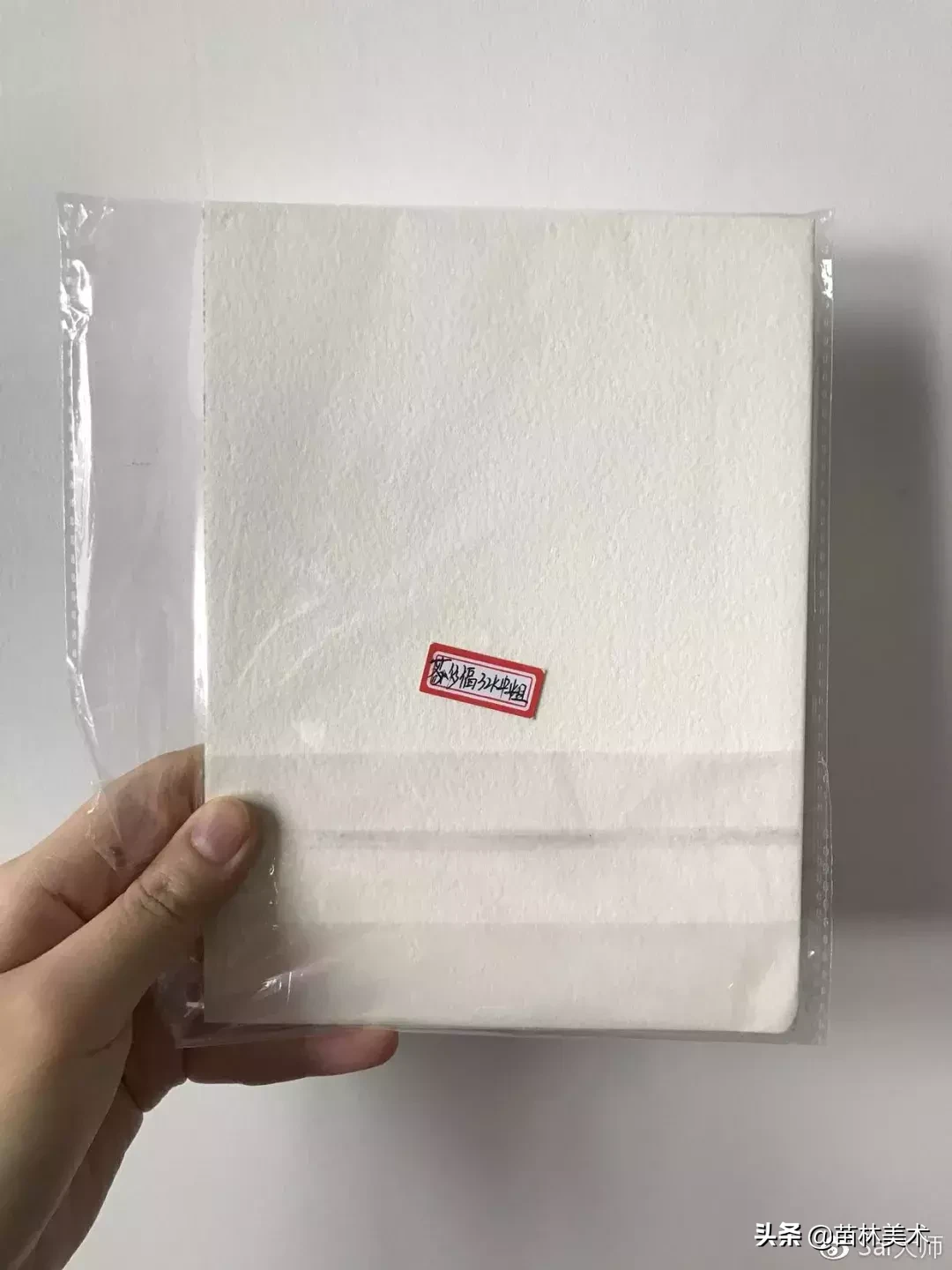 2. Baohong 32 open 300 grams of cotton pulp
Because I usually draw a lot of paintings with a size of 32, I bought this book. The paper is the same as the loose paper above. The difference is that this book is four -sided seal, which can be drawn directly on the book. There is no cutting corner to cut off and draw down.
3. 300 grams of fine lines of Bahong cotton pulp
This is also a 16 -blooming loose paper. The fine lines are suitable for painting realistic flowers, faces, these language portraits of detail paintings, yo usually use not much, may be used to the medium coarse pattern, I still feel that it is thick and easy to use. Essence
4. Get the thick lines in the 300 grams of cotton pulp
This paper is an old -fashioned watercolor paper. I bought 32 -opened loose paper to try it. I feel that the diffusion is better, drop a drop of pigment, and the spread instantly, there is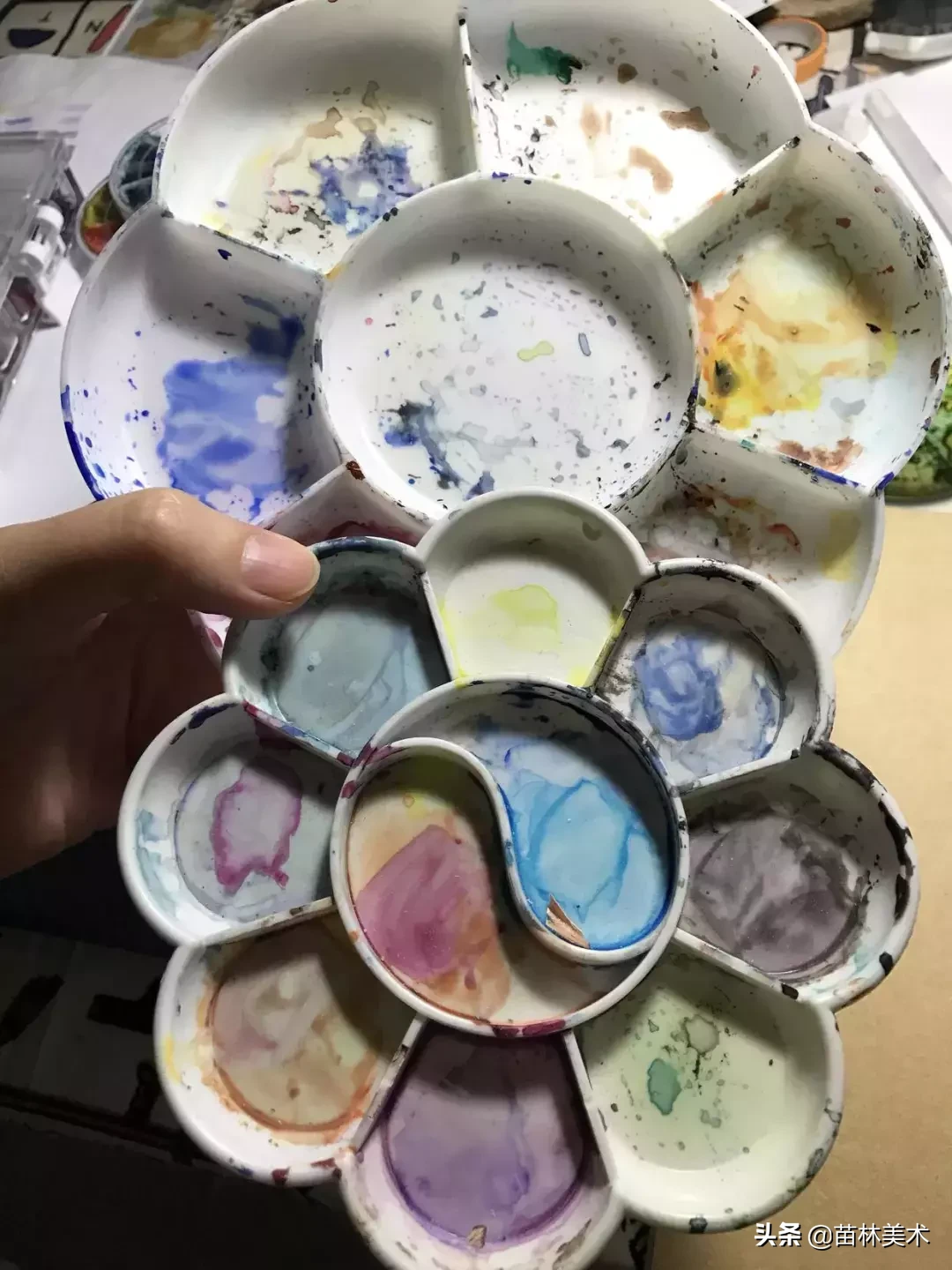 That kind
The fluffy feeling, the painting Yun Duo is very good. I used it to draw flowers, it's not bad.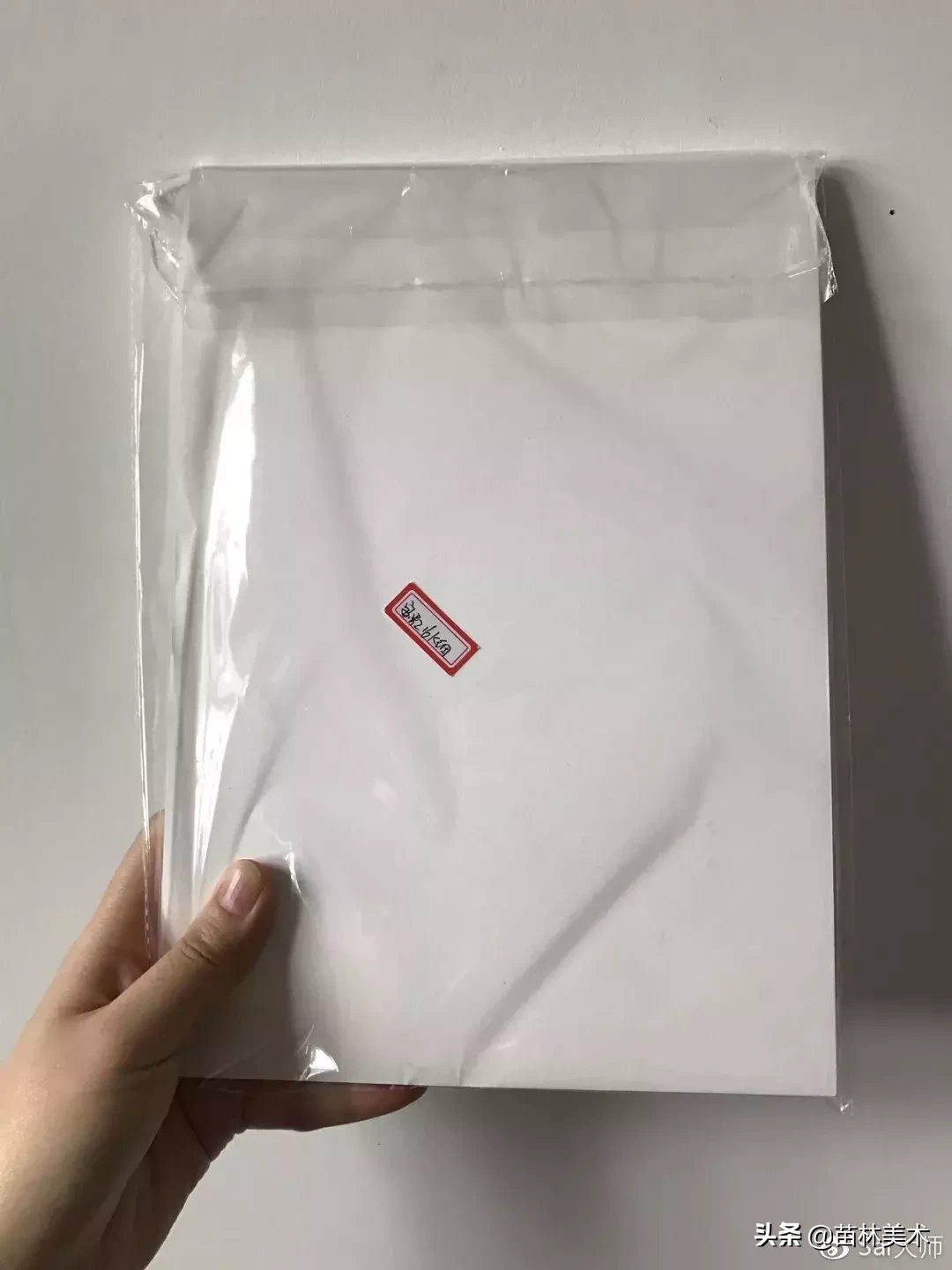 5. Ash 300 grams of cotton pulp postcard
Ashi is a brand owned by Kang Song in France. I think Ashi's paper is super easy to use, so buy it. It's really expensive, a postcard size, a total of 10, 28 yuan.
This postcard is white paper and postcards on the other.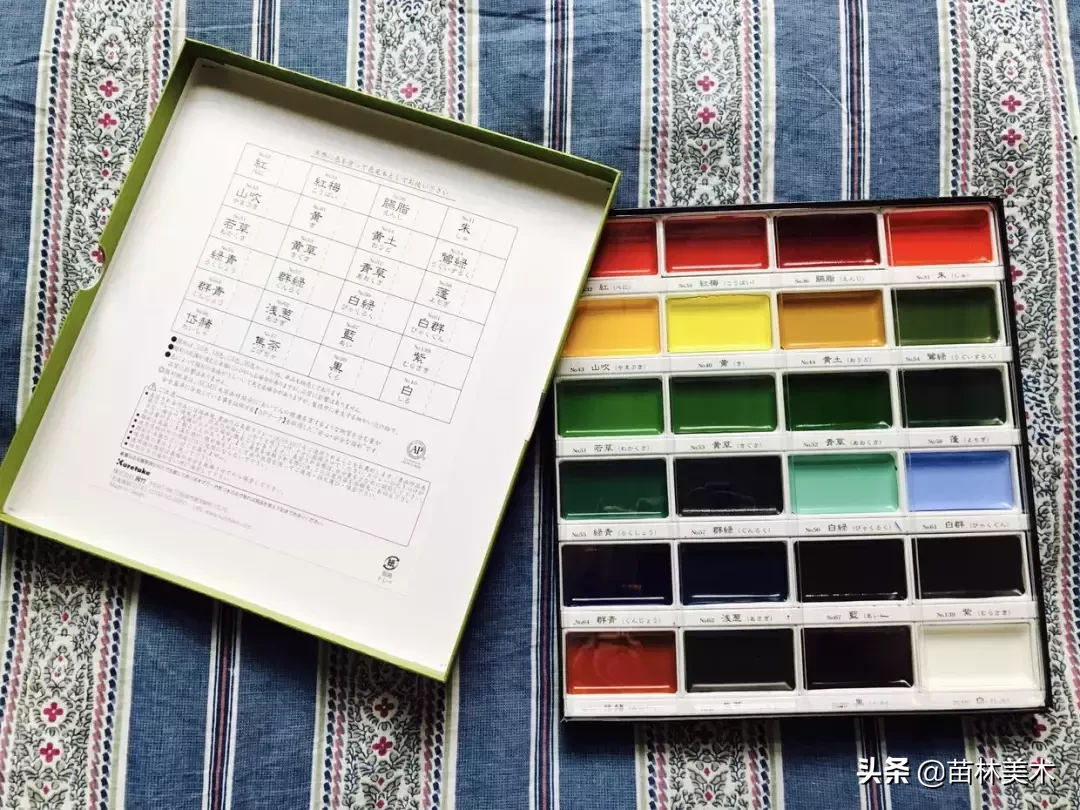 Ashimin postcard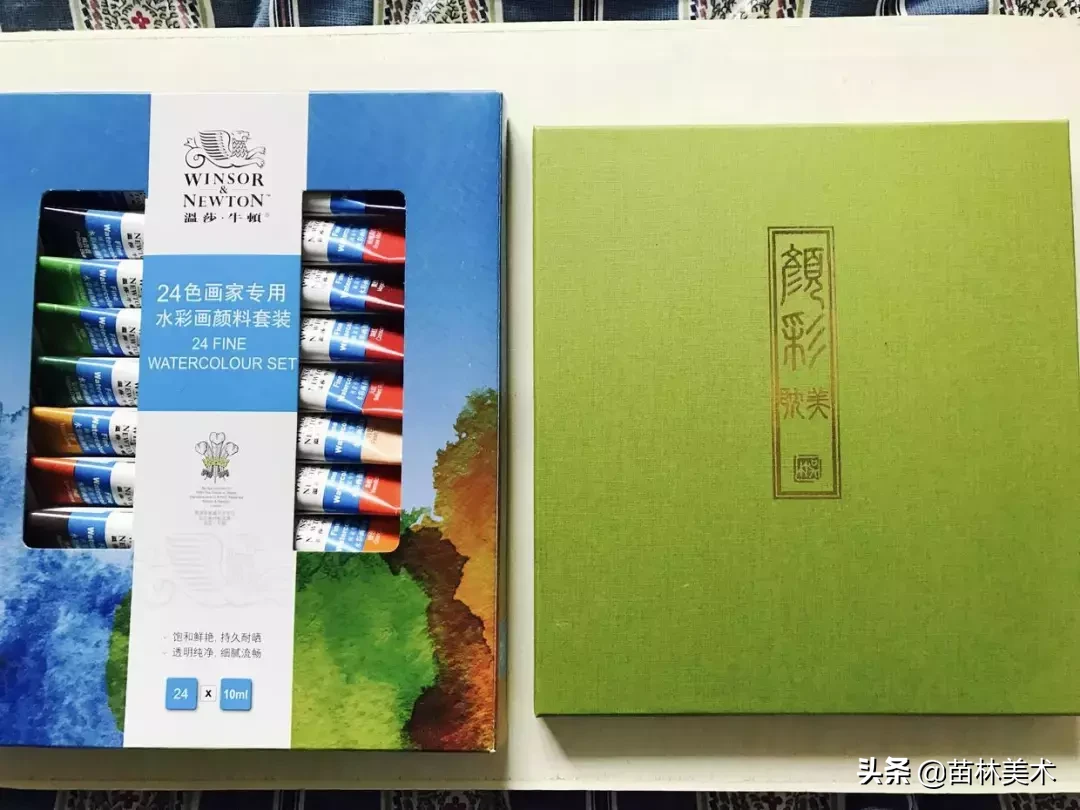 I only used it once, using the blank side, but I felt how good it was. I asked the talents to know that I had to use a grid on the other side … This is the heart! There is a grid damage picture!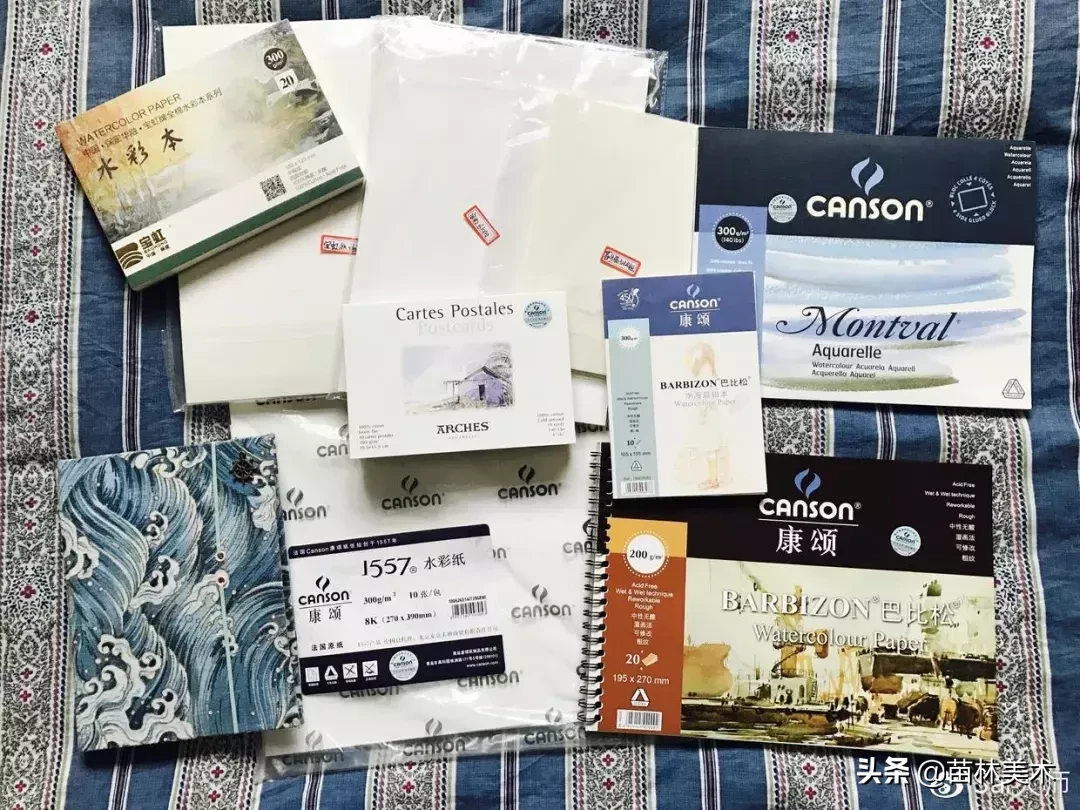 This one is painted in blank on the Ashiming postcard. Next time I try another side …
6.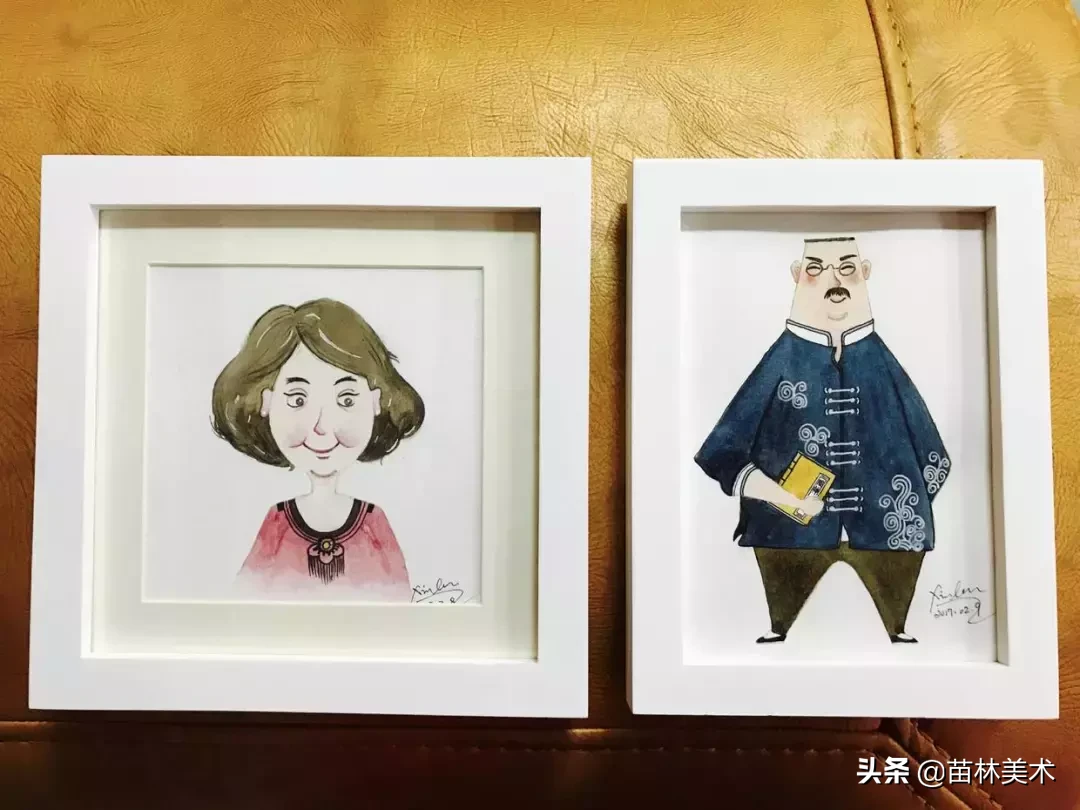 This is wood pulp, the thickness of 200 grams is slightly thinner. Many people don't like Babiton, saying that he draws ashes or something, I don't feel it. On the contrary, I have a kind of hammo, freehand landscape, and if you want water marks, you will use this.
This one is painted with Barbine.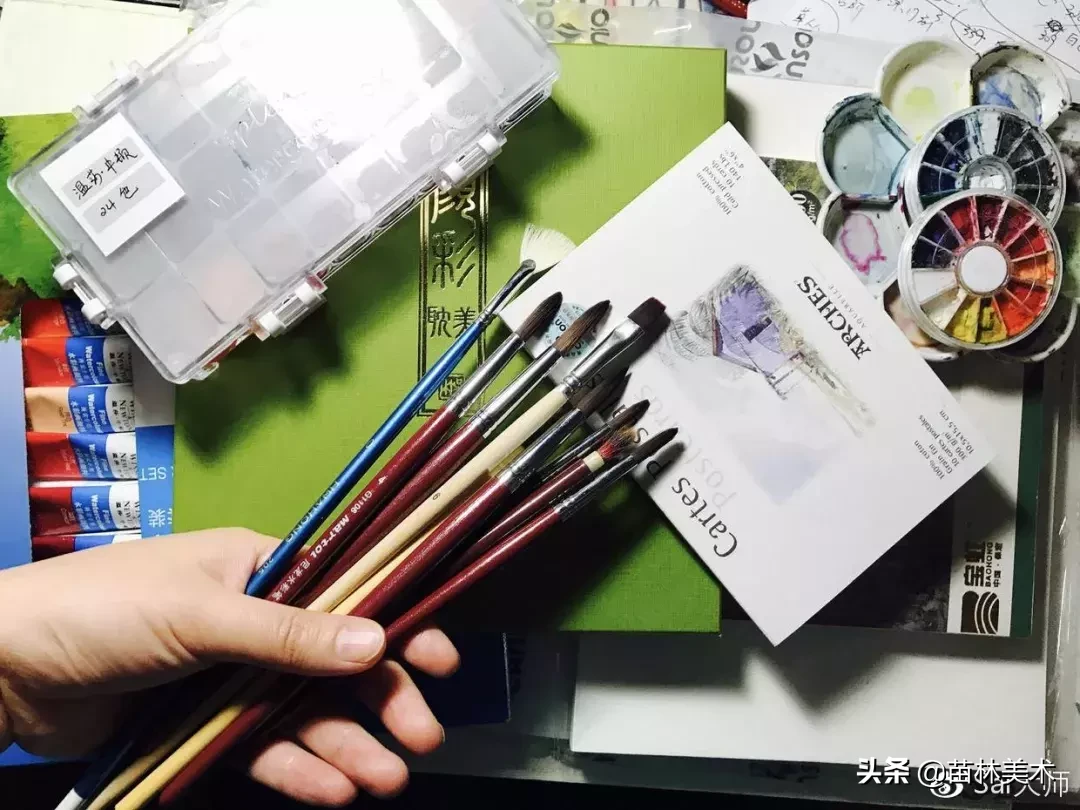 7. Kang Song Mengfa 300 grams of wood pulp coarse sealing
I only used this paper once, I feel okay, try the landscape next time ~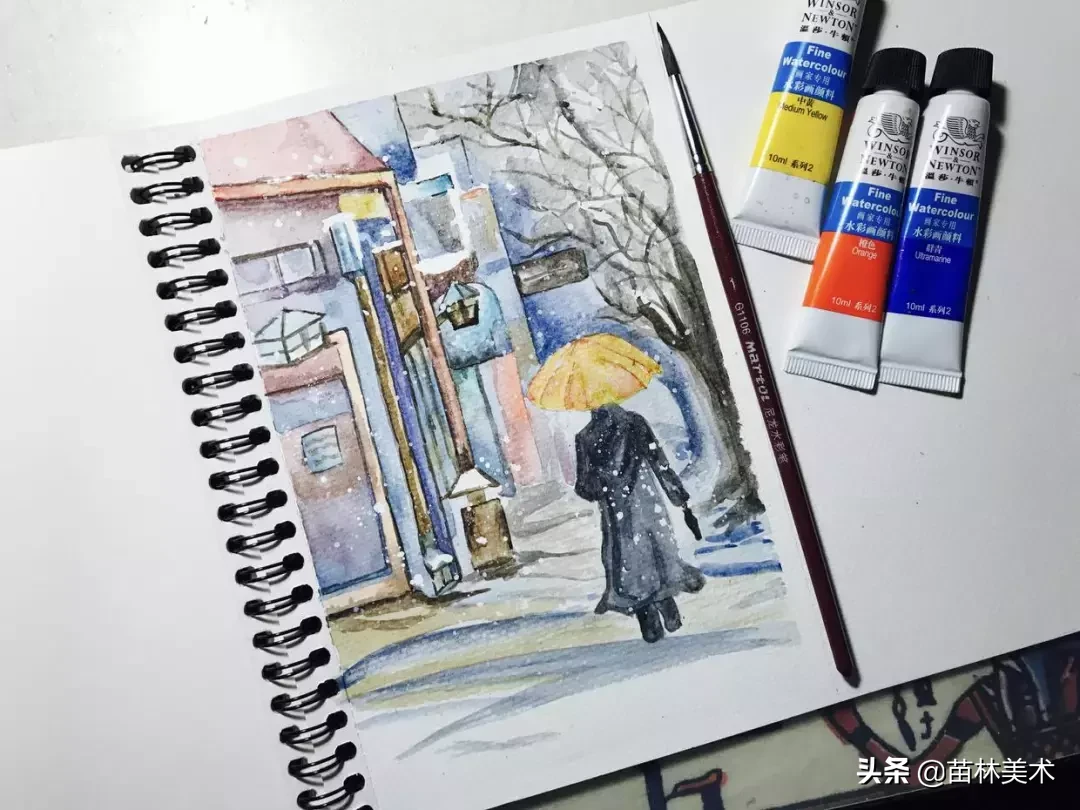 8. Kang Song 1557.300 grams of wood pulp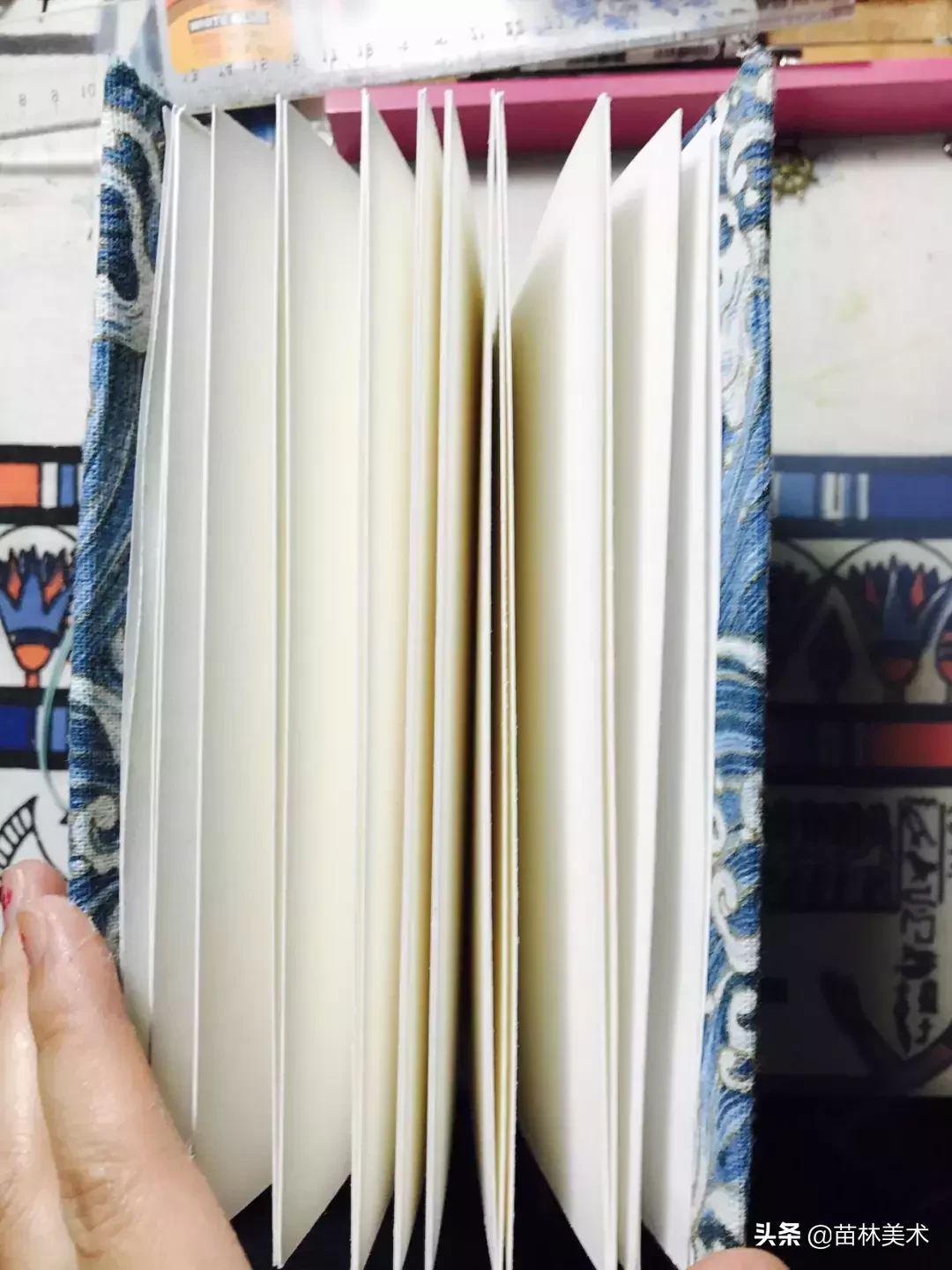 This is the first watercolor paper I bought. At that time, there was no concept of cotton pulp and wood pulp. It was useless for 1 year to sell. I started to practice watercolor recently. It is very good to do exercises, it is not suitable for the landscape that requires a large area of ​​water, and illustrations.
Draw this way ~~
9. Handmade watercolor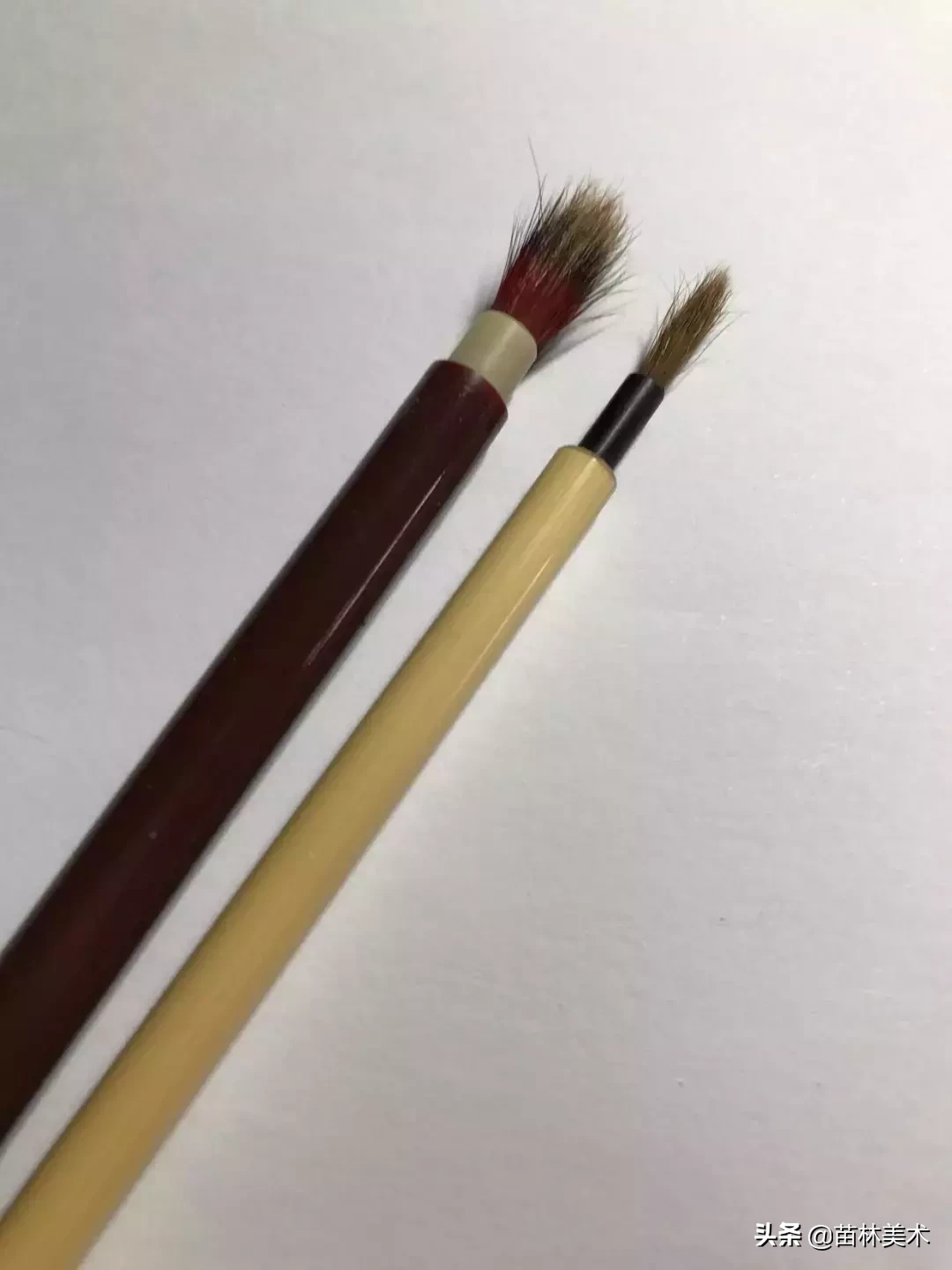 I made it myself. The paper inside uses Baohong's middle thick and fine lines, and Kang Song 1557. This core is seams.
The drawing paper is over here … Watercolor is really troublesome! Let's talk about paint.
Two, pigments
I am not a tool control, so I did not lose those very expensive pigments during the beginner. Although many teachers recommend the most expensive pigments within the scope of capabilities, I think that it is too luxurious to practice the basic merit of 7.8 hundred yuan to practice the basic merit. Essence After practicing for a period of time, it is my point of view to upgrade the drawing material according to my needs ~~
1. Windsor Newton painter series 24 color
This box of domestic Windsor Newton also bought it when I didn't understand anything. It was the lowest grade of this brand, with a single 100 ml of 2 yuan, this set is only 30 yuan! On the top of him, there are imported college levels. It costs 10 yuan for a single one. The best is the artist level, which is more expensive.
The advantage of this pigment is cheap, and it is not distressed how to brush a large area. The disadvantage is that the color is not bright enough, and it will get gray after drying. Especially with other people's liquid watercolor or beautiful blue, the color of these brands of MG, the colors are really dim. However, it is recommended to use first. Most of my watercolor uses this set of paintings, many people don't believe it ~~
2. Japan Wuzhu Yancai 24 Colors
This is what I bought at the New Year. Yan Cai belongs to Japanese Chinese painting pigments and can be used as watercolor. This is about 140 yuan.
The color is relatively fresh and elegant, suitable for painting flowers or ancient characters, I prefer. This set of green is more ~~ I like this kind of dark green, dark blue, and recently planned to buy gold.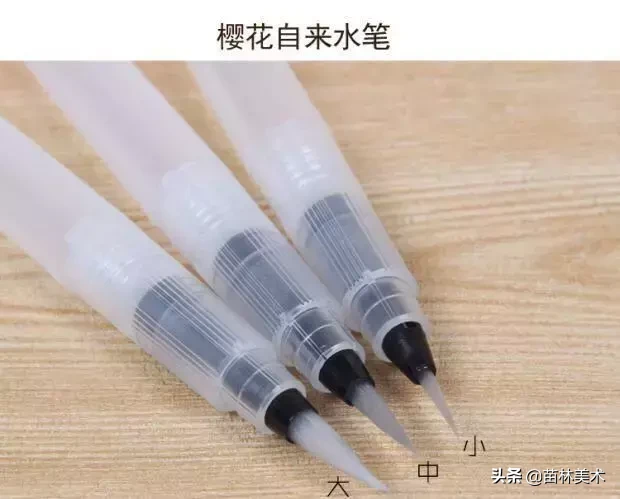 I have not used anything except these two pigments, but there are plans to enter, one is Russia's white night solid watercolor, and the other is Yicardon's liquid watercolor. Bai Ye is said to be disabled in large pieces, colorful, and liquid watercolor is even more bright, but liquid watercolor is not suitable for beginners because it is difficult to control and cannot be modified.
Third, watercolor pen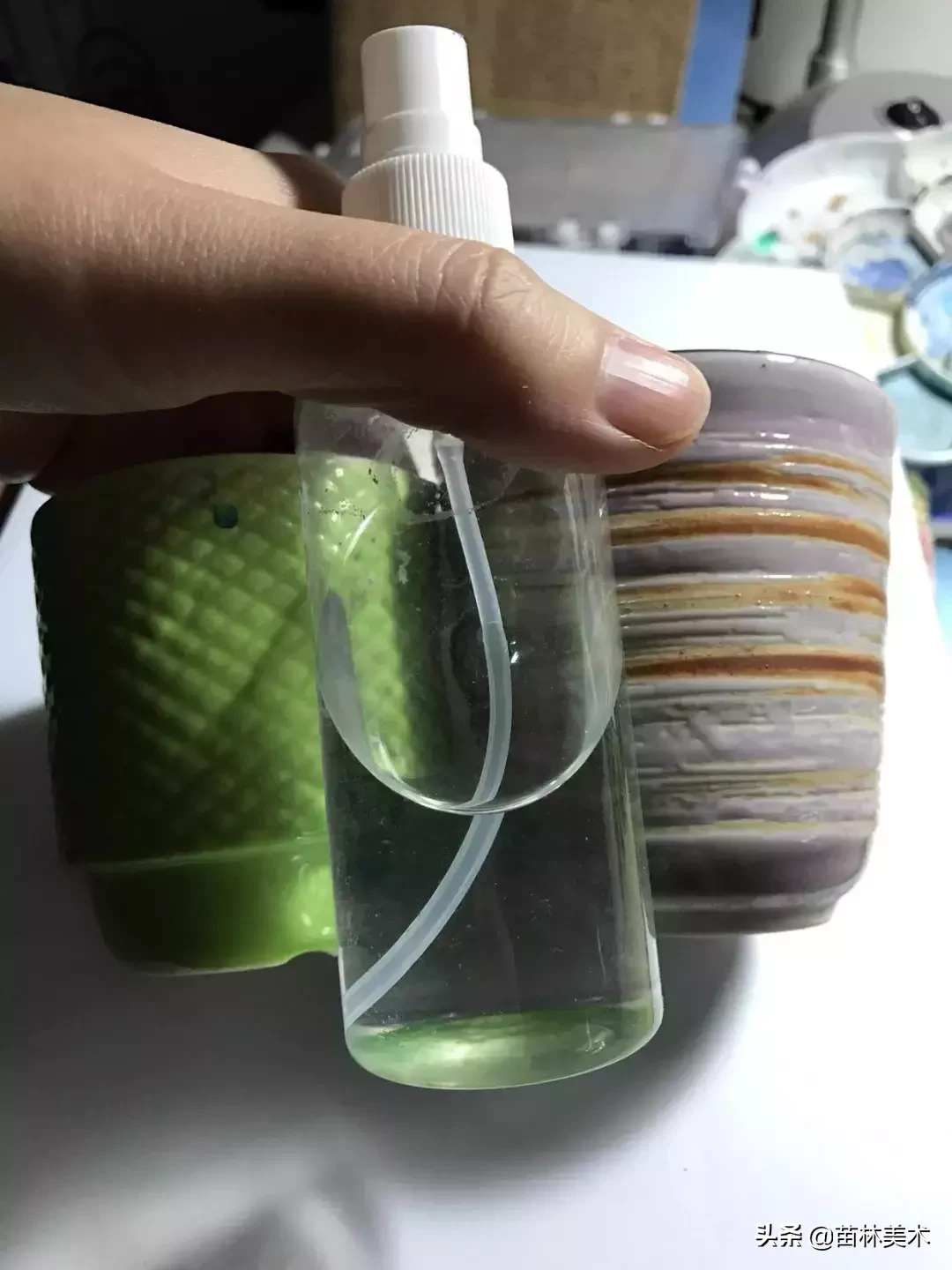 I bought it when I didn't understand anything, but even so, I could use it. Beginners, don't pick ~~
1. Nylon watercolor pen suit
The most used is this set of Mali's nylon watercolor. A total of 6. Nylon watercolor pen has good elasticity, but water storage is average, but this is easier for novices to control water control, so I like to use it very much. Most paintings are used in this set.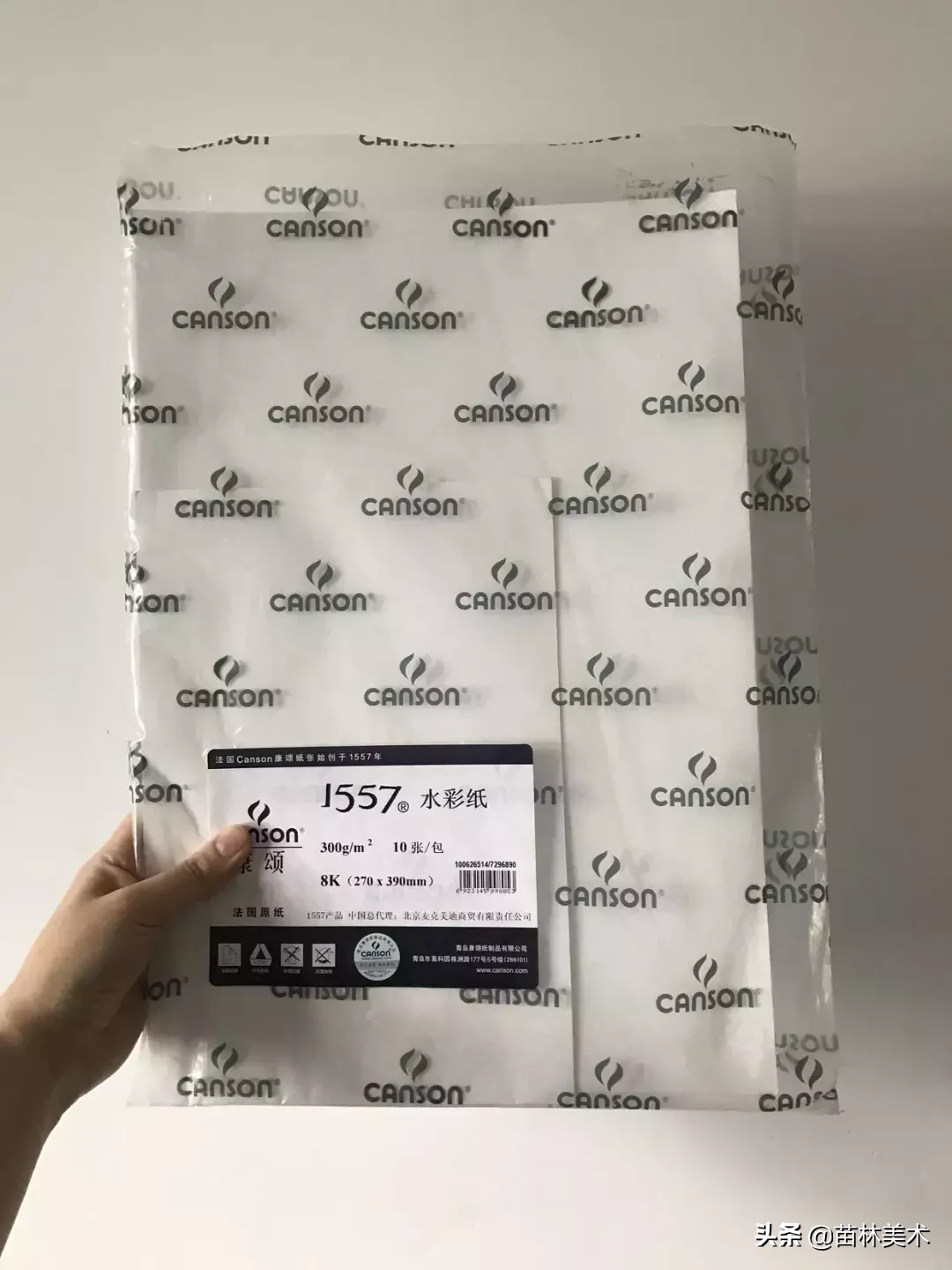 2. Nylon watercolor pen set 2
This set of money is released because there is a flat head in it. The most used now is the 00s inside, using it to hook the line.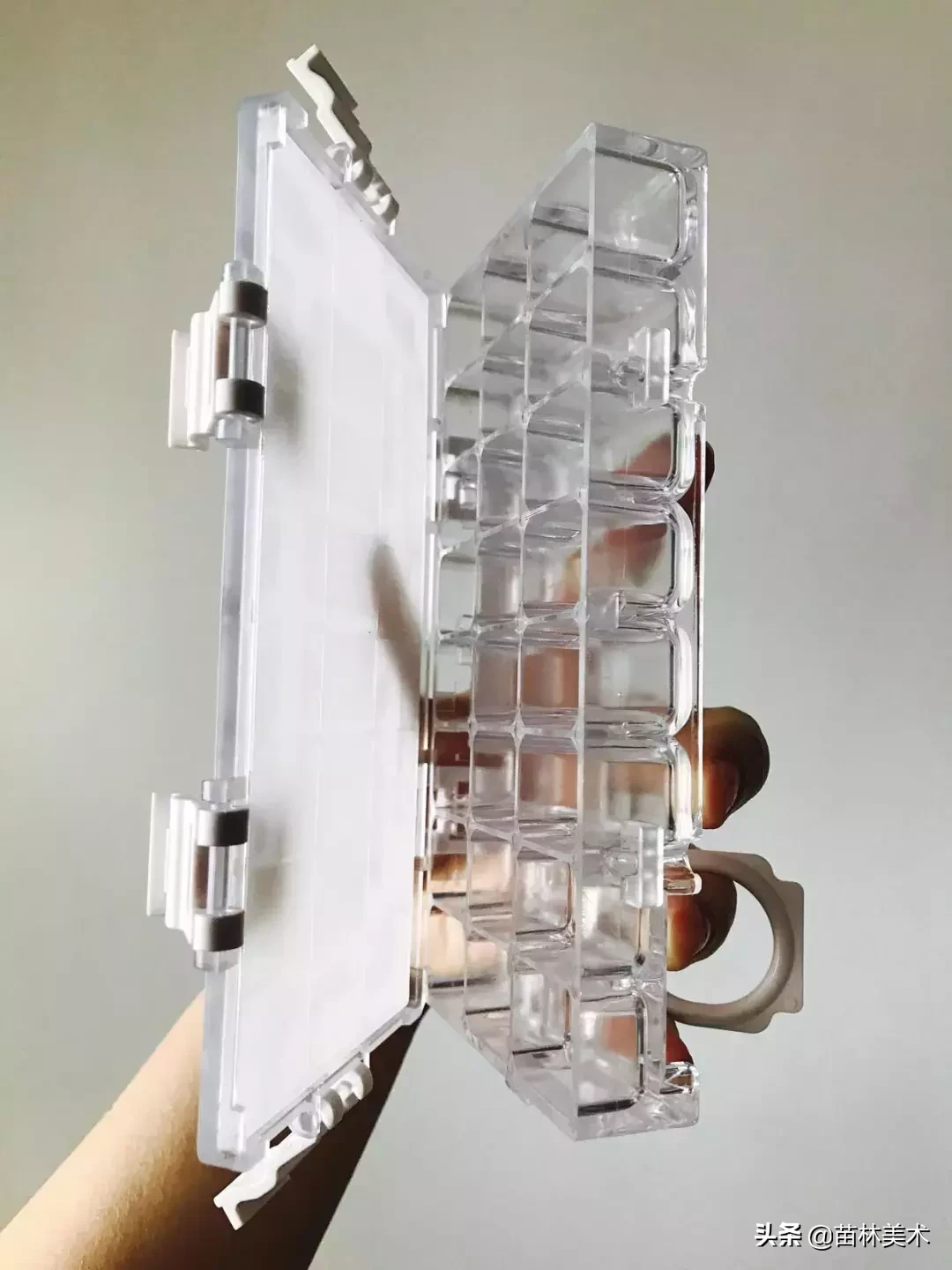 3. South Korea Hua Hong Fan Pen No. 0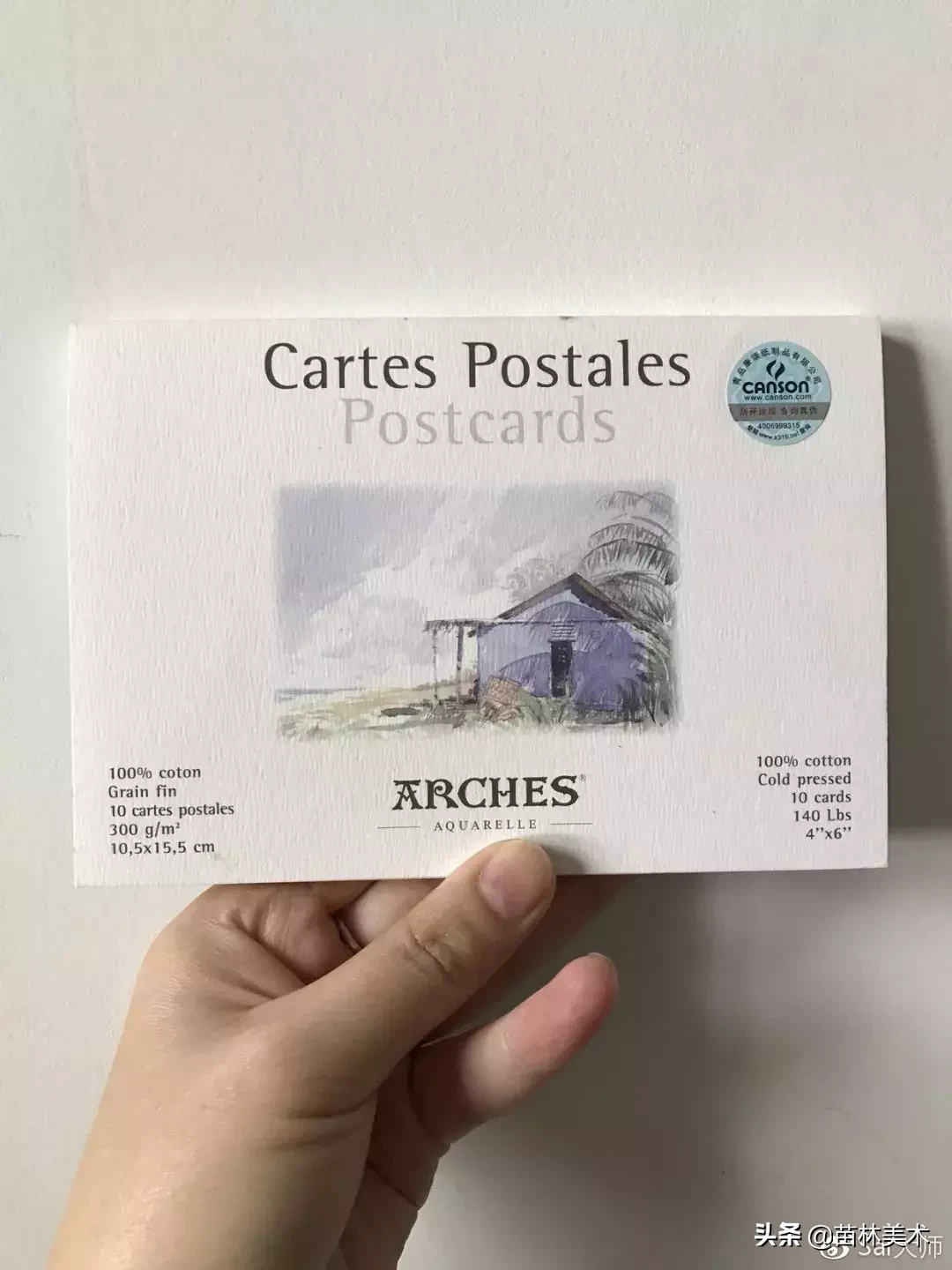 It is said that it is okay to draw waves. I haven't studied it yet. I don't know much about it. Who knows to tell me!
4. Qiu Hongzhai brush
I bought the explosive show and dandelion, which is really easy to use. The show is used to draw flowers.
5. Water pens
I can't find my pen, the picture looking online. This pen can be irrigated. It is easy to carry out. It is well used in conjunction with solid watercolors. It is suitable for drawing accounts, sketching and the like.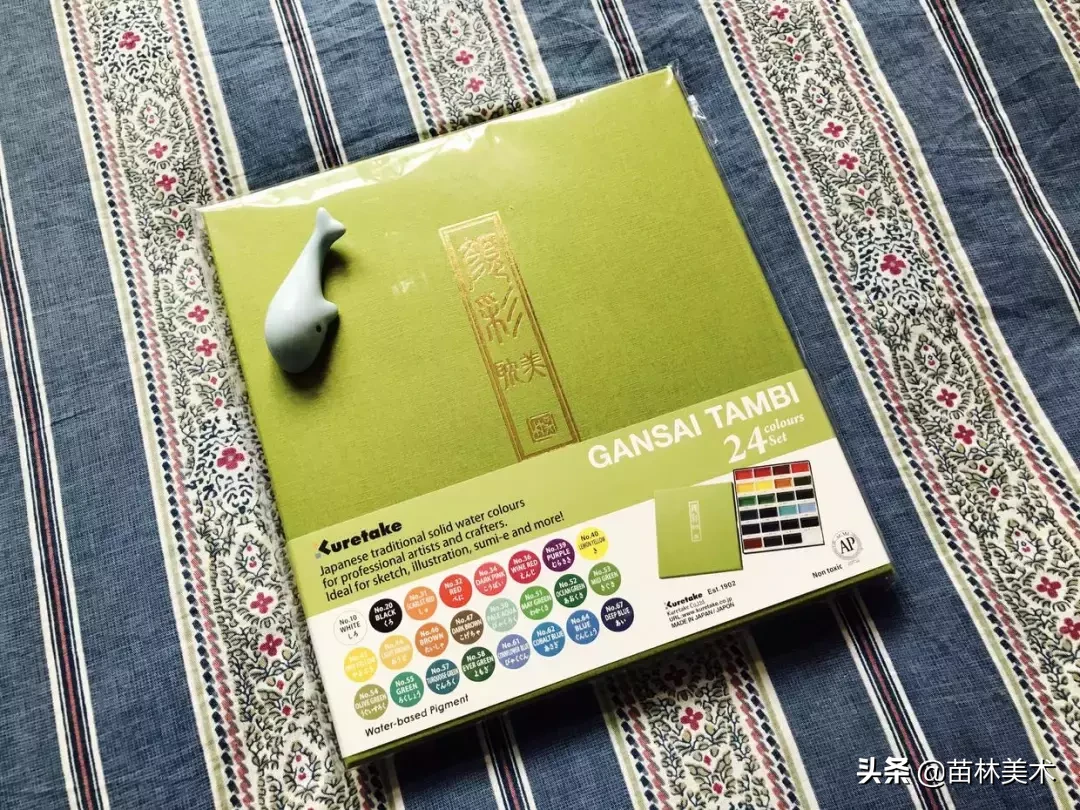 6. Board brush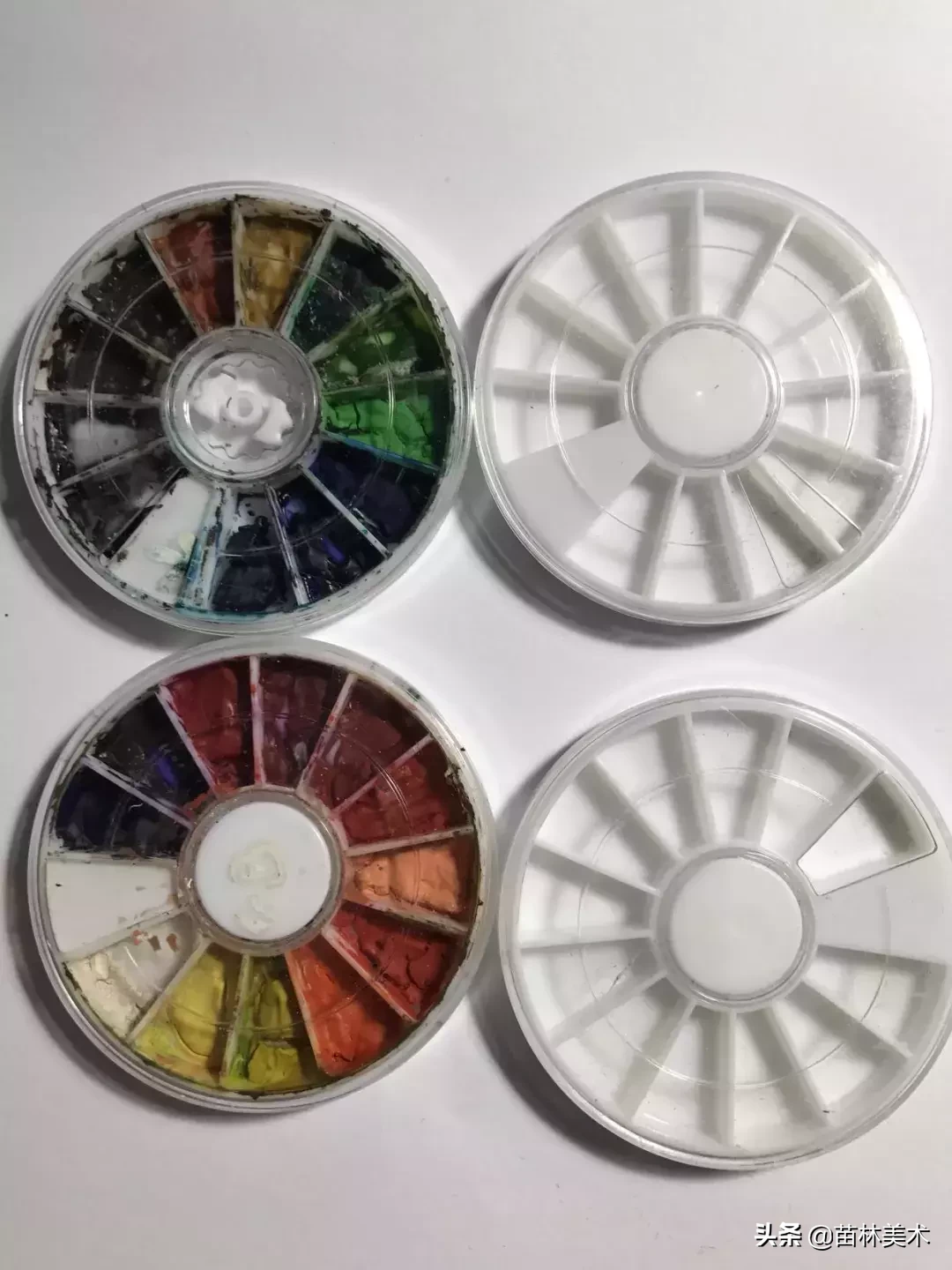 Wet painting method is used for brushing water, and it can be used in large areas of coloring, but I have not painted such a large painting, so I do n't use it to color it. It is only used to brush the water.
Fourth, other tools
1. Polycase
I have one, one, and two, both of which are plastic. They are not very good. The colors will be eaten in. It can be washed for a long time. The white plastic is stained. It is said that the best ceramic is the best.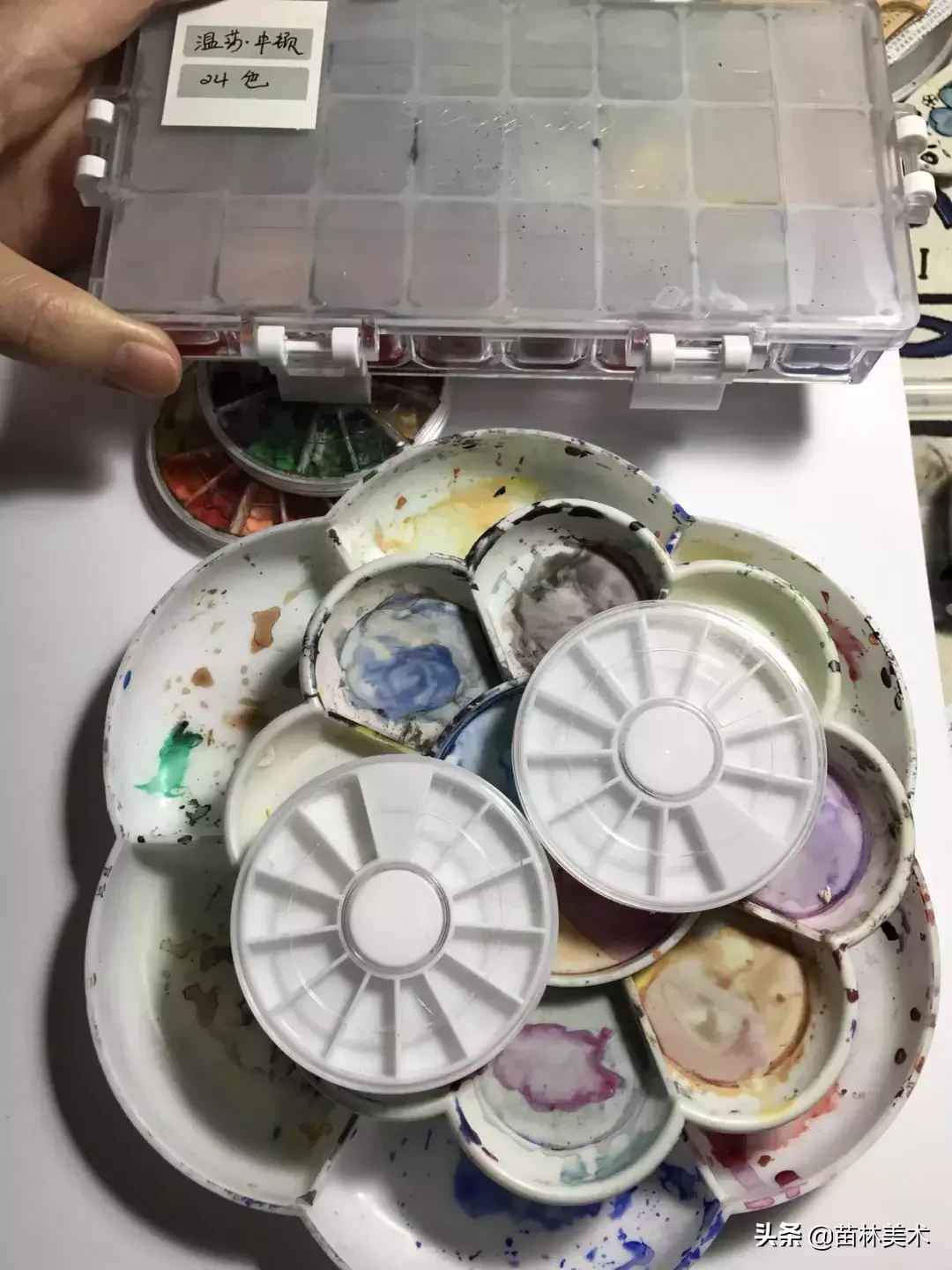 2. pigment packaging disk
It is particularly small, a plate of 12 colors. You can squeeze the pigment inside, and use it as a solid watercolor, which is suitable for carrying.
3.24 grid division box
This can be sealed and moisturized, but the paint will still dry. However, because this can be squeezed, it is better to take coloring, so it is still more convenient than the pipes.
4. Beautiful paper tape and water tape
The small one is a beautiful paper tape, which is used to fix the drawing paper or leave the white edge for the flower. Water tape is used for paper. If you brush the water, you can stick it, you can paste and draw on the board. The method of mounting paper is Baidu. I am lazy and usually do not mount paper.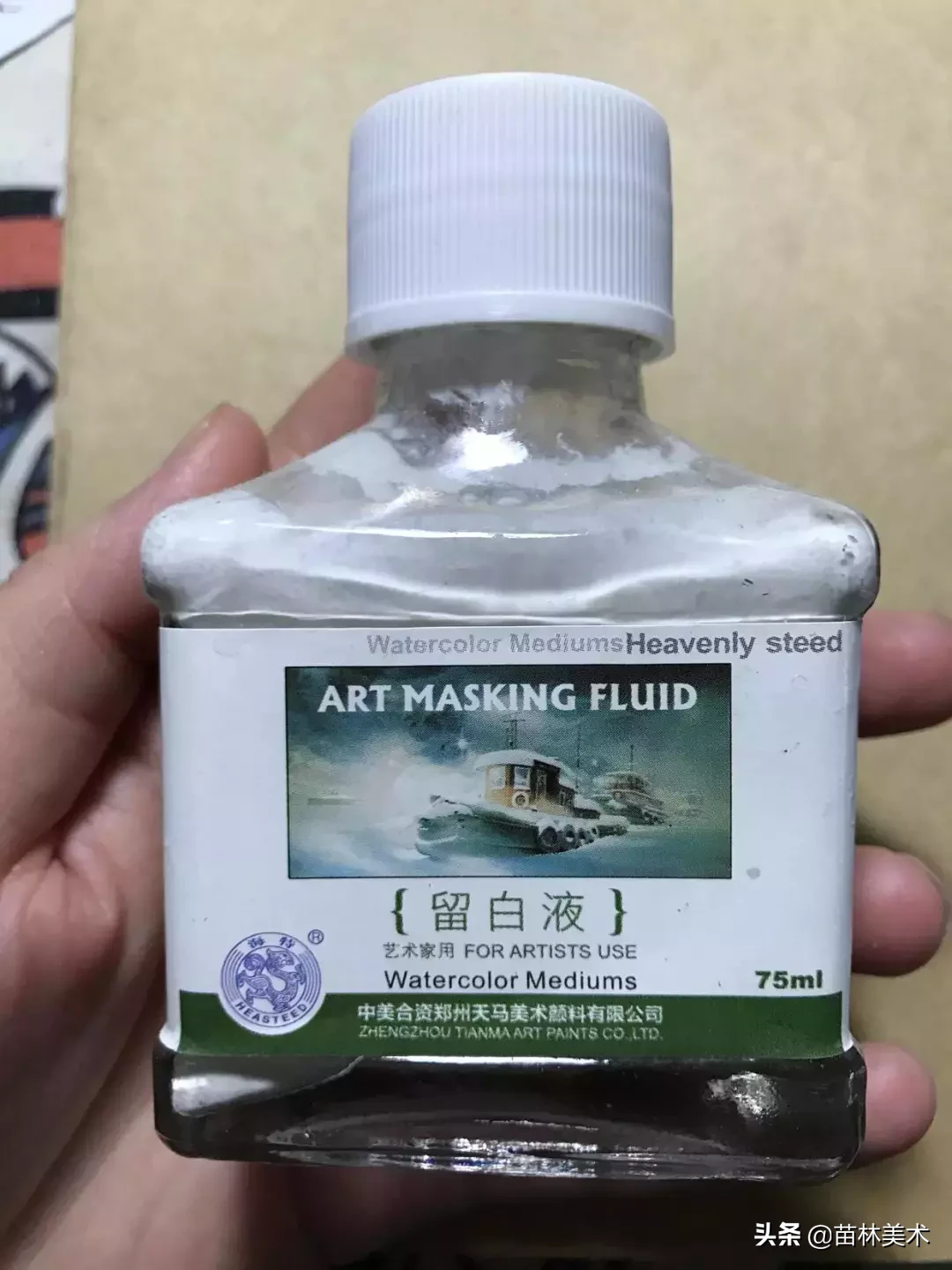 5. Painting board
The painting paper is used because I rarely mount paper, so this board is rarely used.
5. Leave white glue
This needs to prepare a bottle, leaving white. Dilute water with water, apply it where you want to leave white, and use a rubber to remove it. That place is white.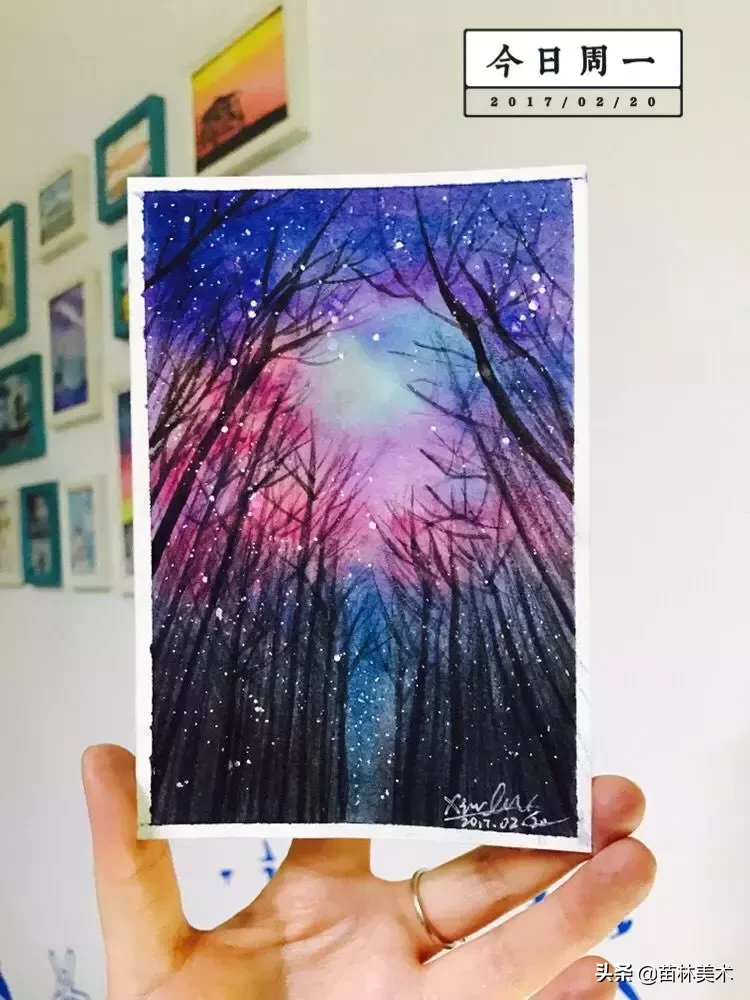 6. Silicone pen
It is dedicated to leaving white gum, but it is difficult to use, it is super difficult to use, and it is not recommended. Leave white gum or use watercolor pen to make the pen wet before use, then apply the soap to make the pen tip covered with soap, and then dip the white glue. Stick up. Remember! Be sure to apply soap!
7. Washing brush cup and watering pot
I used the two cups of my house as a stroke barrel, and then used a spray bottle with a cosmetics as a cannon. Sometimes the picture needs to be wet to paint, and the watering pot is used.
Five, textbook
Like Cai Liao, I bought a lot of watercolor books ….. It is really a defective!
This one is painted with Barbine.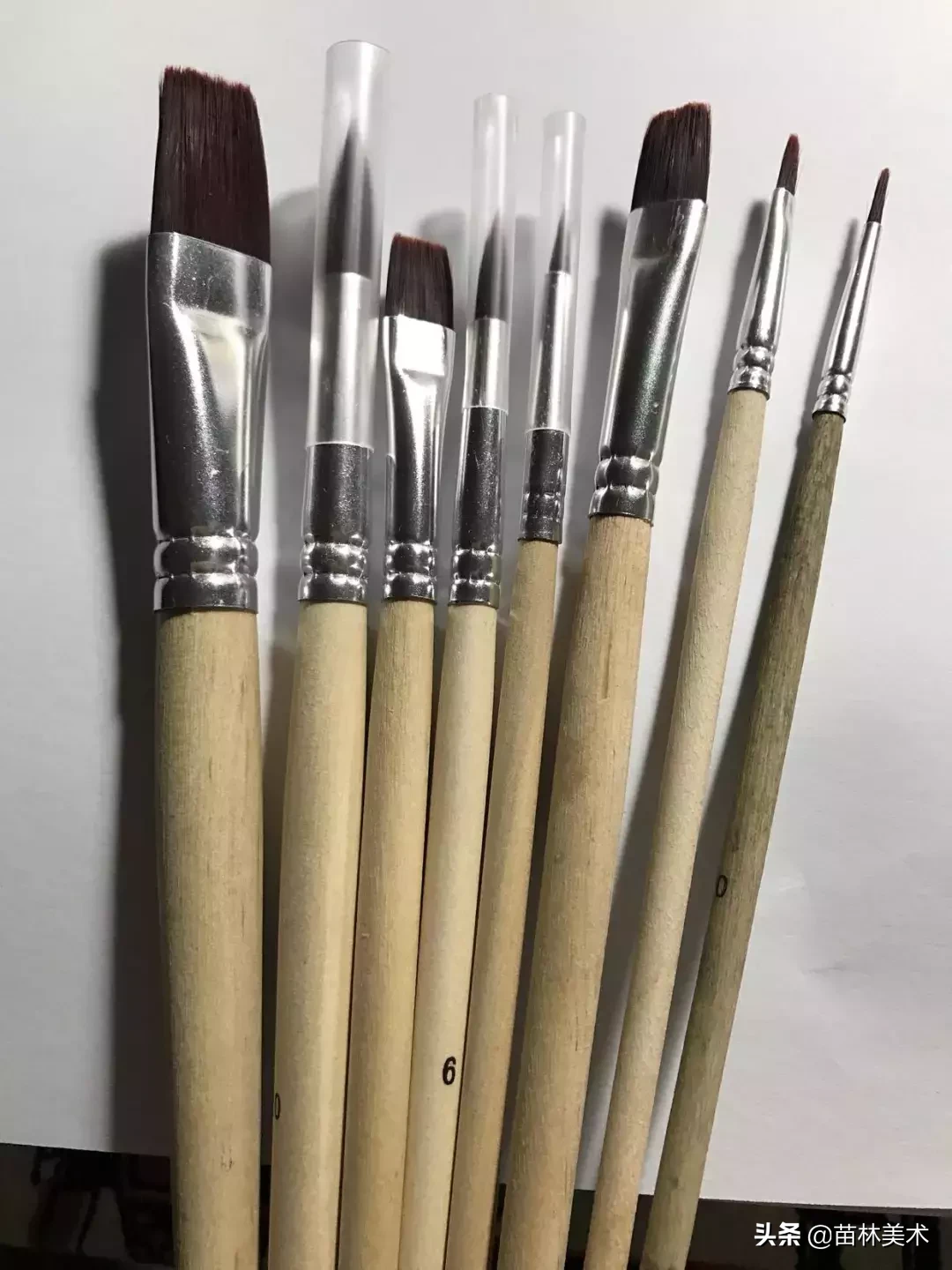 This one is painted with Barbine.
This one is painted with Barbine.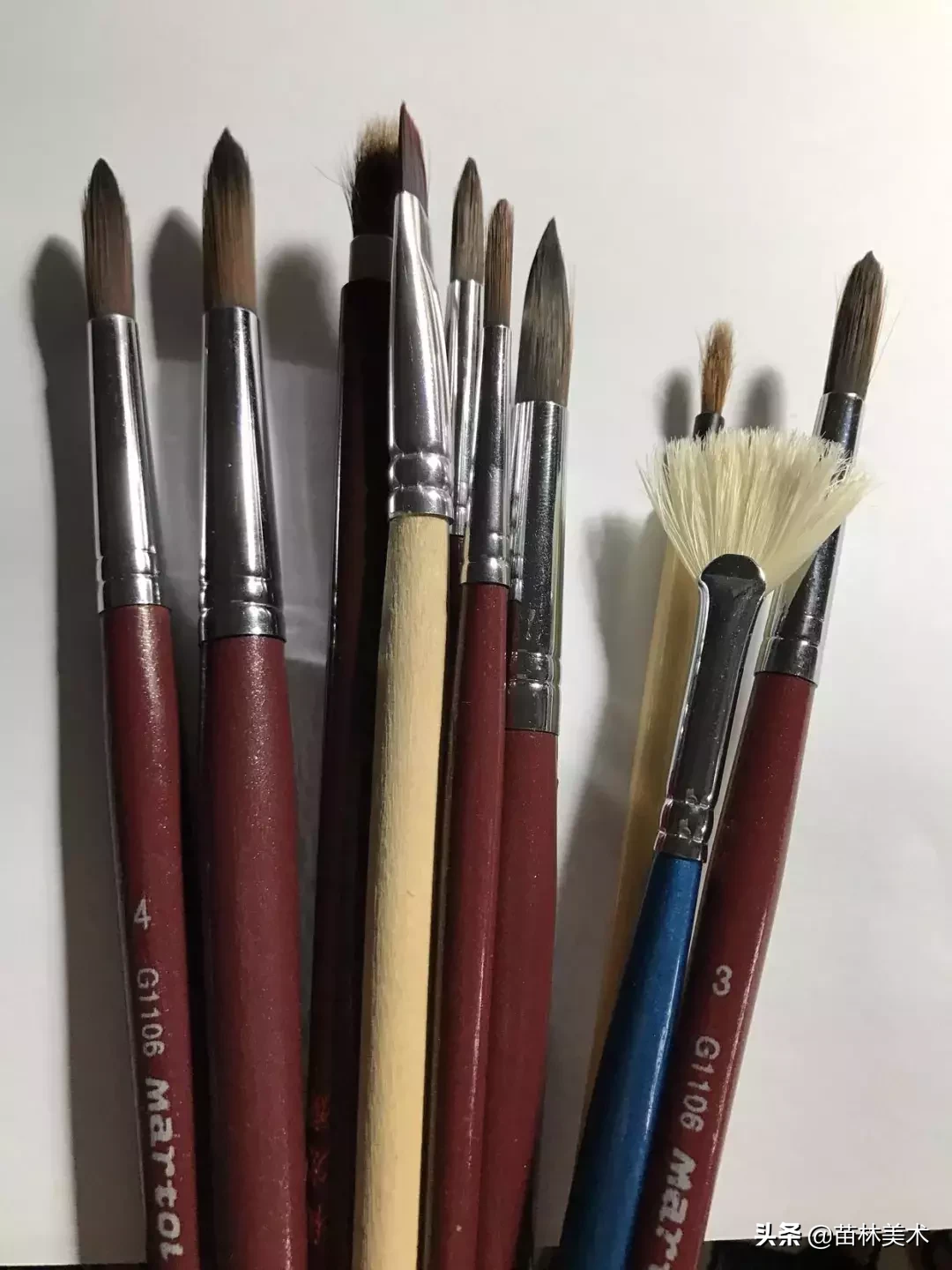 This one is painted with Barbine.