On December 24th, the reporter learned from the Kunming Real Estate Registration Center that since December 25, 2020, the implementation of new commercial housing transfer registration and second -hand housing registration of new commercial housing and obtained immovable property certificates will be implemented. But the nearby registered licenses are selected to apply for the application of the main urban area, and the day of acceptance was completed on the same day.
The Tongcheng Township broke the restrictions on the territory of "can only handle related businesses in the real estate registration department where the houses and land are located". In the future, the enterprise and the masses will not be restricted by regional, and they will choose to apply for registration and apply for a certificate.
There are two main types of business running in the same city:
New commercial housing transfer registration business;
Second -hand housing transfer, mortgage, and changes that have obtained real estate registration business, which have obtained the real estate right, do not include the situation of the land -to -land reissue procedures involving the land and other territories.
At the same time, in order to further improve the effectiveness of real estate registration services, if the application has obtained the transfer of property rights certificate transfer registration business, the real estate registration center promises to settle on the same day after the "one window acceptance and integrated service" window is accepted through the real estate transaction tax registration.
Ms. Wang, who lives in Xishan District, said that it is too convenient to implement the same city. She sold a house in Guandu District, so she didn't have to run back and forth.
After the implementation of real estate registration in the same city, you can bring three benefits to the enterprise and the masses: the enterprise and the masses can not be subject to geographical restrictions. Data, a window can be done to do all matters of transactions, taxes, and registration. It does not need to run back and forth to reduce the time cost of the license handling; reduce the waiting time of enterprises and the masses, and promise to settle on the day of the registration business that is included in the same city. That is, after the masses submitted to the registration agency for acceptance that day, they can receive a certificate of property rights on the same day; the improvement of real estate registration efficiency will play a positive role in mortgaging financing, accelerating financial communication, and helping regional economic and social development.
Real Estate Registration in Kunming
"Tongcheng Pass" license point and contact number
Kunming Real Estate Registration Center Registration Office to apply for a certificate
Address: 3rd Floor, Walbei Building, No. 57, Hu Guo Road
Tel: Composite window 0871-65133198
In
Wuhua Registration Office Wall Belly Office Certificate
Address: Second Floor, No. 57, Hu Guo Road
Tel: 0871-64154519
Wahua Registration Office Calendar Application Permit
Address: No. 1-4, South Gate of Crescent Tan Park, Golden Avenue, Beishi District
Tel: 0871-63105563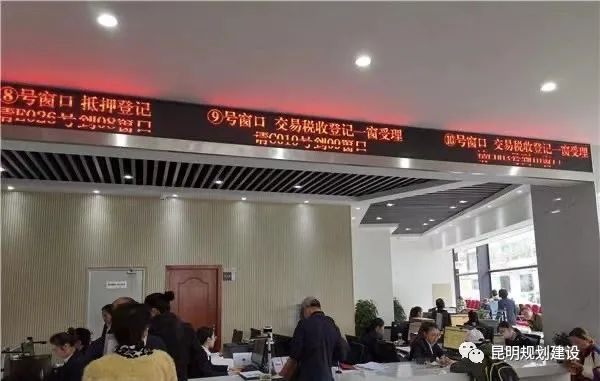 Kunming Real Estate Registration Center pays three bridges to apply for a certificate
Address: No. 501, Beijing Road, Panlong District (formerly Ship Hotel)
Tel: 0871-63921119
Panlong Registration Office Venus Performance Point
Address: No. 1044, Beijing Road
Tel: 0871-65653912
Xishan Registration Office Zehui Garden to apply for a certificate
Address: 1st Floor, 11 and 12 podiums in Zehuiyuan District, Xishan District
Tel: 0871-68185930
New Permit for the Daily Division of Guandu Registration Office
Address: The first floor of the Real Estate Trading Center of Guandu District, Xinli Jiaotong Bridge
Tel: 0871-67173491
Chenggong Registration Office Government Affairs Center applying for a certificate
Address: Huijingyuan Savage Plaza, No. 515, Chengxiang Street, Chengxiang Street, Chenggong District
Tel: 0871-67471176
Kunming Real Estate Registration Center Golden Horse Application Point
Address: No. 298, Dongfeng East Road, Dashuying Community, Jinma Street, Guandu District
Tel: 0871-63325468
Kunming Real Estate Registration Center Dianchi Road Application Permit
Address: No. 1103, Dianchi Road, Dianchi Tourism Resort (Block B, Huaxia International Plaza)
Tel: 0871-64313706
Kunming Real Estate Registration Center Free Trade Zone Shilonghu Office's certificate office
Address: Jinshan Road and Dixin Road, the New Book Industry City City City, Junfa Pioneer Park in Chenggong District
Tel: 0871-67479768
China (Yunnan) Free Trade Pilot Zone Kunming District Comprehensive Service Center Real estate registration acceptance window
Address: China (Yunnan), Dingnan Road, Guandu District, Kunming City, China (Yunnan) Free Trade Pilot Zone Kunming District Comprehensive Service Center negative area F
Tel: 0871-65360060
Source: Kunming Daily
Source: Published in Kunming