The most sought -after commodity in 2020 is the mask. The tightness of the mask makes the non -woven fabric, especially the melter -spray non -woven fabric unexpectedly popular. So what exactly is a notchy fabric? What is the difference from ordinary cloth? What are the applications of non -woven fabrics in our daily lives?
Issue 107
"What things are purchased by clothes -inventory of fabrics"
Among the sisters, my sister introduced textile fiber -related knowledge. Textile fiber includes natural fibers such as cotton, hemp, hair, and silk, as well as chemical fibers such as adhesive fiber, polyester (polyester fiber), spandex, nylon, and acrylic.
From fiber to fabrics, it generally goes through two steps: one is to form a yarn through the spinning process of the fiber, and the other is that the yarn goes through the weaving process to form fabrics. For example, the fabrics (shuttle) and knitted fabrics commonly used in clothing are formed by two processes: spinning and weaving. The fabric (shuttle fabric) is the two groups of vertical yarns on the weaving on the knitting machine according to a certain rule. The structure is stable and the cloth surface is flat. The knitted fabric is formed by one or more groups of yarns on the knitting machine according to a certain rule. The texture is soft and has a large extension and elasticity.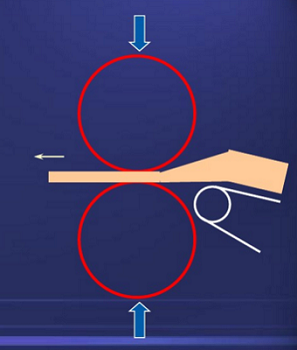 ▲ Weaving (left) and knitted (right)
In addition, there are some fabrics that can be made without spinning and weaving, and are directly formed by fibers. This fabric is what we usually call non -woven fabrics, also called non -woven, non -woven fabrics, and non -woven fabrics. Non -woven fabrics are made of targeted or randomly arranged fibers. The connotation is "non -knitted" by the combination of friction, holding, adhesion, or these methods. Non -woven fabrics exist in the cloth in the form of fiber, and the woven cloth is in the form of the yarn in the cloth. This is also a major feature that is different from other fabrics. Can't draw the heads one by one.
What are the raw materials for non -woven fabrics?
As PetroChina and Sinopec began to build a mask production line, production and sale of masks, everyone gradually learned that the mask and oil were inextricably linked.

"From Petroleum to Mask"
The whole process of changing from oil step by step into a mask is introduced in detail. Petroleum distillation can obtain acrylic, acrylics are polypropylene through polymerization reactions, and polypropylene can be further made into polypropylene fiber, which is what we usually call patellar. Polypropylene fiber (pallonadium) is the main fiber raw material for the production of non -woven fabrics, but it is not the only raw material, polyester fiber (polyester), polyamide fiber (nylon), polypropylene fiber (acrylic), adhesive fiber, etc. Can be used to produce non -woven fabrics.
Of course, in addition to the above chemical fibers, natural fibers such as cotton, hemp, hair, and silk can also be used to produce non -woven fabrics. Some people often think that non -woven fabrics are considered chemical fiber products, which is actually a misunderstanding of non -woven fabrics. Like the fabrics we usually wear, non -woven fabrics are also divided into chemical fiber non -woven fabrics and natural fiber non -woven fabrics, but chemical fiber non -woven fabrics are more common. For example, the cotton soft towel in the figure below is a non -woven fabric made of natural fibers -cotton. (Here, I should remind everyone that not all products called "cotton towels" are made of "cotton" fiber. There are also some cotton soft towels in the market. Just like cotton, you must see the ingredients when you buy it)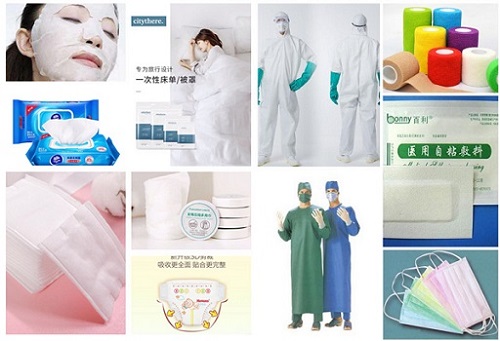 ▲ All -cotton non -woven fabric
How did the non -woven fabric make?
First understand how fibers come from. Natural fibers exist in nature. Chemical fibers (including artificial fibers and synthetic fibers) are to melt the polymer compound into the solvent or high temperature heating melt into melts by the solvent, and then the solution or melt is spinning from spinning The spray head of the wire pump is squeezed out, and the sprayed refined cooling solidification forms a newborn fiber. After the corresponding fiber, the short fiber or long filament that can be used for textile is formed.
▲ Chemical fiber production process
The weaving woven is a cloth that woven the fiber into a yarn, and then the yarn is woven by weaving or knitting. Non -woven fabrics do not need spinning and weaving, so how does it turn fiber into cloth? There are many production processes of non -woven fabrics, and the processes are different, but the core processes include fiber mesh and fiber network reinforcement.
Fiber
"Fiber to form the net", as the name implies, is to make fibers into a net. Commonly contains dry method, wet method nets, spinning into nets, melting spraying into nets, and so on.
The dry method network and the wetframe network are more suitable for short fiber mesh. Generally, fiber raw materials need to be prepared, such as pulling large fiber groups and fibrous pieces into small pieces to make it loose and remove the impurities in it. , Mix various fiber components evenly, make preparations before the network. The dry method is generally turned into a fiber network with a certain thickness by combing pre -processing fibers. Wet Fa Chengwang is to disperse short fiber in water containing chemicals, forming suspended pulp, and then filtering the water. Fiber deposited on the filtration will form a fiber net.
▲ Textiles into the net (top) and melting spray net (below)
Both the spinning net and the melting spraying net use the spinning method of chemical fiber to make the fiber directly lay into the net during the spinning molding process. Among them, the spinning wire is sprayed from the spray head from the spray head, which is cooled and stretched to form a certain fineness. Fiber nets form a fiber net on the receiving device. The melting spray net uses a high -speed hot air to stretch the fine stretch of the sprayed head to form ultra -fine fibers, and then gather to form a fiber net on the receiving device. The fiber diameter formed by the melting spray method is more conducive to improving filtration efficiency.

Fiber network reinforcement
After the fiber mesh made by different methods, the internal fiber connection is relatively loose and the intensity is relatively low, and it is difficult to meet the needs of the use, so it needs to strengthen it. Common reinforcement methods include chemical adhesion, thermal adhesion, and mechanical reinforcement method.
Chemical adhesion and reinforcement method: Apply adhesives to the fiber mesh through immersion, spraying, printing and other methods, and then solidify the moisture evaporation and adhesive, so that the fiber mesh is reinforced to form cloth.
Thermal adhesion reinforcement method: Most of the polymer polymers have thermoplasticity, that is, it will melt and become sticky after heating to a certain temperature. After cooling, it can be solidified again. The fiber network can also be strengthened by using this principle. Commonly used hot air adhesion -using hot air to heat the fiber mesh to make it adhesive; hot -rolled bonding -heating the fiber net with a pair of heating steel rollers and applied a certain pressure to so that the fiber net can be stubborn.
▲ Hot -rolled adhesion diagram
Mechanical reinforcement method: As the name suggests, the mechanical external force is applied to the fiber network. Commonly used is needle, water spurs method, etc. The acupuncture method is to repeatedly puncture the fiber network with a thorn needle, so that the fibers in the fiber network will entangle each other and play a reinforcement role. Friends who have played music should be no stranger to this method. Through acupuncture, you can poke the fluffy fiber group into various shapes. The water test method is sprayed on the fiber network with high -speed and high -pressure fine water flow, so that the fibers are entangled with each other to strengthen each other, similar to the acupuncture method, but the "water needle" is used.
▲ Poke music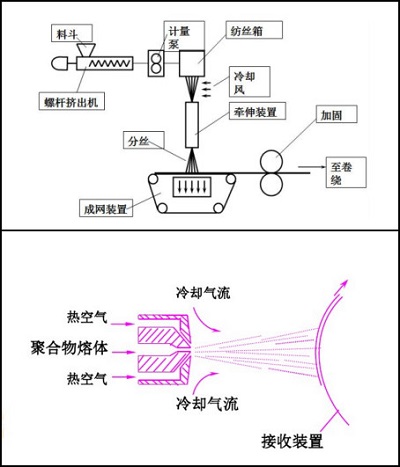 Complete the fiber mesh and fiber net reinforcement, and then after a certain amount of post -treatment, such as drying, setting, dyeing, printing, flowing, etc., the fiber has officially become a non -woven fabric. Depending on the difference between Chengwang and reinforcement technology, non -woven fabrics can be divided into many types, such as water test non -woven fabrics, acupuncture non -woven fabrics, spinning non -woven fabrics (spinning schola) Non -woven fabrics, etc., non -woven fabrics made of different raw materials and production processes also have their own different characteristics.
What are the uses of non -woven fabrics?
Compared with other textile fabrics, the non -woven fabric process is short, the production rate is fast, the output is high, and the cost is low. Therefore, the use of non -woven fabrics is very wide. Its products can be seen everywhere, which can be said to be closely related to our daily life.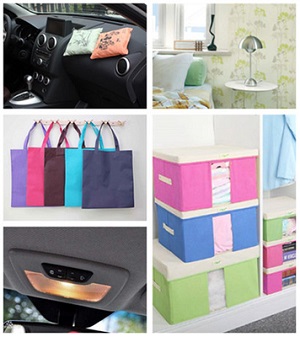 Many disposable sanitary products we use in our daily life use non -woven fabrics, such as one -time sheets quilt pillow cover, disposable sleeping bag, disposable underwear, compressed towels, mask paper, wet towels, sanitary napkins, diapers Wait. Surgery, isolation clothes, masks, bandages, dressing, bandaging materials, etc. in the medical industry are also inseparable from non -woven fabrics. In addition, the wall cloth, carpet, storage box, vacuum cleaner filter bag, heat insulation pad, shopping bag, clothing dust cover, etc. Live carbon packaging, seat cover, sound insulation felt, and rear window sill boards are also widely used.
It is believed that with the continuous innovation of non -woven fiber raw materials, production technology and equipment, more and more non -woven products with excellent performance will appear in our lives to meet our diverse needs.
(Some pictures are from the Internet, if there are copyright issues, please contact us)
References:
[1] Cheng Du. Non-woven industry: How to deal with new opportunities under consumption upgrade? [J]. China fiber examination, 2018 (04): 122-125.
[2] Jin Guanxiu. Spinning/melting spray non -weaving fiber -fabricity mesh structure and its filtration performance [D]. Zhejiang University of Technology, 2017.
[3] Fan Songlin. The second fiber network reinforcement of the non-weaving Bukopoph lecture [J]. Beijing Textile, 1993 (05): 13-17.
[4] Zhu Songwen, Liu Jingwei. Costume Materials (5th Edition) [M]. Beijing: China Textile Press, 2015: 59-61.
This article is the original content of the China Digital Science and Technology Museum (www.cdstm.cn). Please indicate the source and author for reprinting, otherwise we will investigate the liability of infringement according to law.