The University of California, Los Angeles, abbreviated as UCLA, is located in Los Angeles, USA, and is a world-renowned public research university, a member of the Pacific Rim University Alliance and the International Public University Forum. The university ranked first among public universities in the United States in the 2019 Wall Street Journal, THE and US News rankings, ranked second in the world in the 2018 QS Graduate Employability Rankings, and ranked first in the United States in the 2018 Forbes Most Valuable Colleges Rankings, making it the university with the largest number of applicants in the United States. In 2019, it ranked 11th in the 2019 World University Academic Rankings, 17th in the 2020THE World University Rankings, 35th in the 2020QS World University Rankings, and 14th in the 2020USNews World University Rankings, and is known as the cradle of talents in business finance, high-tech industry, film art and other talents in the United States.
Motto
Latin: Fiat Lux
English: Let there be light
Translated from Hebrew יְהִי אוֹר, from the biblical book of Genesis, it is the motto shared by all campuses within the University of California system and is reflected in the UCLA emblem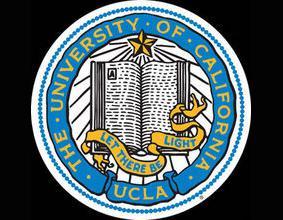 school badge
UCLA school emblem
The main body of the UCLA emblem is composed of books, five-pointed stars and ribbons with the motto of Let there belight, the five-pointed star above glows down the books below, and the words "University of California" and "UCLA" are surrounded by the outside.
Calibration logo
UCLA Calibration Mark
It consists of concise UCLA letters with a slightly right-tilted head.

School song
"Hail to the Hills of Westwood"
Hail to the hills of Westwood,
To the mighty sea below;
Hail to our Alma Mater,
She will conquer every foe.
For we're loyal to the Southland,
Her honor we'll uphold;
We'll gladly give our hearts to thee,
To the Blue and to the Gold.
This article is co-edited by Toutiao Encyclopedia users Don't Eat Cake XJ, Love YYYM, Northwest Corner of Deep Alley, Yiye Youran 2020, and Zhou Zaili.