With people's attention to air health problems, air purification and disinfection equipment has entered thousands of households like ordinary home appliances. However, at present, air purifiers, air disinfection machines and other products on the market are emerging in an endless stream, with a wide variety of types, and the functional parameters are also quite different. So, for ordinary consumers, how to choose? What detours have you taken? Let's take stock together!
1. Blindly pursue foreign brands
I have to admit that foreign brands are superior in some aspects, but are foreign brands necessarily suitable for us? This is not the case, because foreign pollutants and domestic pollutants are different. Because of China's large population, formaldehyde, second-hand smoke, PM2.5 and other pollution are more serious, while foreign pollutants are mainly pollen, bacteria, viruses and other allergens. Therefore, not all European and American brands are suitable for us.
2. Only pay attention to purification and do not pay attention to disinfection
When many people buy air purification equipment, they often only consider "purification" and ignore "disinfection". However, after the epidemic, everyone knows that the "purification" and "disinfection" of the air are indispensable, and without "disinfection", it is impossible to ensure respiratory safety.
3. Ignoring the secondary pollution of air purifiers
Many people think that if they buy an air purifier, they can enjoy fresh air, but they don't know that the air purifier will also produce secondary pollution. For example, activated carbon has problems such as easy saturation of adsorption value and reverse release of pollutants, so when the temperature is too high, the activated carbon air purifier not only cannot achieve the effect of clean air, but even causes secondary pollution! In addition, there are some air disinfection machines, whether they will produce excess ozone in the work, which is also very harmful to the human body.
4. Failure to carefully calculate economic accounts
When purchasing an air purifier or air disinfection machine, you can not only look at the purchase cost, but also consider the subsequent use cost. At present, most air purifiers and air disinfection machines use HEPA filters, can not be cleaned can only be replaced, need to be replaced more than 3 times a year, each investment is about 500 yuan, constantly replaced to form a bottomless cost, and it is very inconvenient to replace the filter. Therefore, when choosing an air purifier or air disinfection machine, you should carefully calculate the economic account, and do not regret it after buying.
So, how can we avoid misunderstandings and buy air purifiers or air disinfection machines correctly? Let's open the right way with the editor!
1. Air disinfection machine > air purifier
Air disinfection machine and air purifier can not be confused, whether it is quality or supervision, air disinfection machine is better than air purifier. On the one hand, the production of air disinfection machine requires enterprises to have a "disinfection product production enterprise hygiene license" and a professional dust-free production workshop, on the other hand, the product needs to meet the sterilization standards of the "Disinfection Technical Specifications", and the removal rate of natural air bacteria needs to reach more than 90%, while the air purifier does not need to meet the above two requirements.
There are a lot of air pollution in the living environment, dust, viruses, mold, insects and mites are allergens, formaldehyde, benzene and ammonia, etc. are organic volatile gases, harmful to the human body, so it is recommended that you choose an air disinfection machine suitable for household use, so as to achieve "purification, disinfection" in one step.
2. Compare purification and disinfection technology
At present, in the market, the purification technology promoted by the business is dazzling, such as ion waterfall, filter technology, nano filter technology, plasma, UVC deep ultraviolet, CEP technology, active oxygen sterilization, plasmagroup, hypochlorous acid, IFD, ultrasound… But in general, it is divided into two categories: one is passive adsorption, and the other is active killing. "Passive adsorption", in other words, the disinfection machine only filters and adsorbs the virus during the working process, and does not destroy the virus. The "active killing" technology is divided according to the disinfection factor, which can be divided into physical disinfection, chemical disinfection and other disinfection, among which the harm of chemical disinfection is obvious. Among the physical disinfection methods, IFD technology is a world-renowned and extremely efficient air disinfection and purification technology.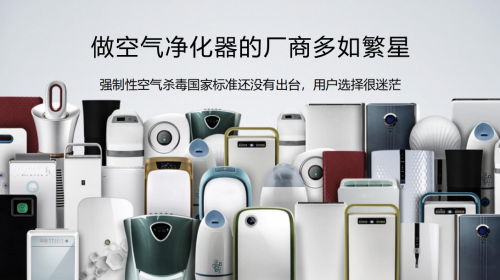 3. Applicable area
The choice of air purifier and indoor area also has a lot to do with it, the air purifier purification capacity is also applicable to the area is also strong or weak, air purifier also has its own specifications, usually refers to the unit time to purify the air volume, such as 100 square meters of space should choose 400 cubic meters per hour air purifier.
4. Energy efficiency
Since it is an electrical appliance, it must not bypass energy efficiency, the energy efficiency level determines whether the air purifier purification ability is outstanding, but also determines whether the air purifier is energy-saving, in general, energy efficiency ensures the purification effect of the air purifier and also guarantees energy saving.
5. Whether there is secondary pollution
Some air purifiers use a strong oxidant is ozone, ozone concentration is too high is harmful to people, fortunately the country has relevant standards, limited to ≤5×10-6%.
6. Whether it is a professional brand
If a brand sells refrigerators, mobile phones, and air purifiers, I don't think it can be very professional, because the energy of enterprises is also limited. At present, a large number of non-professional manufacturers into the field of air purifiers, due to the lack of professional technology and product experience, these non-professional products in filtration technology and performance often have major safety risks, non-professional products may produce excessive ozone in the purification process, causing consumer neurotoxicity, and its purification effect can not be compared with professional air purifier brands.
In fact, when we choose an air purifier, we still have to choose according to our own life needs. In my opinion, buying an air purifier to see the brand is one thing, and the most important thing is to look at the core technology. At present, IFD air purification technology has become one of the core technologies that users refer to the most when choosing air purifiers. So how does IFD technology work? And what are the advantages?
IFD (Intense Field Dielectric) refers to the use of dielectric material as a carrier of strong electric field filter, dielectric material to form hollow microchannels, dielectric wrapped electrode sheet in the channel to form a strong electric field, it on the air moving charged particles, microorganisms to exert a huge attraction, in only the minimum airflow impedance at the same time can absorb almost 100% of air motion particles, fine particles, such as aerosols, bacteria and viruses and other removal effect is particularly prominent. And PM2.5, PM10 and other particulate pollutants are filtered first, and then formaldehyde, ammonia, nicotine and other gaseous pollutants are decomposed, so that they are converted into carbon dioxide and moisture, and then discharged with the purified air, reducing the polluted air to non-toxic and harmless clean air. In addition, there is no need to replace consumables, which saves users a lot of money!
Simply put, compared with other disinfection technologies, IFD technology has the following highlights: FD technology highlights: PM2.5 purification efficiency is as high as 99.9%; Efficient killing of bacteria and viruses, first inactivation and then adsorption, no secondary pollution; Efficient filtration of allergens such as pollen; The filter can be washed with water and does not affect the purification effect; The wind resistance is small, and there is almost no effect on the air volume; No ozone, no fire, high safety.
It is understood that the IFD technology patent belongs to Darwin Technology International Limited in the United Kingdom. In China, Snow Saint is an exclusive IFD partner of Darwin, UK. Xuesheng has been focusing on air disinfection and purification for nearly 30 years and is a leading supplier of air purification solutions in China. Their latest launch of Snow Saint Fuward air disinfection machine "Disinfection Guard" series, set disinfection, purification, formaldehyde removal, negative ions, freshness, sterilization six-in-one, air purification capacity up to 560m³/h, you can understand.
After reading it, did you know more about the purchase of air purifiers? I hope these picks can help you.