Austrian friends who accidentally helped at Hangzhou Airport at the age of 20 met again 35 years later. Jack Ma, who hosted the Austrian chancellor at Alibaba's headquarters, received an unexpected surprise today.
Ma met an Austrian friend he helped 35 years ago
On April 25, Austrian Chancellor Kurz led a delegation to visit Alibaba's headquarters in Hangzhou, and while visiting Alibaba's public welfare practice results, Chancellor Kurz suddenly stepped forward and grabbed Ma Yun: "Jack, I want to introduce you to someone."
Then a reporter, already full of gray hair, came up from the crowd and said to Ma Yun: "When I arrived in Hangzhou 35 years ago, at the airport, you translated for me and put me in a taxi. "
Ma Yun was surprised and couldn't believe it, and then Ma Yun smiled and held his hand: "Welcome back!" "
According to the reporter's recollection, he traveled to Hangzhou in 1985 and wanted to visit West Lake, but at that time he could not find anyone who could speak English at the airport. "I searched for an hour to find someone who spoke English to help me, and then he showed me directions, told the taxi driver where to take me, and helped me negotiate the price."
The reporter was also surprised by the encounter. He said he always remembered that the Chinese boy had a special gesture when he spoke English. He gestured as he spoke, which looked a bit like the starting gesture of Tai Chi, and today he saw this familiar gesture again.
Kurtz and Jack Ma were impressed when discussing the online retail industry
At the same time, the reporter has also been following Jack Ma and Alibaba over the years. Looking back on these 35 years of change, "it's nothing short of miraculous."
Like this reporter, Kurtz and his entourage are also paying attention to how Alibaba is creating new miracles in the era of digital economy. During his visit, "Post-85" Chancellor Kurz frequently asked, "What about companies that have no online business at all and are less efficient in terms of digitalization?" "More and more traditional retailers in Europe have established a showroom model, where consumers experience offline and compare prices online?"
Ma Yun said that almost all businesses can do business through the Internet, many European small businesses only sell in their own countries, and today we can help them sell to China and Southeast Asia. "The only thing you have to do is be brave, trained, have the skills, have the ability to change."
Kurz said on social networks: "Thank you, Jack Ma, thank you for showing us around and having a wonderful conversation. The trip gave us a strong insight into how Alibaba sees the future of retail. "
55 Austrian brands, including Swarovski, have entered Tmall
It is reported that at present, 55 Austrian brands have entered Tmall Global, including Lomography, AKG, hogl, Manner, amaroy, RAUCH, Scoot & Ride, snack fun, happy time, etc., covering more than 20 categories such as accessories, watches, digital, women's shoes, snacks, coffee cereals, children's toys, alcohol, etc. In 2018, the overall transaction growth rate of Austrian brands on Tmall Global exceeded 500% year-on-year.
Among them, the more old brand is "Swarovski", founded in 1895, the old Austrian brand Swarovski has turned China into its world's largest market through in-depth cooperation with Alibaba. In 2015, Swarovski joined Alibaba's Tmall, driving its performance growth digitally. Every year, Swarovski's performance on Tmall has increased by more than 50%, and in 2018, Tmall Double 11 sales increased by more than 70% year-on-year.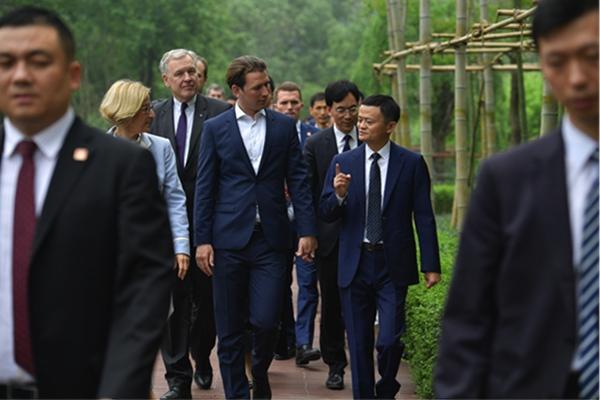 It is reported that in 2019, Swarovski plans to strengthen cooperation with Alibaba in new retail. According to Tmall jewelry Xiaoer Yiheng, Swarovski is a typical "gift" brand, although it is a brand that focuses on women's jewelry, but 70% of consumers are men to buy gifts. Therefore, in the future, Swarovski will do digital in-depth operations through Tmall, open more than 200 online and offline stores, and launch "timely delivery" services for Tmall consumers' "gift-giving" scenarios. If you want to buy a Swarovski gift for your girlfriend, pay online and it will be shipped offline at the store closest to you, and it will be delivered within two hours at the earliest.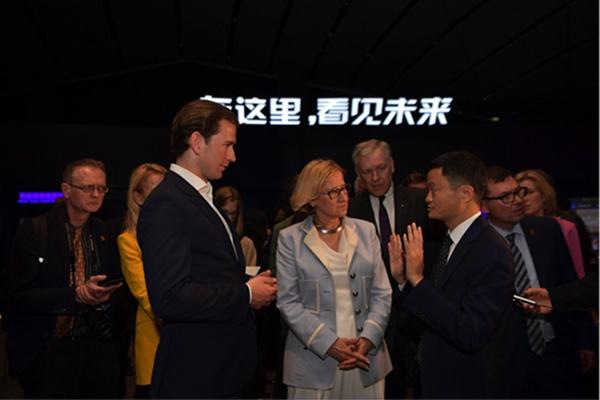 In addition, on April 9 this year, the Austrian National Tourism Board signed a cooperation agreement with Fliggy, a travel brand owned by Alibaba, to jointly build the Fliggy Austrian Tourism National Pavilion. According to Fliggy, Austria's popularity as a tourist destination has never been higher, with the number of Austrian tourism transactions increasing by 109% in the past year.
In the future, the two parties will also promote the promotion and popularization of Alipay in Austria, and strive to provide more convenient conditions for Chinese tourists in terms of travel, payment, tourism information and tourism products.
Text/Beijing Youth Daily reporter Wen Jing