Hongxing Erke is on the hot search again, this time because of the establishment of an industrial company.
Previously, Hongxing Erke was out of the circle for donating 50 million yuan of materials to Henan, and the "wild consumption" of netizens once caused its sales to skyrocket.
After a short highlight moment, Hongxing Erke's "aura" gradually dissipated. According to statistics from a third-party platform, Hongxing Erke's followers on Douyin dropped by nearly 300,000 in a month, and sales also shrank significantly. The question in front of Hongxing Erke is how to convert short-lived traffic into sustained awareness and reshape its new brand image.
jwview
Hongxing Erke wants to enter real estate?
Tianyancha App shows that on November 8, Hongxing Erke (Shangqiu) Industrial Co., Ltd. (hereinafter referred to as the industrial company) was established, the legal representative is Wu Rongzhao, the registered capital is 100 million yuan, and the business scope includes shoe and clothing manufacturing and real estate development and operation.
Sky eye check screenshot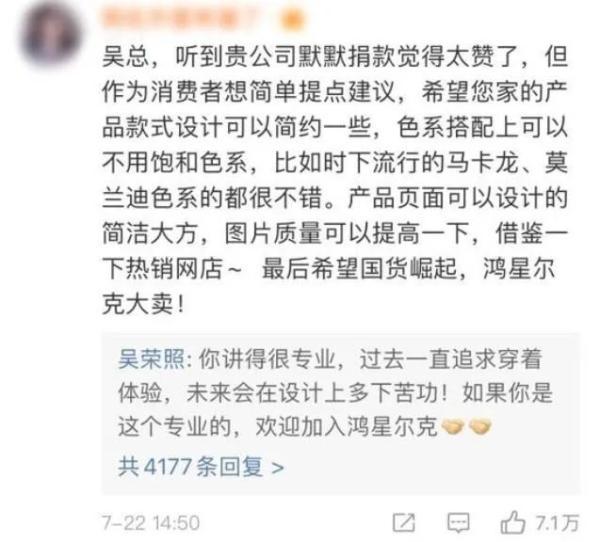 In this regard, Hongxing Erke responded in the official Weibo that this move is to build a factory, and there are more than 3,000 positions in recruitment, welcome everyone to step on the sewing machine together.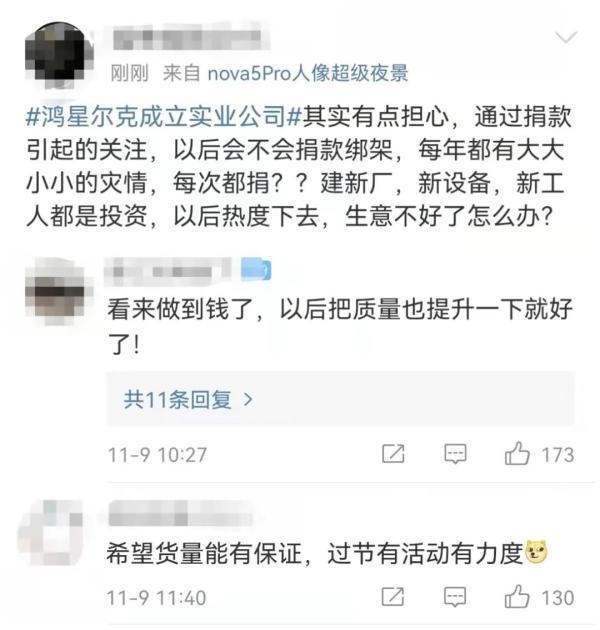 Hongxing Erke's official Weibo announced the construction of a factory in Henan
In this regard, some netizens commented, "Another job has been created, what a virtuous circle!" "This relationship has been forged with Henan, and I hope that the products of the Henan city series will be released in the future, and I believe that it will be a big hit through the cultural revival of Henan." "I just want to go back to my hometown. My grandmother and grandmother, who took care of me, are older, and they are close enough to spend more time with them. "
Why did you consider setting up an industrial company? Hongxing Erke exclusively responded to Zhongxin Jingwei that the group has established six major footwear and clothing production bases in Fujian, Sichuan and other places, and the addition of Henan (Shangqiu) Industrial Co., Ltd. this time is to join hands with Suixian footwear industry for common development, hoping to promote employment and help local economic development.
It is understood that Hongxing Erke Henan Shangqiu Sui County Shoes and Clothing Industrial Park has been officially completed.
Ms. Zhang, who is responsible for recruitment in the industrial park, revealed to Zhongxin Jingwei on the 9th that the entity of the industrial company is the Footwear and Apparel Industrial Park, which currently has three production lines and is recruiting workers.
"In the past, we had a factory in Fujian, but some workers from Henan reported that some people in their hometowns couldn't go out to work, and they had to watch their children at home." Ms. Zhang said that for migrant workers, if they set up a factory in Henan, they do not have to travel far to work, and it is more convenient to take care of the elderly and children at home.
Ms. Zhang also said that during the rain disaster in Henan, Hongxing Erke and Henan forged a fate, so they also investigated the situation here and finally decided to open a branch factory in Henan.
Zhongxin Jingwei noted that the business scope of the industrial company also includes real estate development and operation.
In this regard, Hongxing Erke responded to Zhongxin Jingwei that the group has no real estate development plan for the time being, and Hongxing Erke insists on focusing on footwear and clothing manufacturing related industries. Ms. Zhang said that the move is to consider the welfare of employees in the future, "some employees are far away (inconvenient to work), and some have worked here for a long time but the economic conditions are not good, and they also want a house, these are all benefits for employees." "
After the "highlight moment", the "wild consumption" ebb and flow
In July 2021, because of the generous donation of materials during the heavy rain in Henan, Hongxing Erke's "bankruptcy donation" touched countless netizens at the same time, but also triggered a wave of "wild consumption", many consumers used the live broadcast room to place orders to express their support for the brand, Hongxing Erke ushered in a "highlight moment".
According to data from what is worth buying, from July 23 to September 23, 2021, two months after the fermentation of the Hongxing Erke donation event, compared with the month on May 23 to July 23, the brand's turnover on the whole site increased by 1460.1% month-on-month, and the popularity of related topics increased by 5769.77% month-on-month.
More than three months have passed since this phenomenal event, and consumers' attention to Hongxing Erke is gradually receding. According to reports, from the sales performance, the situation of Hongxing Erke's offline stores being crowded and out of stock on a large scale no longer exists. "I thought at the beginning that there would be such a situation, it was normal, it couldn't be as hot as it was during that time." Some salespeople said.
According to data from Feigua, a live streaming e-commerce data analysis platform, the Hongxing Erke short video platform recently lost 219,000 followers in 30 days. In addition, Wu Rongzhao, president of Hongxing Erke, has more than 10 million Douyin followers, and his video released on July 25 in response to the donation incident received 6.83 million likes, but the number of likes on the video since then has rapidly decreased from about 1 million. As of the 9th, Wu Rongzhao's recently released video has only more than 40,000 likes.
A recent video of the Douyin account "Hongxing Erke Wu Rongzhao"
How do feelings land?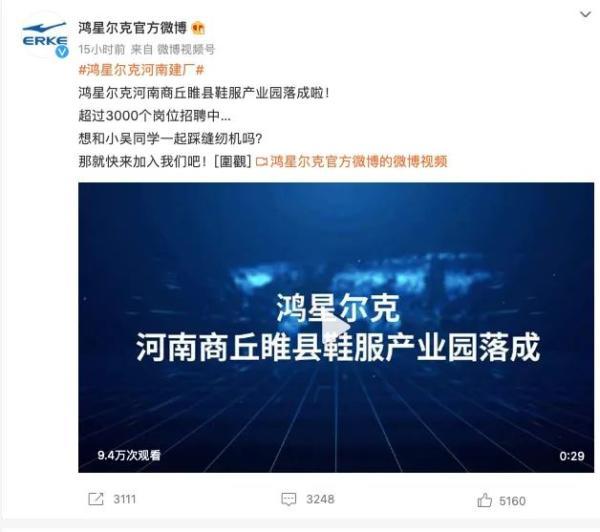 Since the beginning of this year, domestic sports brands such as Hongxing Erke, Li Ning, and Anta have risen in popularity among consumers. As market enthusiasm heats up, domestic sports brands also need to consider how to implement the sentiment of "the rise of domestic products".
As early as when Hongxing Erke came out of the circle due to donations, some netizens put forward suggestions for product design and quality improvement while supporting. At that time, Wu Rongzhao also replied to netizens that Hongxing Erke had been pursuing wearing experience before, and would work more on design in the future.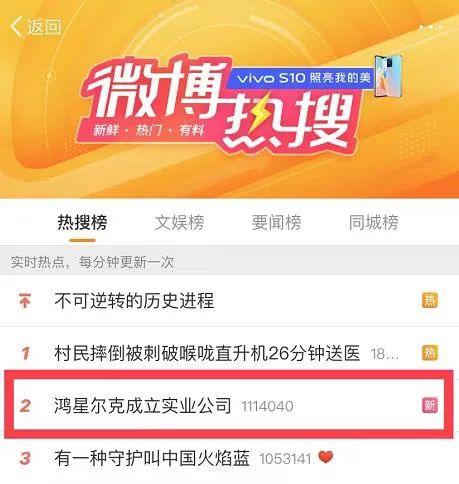 Weibo screenshot
After the hot search on the topic of Hongxing Erke's establishment of an industrial company, some netizens also expressed their worries: After becoming an Internet celebrity company, will Hongxing Erke "float"? Some netizens also shouted on social platforms, hoping that Hongxing Erke could ensure product quality.
Zhang Yuang, head of the operation center industry in the middle school, said in an interview with Zhongxin Jingwei,
The current general trend of domestic brands is to shift from price advantage to technology advantage.
"
In the past, everyone chose domestic products, more because the price was relatively low and more affordable; In the past two years, many sports brands such as Li Ning, Anta and Xtep have begun to promote technology and visual design, including sports backpacks and other peripheral products.
Zhongxin Jingwei learned from Hongxing Erke that the brand co-branded with National Comics and Henan Museum in 2021, and signed a group of designers to launch products such as Qingming Shanghe Park co-branded board shoes. The relevant person in charge of Hongxing Erke said that the joint product "will have more actions next year".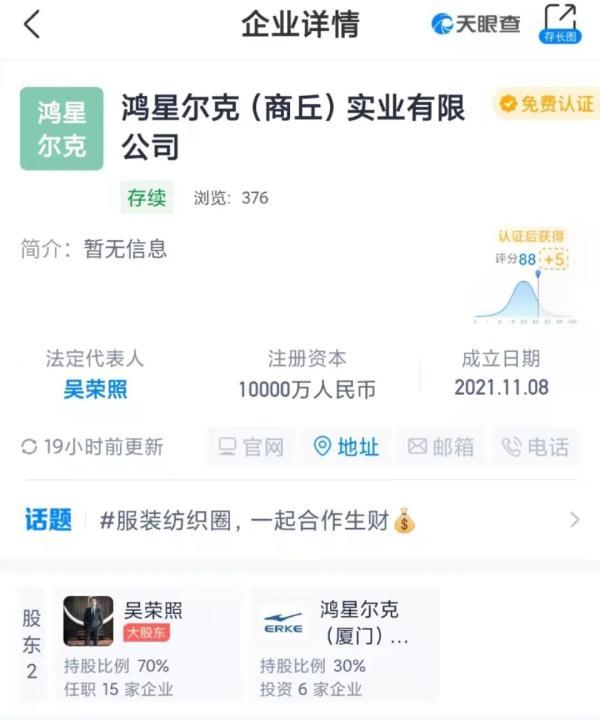 Guojin Securities said in the research report that in the first half of 2021, driven by multiple favorable external factors, coupled with the improvement of domestic sportswear leaders' own product strength and brand power in recent years, the sportswear sector as a whole showed a trend of double growth in performance and valuation. Since the third quarter, considering factors such as the recovery of international brand consumption, the sportswear sector as a whole has retreated; But in the long run, local sportswear is still favorable.
Talking about whether 2021 can be used as an "inflection point" for domestic brands to surpass foreign brands, Zhang Yuang believes that there is still some distance from the inflection point. "At present, everyone is still in the process of transition from recognition to acceptance. Some previous hot events have given domestic brands the opportunity to be discovered and discovered by the public, while the process of gradually changing habits of consumer groups is not so fast. "
Regarding how domestic brands can cultivate high-end brands, Gao Yanmin, former director of the Department of Consumer Goods Industry of the Ministry of Industry and Information Technology, said at the seminar on "High-end Breakthroughs of Chinese Brands: Intelligent Manufacturing Transformation and Brand Upgrading" that enterprises should create a timetable, specific steps and implementation plans for cultivating high-end brands; Consider setting up a brand director position with considerable voice within the company. "
The height of the brand depends on the quality of the product, and only when the product is upgraded can the brand be truly upgraded. "
Column editor-in-chief: Qin Hong Text editor: Dong Siyun Title picture source: Tuworm Creative Photo editor: Yongkai
Source: Author: Zhongxin Jingwei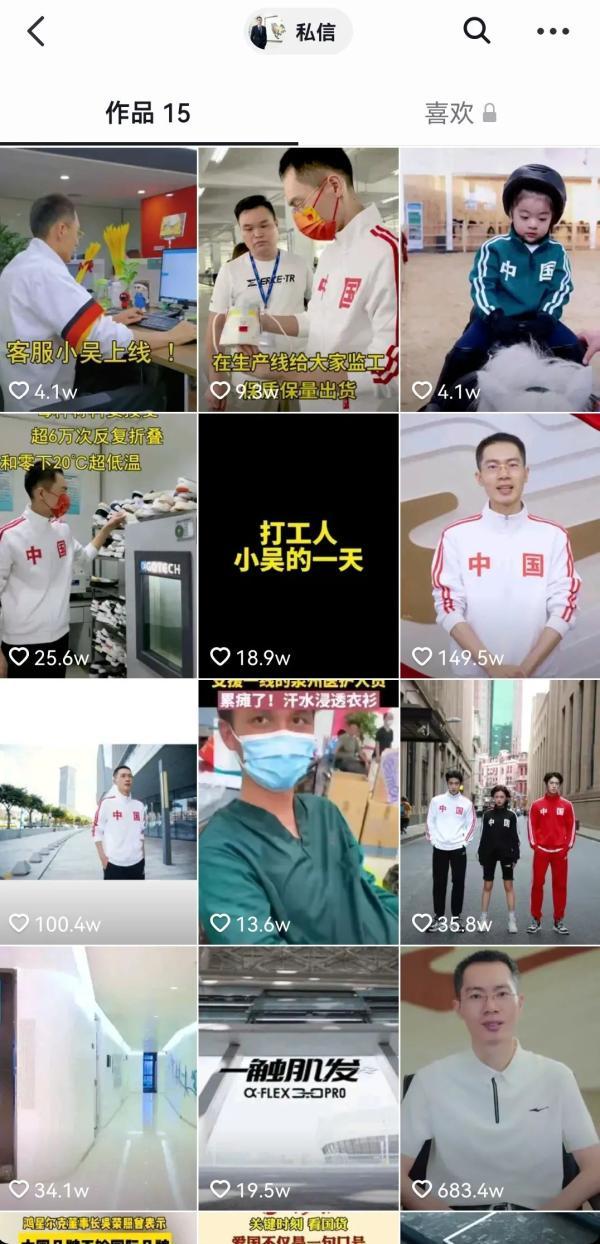 jwview
jwview
Weibo screenshot
"