How to solve the corona processor breakdown problem
Source: Visplastic Communications
When producing food packaging film, people will use a corona processing machine, and the bearing capacity of the film will become better after corona treatment, but if the corona treatment machine always has a breakdown problem, how should it be solved?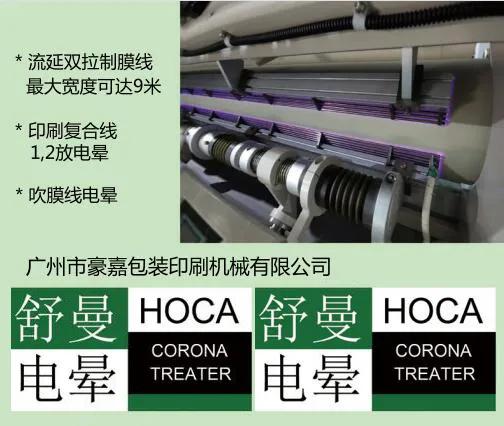 Under normal circumstances, when the corona strength of the corona treatment machine is high, there is a possibility of breaking down the film, and the strength of the corona treatment machine should be reduced. If the breakdown problem is still not solved after the strength of the corona treatment machine is reduced, it is recommended to contact the after-sales service of the corona machine and seek the help of professional maintenance personnel.
Corona machine is widely used in the film production line, it through the material motor treatment, the film surface to produce low-temperature plasma, these free radicals will react cross-linking, penetrate into the surface of the printed body, destroy the film structure, the film surface molecules oxidation, polarization, so that the adhesion of the film surface increases, the printing capacity is improved.
When the corona treatment machine processes the film, not only the breakdown problem is more common, but also the film adhesion often occurs, and the ink produces anti-sticking; The surface tension of the film becomes larger, and the ink adhesion decreases; Poor heat sealing, heat sealing temperature increase and other problems, these problems are mostly caused by excessive corona treatment.
In addition, the corona treatment machine sometimes has problems such as electrode failure to discharge, low ozone exhaust flow, corona electrode will jump and stop when discharged, large current during normal corona operation, inconsistent color of corona electrode discharge, etc.
Recommended Reading: Corona Treatment Generator