Stupid Daddy's shop is open!
Stupid dad has written a lot of articles about milk powder reviews before, and some moms ask stupid dad if it's to sell milk powder, or if he can buy milk powder from stupid dad. Sorry, stupid dad doesn't sell milk powder, and he doesn't cooperate with milk powder manufacturers. There are no plans for this in the future.
So far, stupid dad mainly uses his spare time to write articles, and share with you some analysis and purchase reference of mother and baby products, hoping to help you some. However, it is also false to say that stupid dads do not eat human fireworks and write articles without thinking about earning some money to subsidize the family.
With the increase in the categories involved in the evaluation content, stupid dad also wondered whether he could recommend some products that he had used, carefully investigated and analyzed, and had good performance, safety, and cost performance to everyone, or do a group purchase like other numbers?
It is also a good thing not to violate your conscience, but also to be able to share good products with everyone, and to subsidize your family, right?
This is the original intention of the stupid dad's shop. The products sold in the small store, stupid dad guarantees that he has personally experienced, and after multi-dimensional analysis and evaluation, he feels that it is good in performance, safety and cost performance. Moreover, it must be a product with reliable sources of sales channels.
As for whether it is really good, whether it can enter the eyes of your moms and dads, of course, it is not up to me to decide, you can judge rationally, feel good, order a like, feel bad, you can also scold, return, and feedback to stupid dad, supervise me to make timely adjustments and reflections.
Stupid Dad knows that the road to trust is long, and I want to build it with you. Cherish and appreciate everyone's support.
The first product on the shelves of the small store is the following one:
American Bumkins baby eats with bib & reverse dressing
After the baby is 6 months old (some may be after 4 months earlier), feeding becomes a grinding task to start adding complementary foods. Even if the baby is old enough to grab food and take a spoon by himself. Cups and plates, covered in rice, drool and food are also unavoidable.
At this time, it is indispensable to equip the baby with a bib for eating, or to dress backwards. It can save adults a lot of fatigue – wipe rice grains, wipe the dining chair, do laundry, and the baby looks clean and beautiful.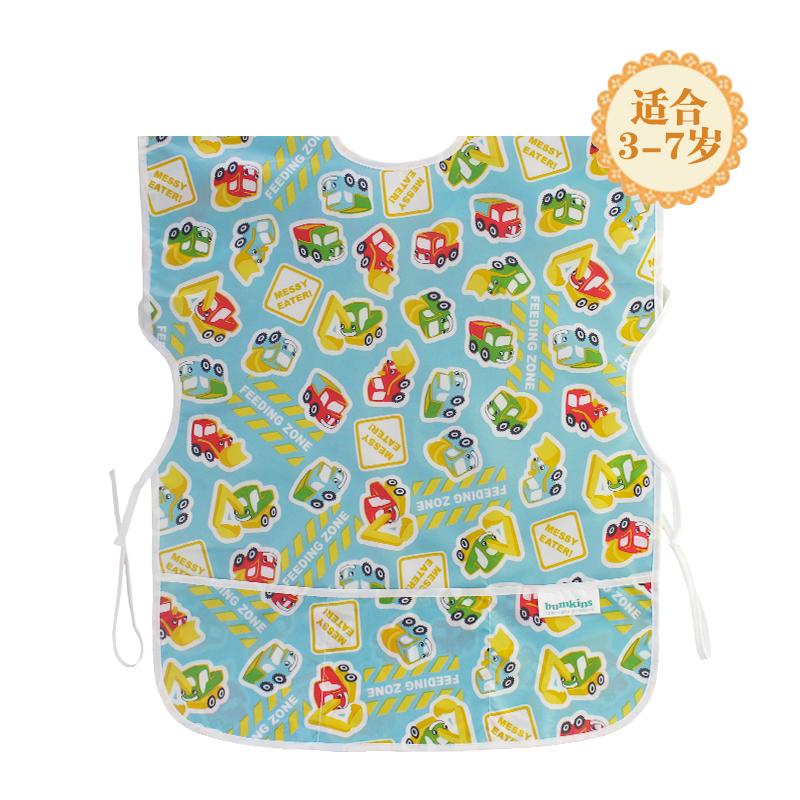 What points should a good bib meet? Stupid dad thinks there are the following:
1. Light and breathable. The reason is that if the baby feels heavy and stuffy in wear, he always wants to tear it off, or cry and make a fuss. Moreover, the light and breathable bib is also directly related to the difficulty of cleaning and cooling.
2. Easy to clean and easy to take care of. As soon as all kinds of oil stains are stained and not washed, they will exhaust the individual, and they should be thrown away after wearing it for a few months. Good care is that the leak-proof groove of the bib should be able to hold all kinds of food and avoid mush everywhere.
3. Safe and reliable. Although the bib is not an underwear that is in frequent close contact with the baby, it should not be irritating to the skin (mainly the neck), and the baby should not be a safety hazard if it is bitten in the mouth.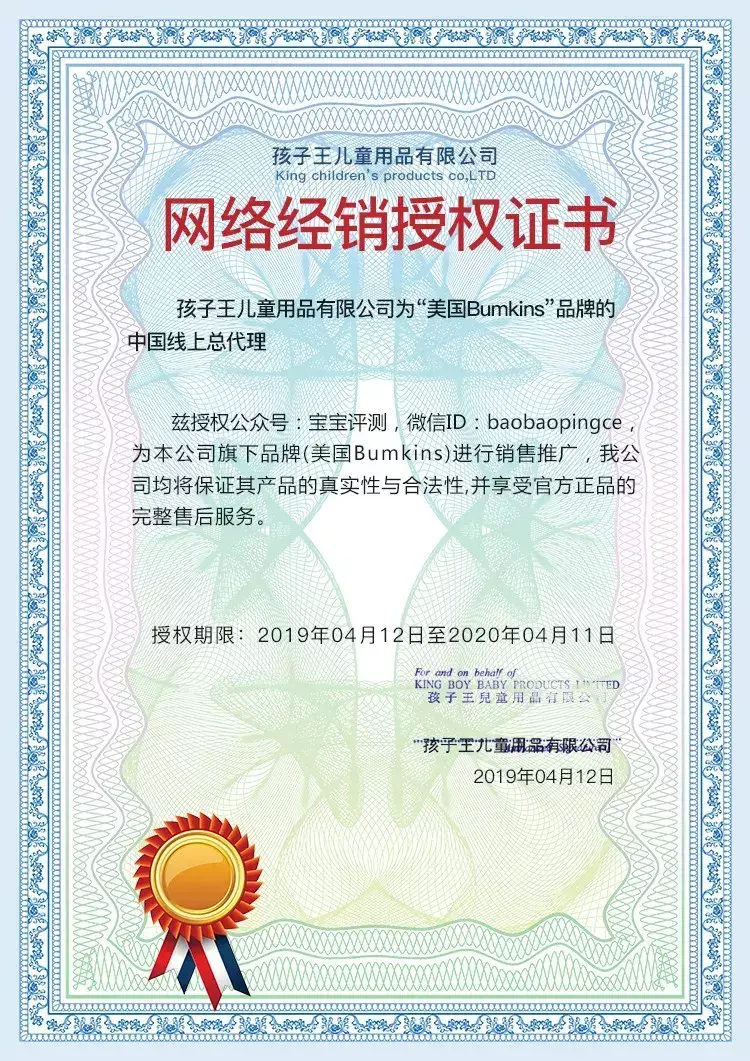 4. Look good. Hanging an ugly bib around the baby's neck is an unbearable thing for many mothers, and the baby should be beautiful even if it is like falling into the "garbage heap" to eat.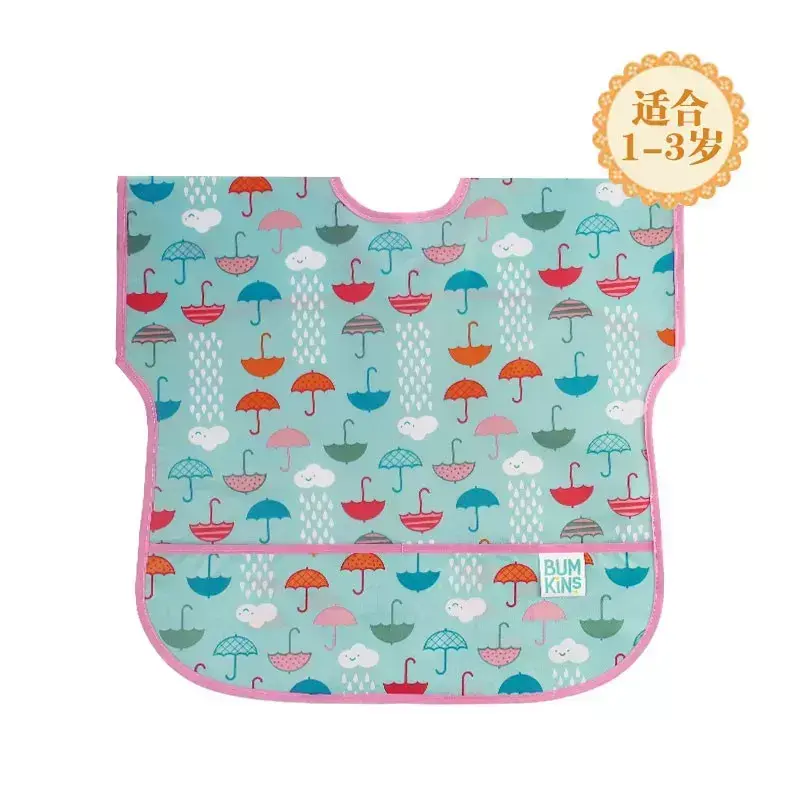 Stupid Dad based on the above shopping points, to see if this American brand bib is worth buying.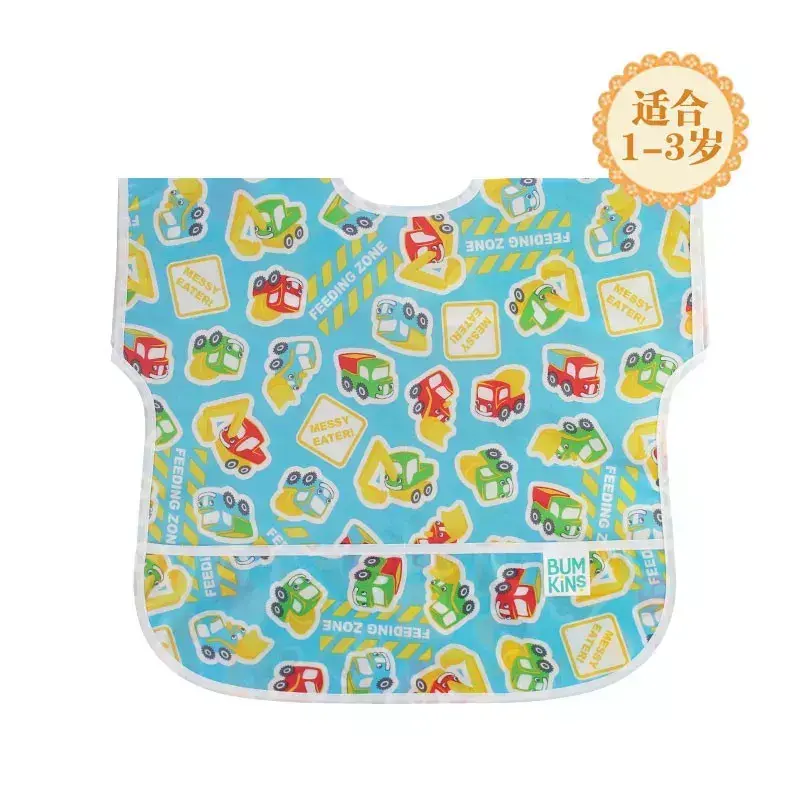 1. Appearance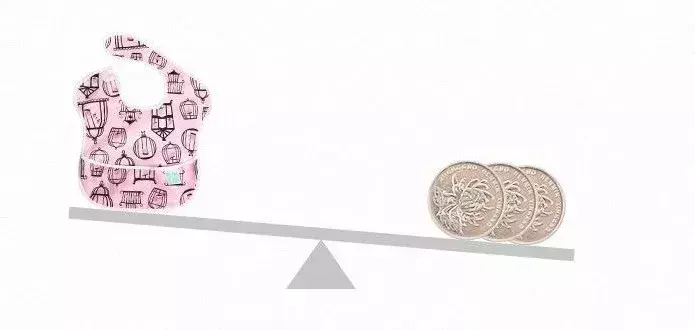 Why put appearance in the first place? There is no way, because its appearance is the first attractive thing, compared with many similar products, stupid dad thinks it looks better. Especially compared with the kind of solid color with cartoon pattern products, it looks too good.
Bumkins' bib is divided into the following patterns, whether the appearance is good or not, it is up to the mothers themselves to judge.
Many good-looking celebrity mothers also use it for their babies.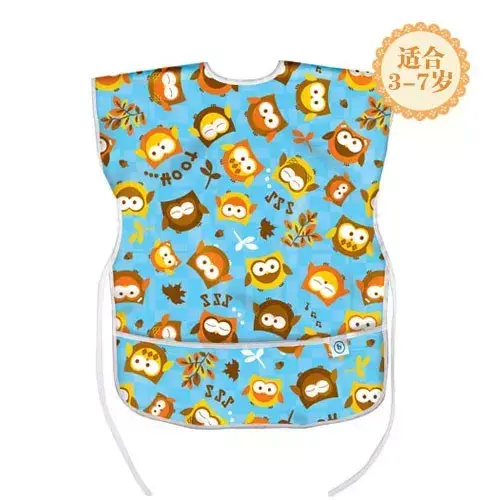 2. Light and breathable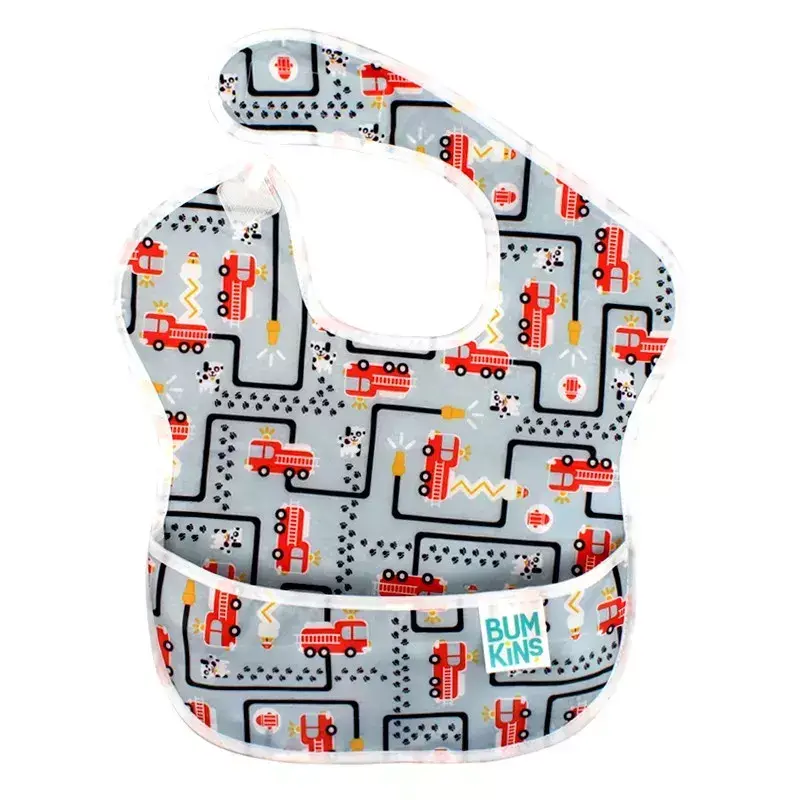 Now the common baby bib material on the market is mainly divided into silicone and polyester fiber, from a light and thin point of view, silicone material will be relatively heavy, the general weight will be about 75-100g.
The polyester material is relatively lighter, and this baby bib is only 15.321g, what is the concept? That's the weight of three coins.
Not only is the baby lightly dressed, but when he usually goes out, he doesn't get in the way at all, this soft and lightweight style can only be rolled up and folded casually, and it doesn't take up any space in the bag.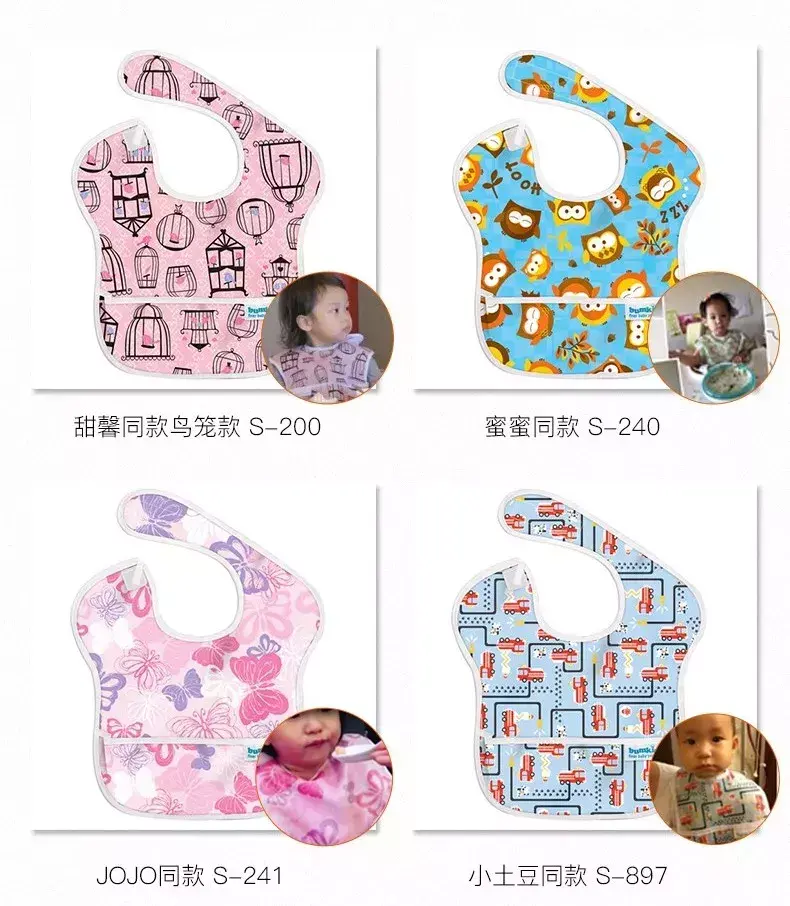 Another feature of polyester fiber material is also breathable, breathable is that the baby is comfortable to wear, even in summer there will be no stuffy feeling.
3. Leak-proof, waterproof and easy to clean
If the baby's bib is not large enough, it will easily leak outside. The silicone bib, the leak-proof groove will be larger, from the perspective of receiving food, it will be better, but it will also increase the weight. Although this product is soft and lightweight, the leak-proof groove can also meet the needs of leakage-proof.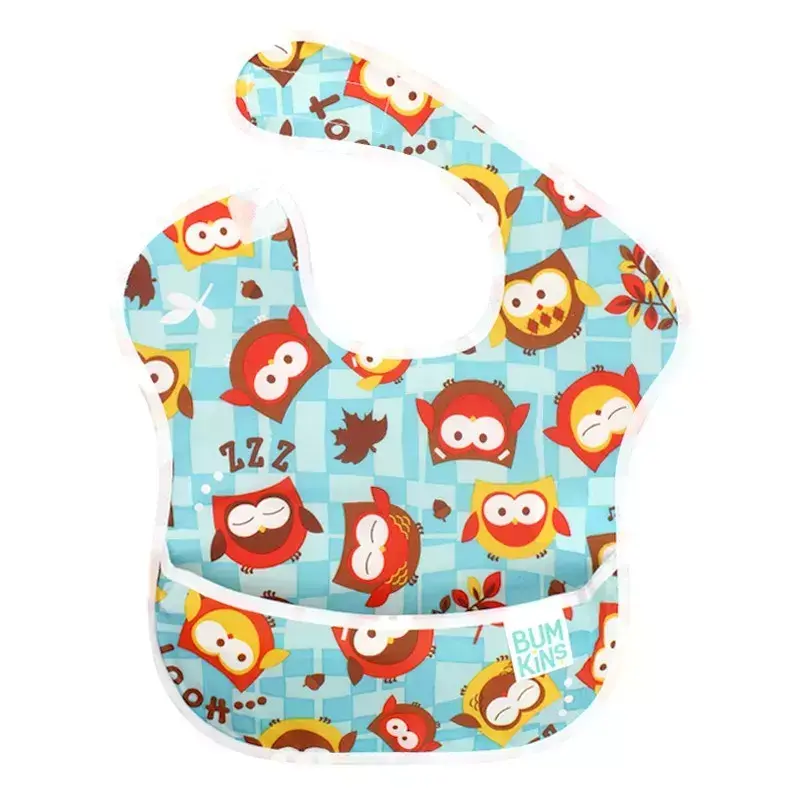 The key is that when cleaning the food in the tank, it is easier to clean up than the silicone one, just turn it over and wash it, and you don't have to hang it upside down when it's cool, worried that there is stagnant water in the trough and it is not easy to dry.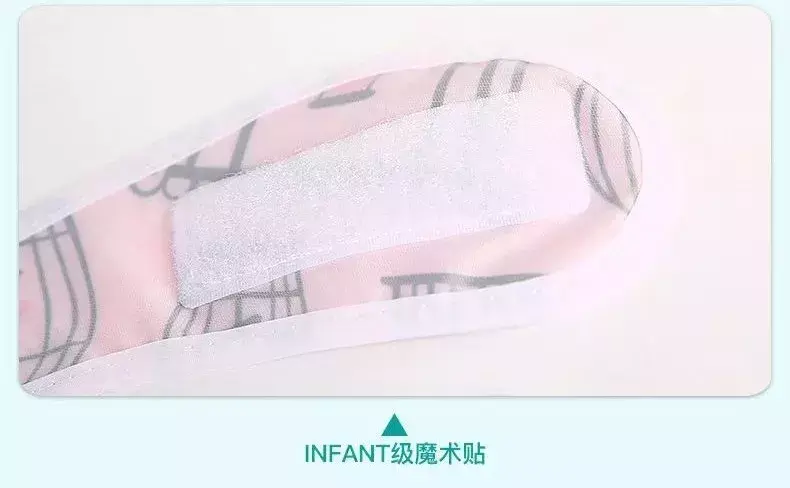 As for the waterproof and easy cleaning of this bib, it can be regarded as very good.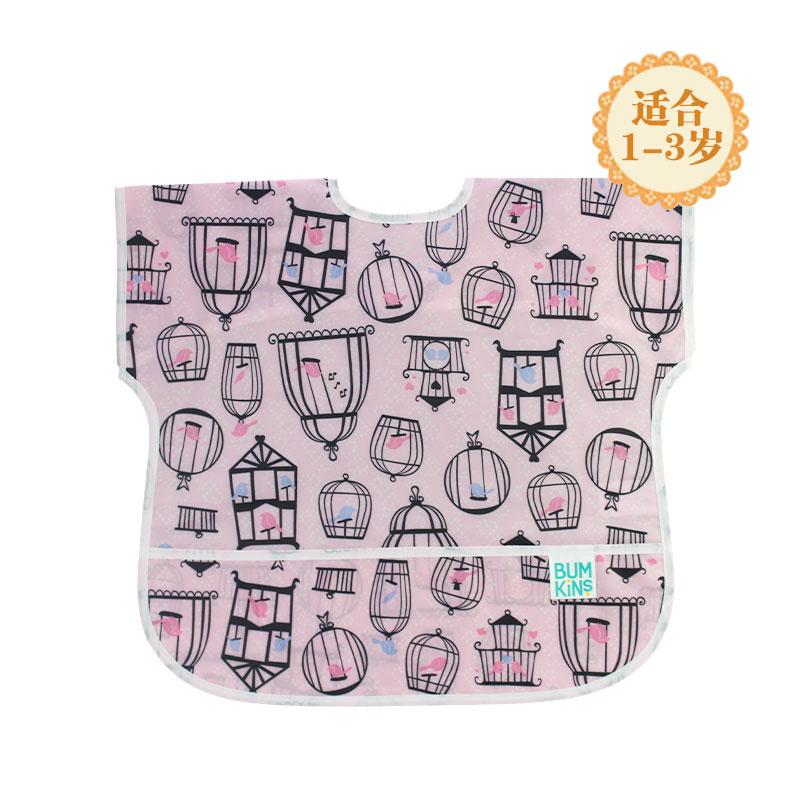 The 100% polyester fiber waterproof material used in this product is itself an easy-to-clean and non-sticky oil-stained material, which can be washed with a gentle wipe.
Stupid Dad experimented with several stains, including rice cereal, juice, yogurt, ketchup, soy sauce and cooking oil, and the result was that except for the cooking oil, which needed to be added with some cleaning essence or soap, the rest were washed with clean water.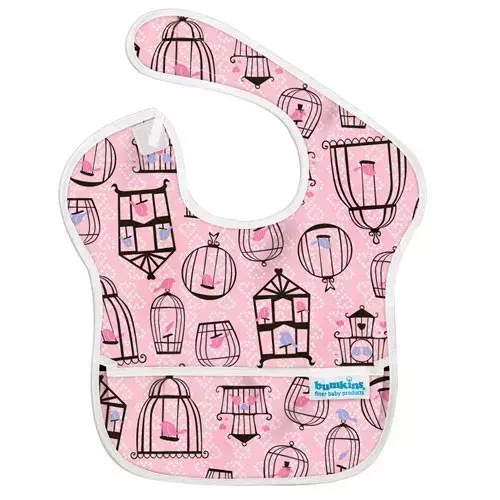 When cleaning, casually put it under the water tank, just like twisting a small handkerchief, fast and convenient. Due to its breathability, it dries easily in the sun, and it can also be machine washed, although stupid dads think they may not need it.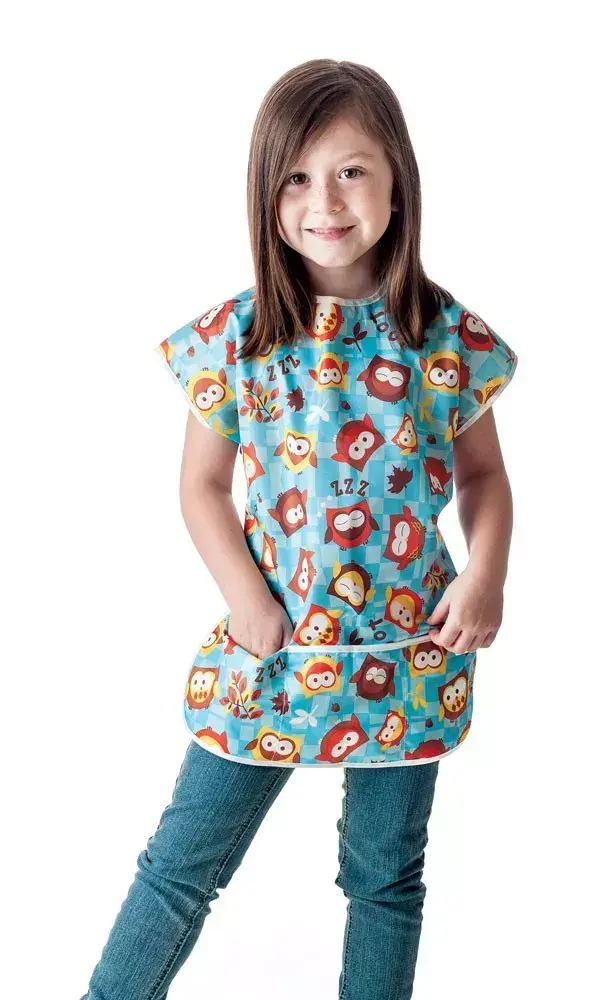 Unless it is very humid weather, under normal circumstances, two (pieces) are enough for daily use.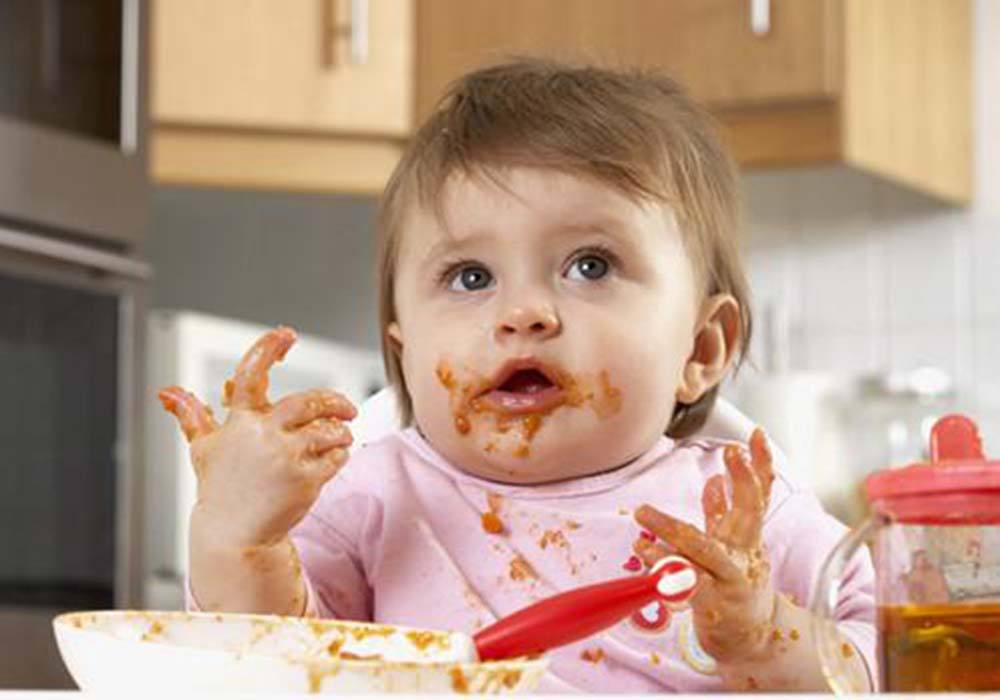 5. Security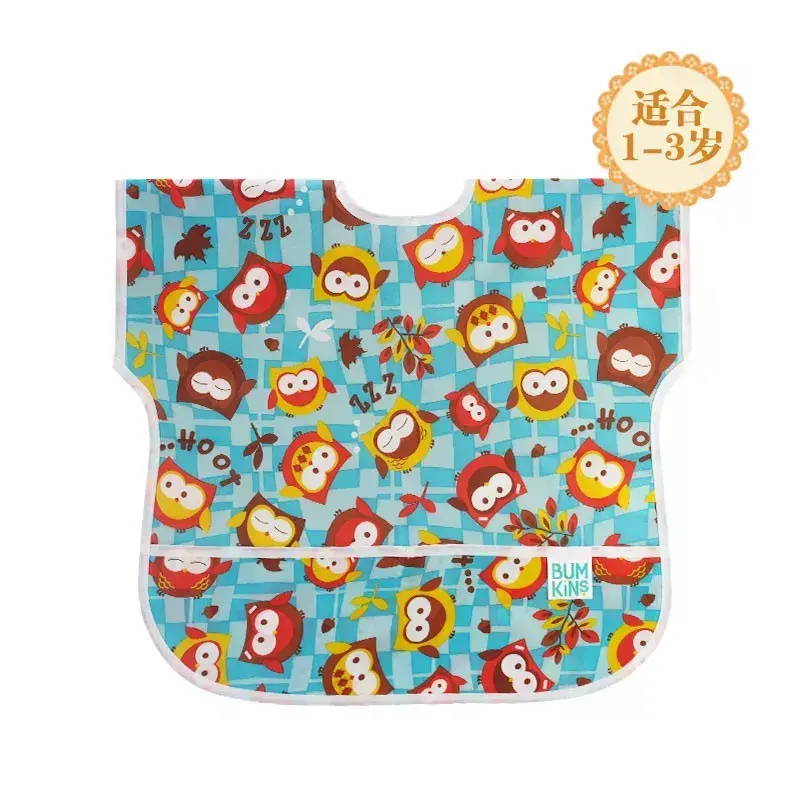 For baby textile or plastic products, it is important to see whether there are heavy metal precipitation, volatile compounds, formaldehyde, plasticizers and other toxic and harmful substances exceeding the standard.
According to the test report issued by SGS, the world's largest professional testing organization, according to the standard requirements of the US Food and Drug Administration for food contact materials, this bib is not safe.
Other details include adjusting the elastic with velcro, which is more durable than the usual back buckle.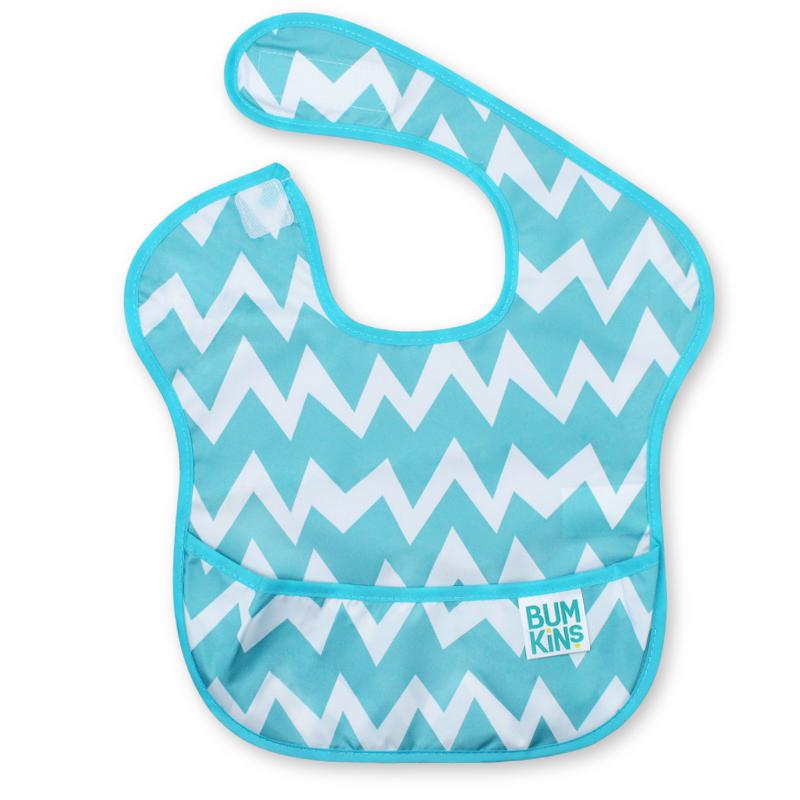 This brand's reverse wear also has these advantages, and the material is the same. The difference is that the "protection" range of reverse clothing is larger, and the larger baby wears it, so that there is no need to worry about changing a dress for a meal, and there is no need to worry about how to wash the clothes after washing for a long time.
About the brand, I will also give you a brief introduction:
Founded in the United States in 1989 by Jakki Limerman, the Bumkins brand is a mother and baby brand specializing in the production of baby products, including diapers, aprons, blouses, hats, rice pockets, dinner plates, etc., its brand claims that the advantages of fabric products are soft, washable, and permanently waterproof; And adhere to the US CPSIA standard, comply with California Proposition 65, the products are free of lead, polyvinyl chloride, phthalates and BPA.
All in all, stupid dad recommends this good bib to everyone. In terms of price-performance ratio,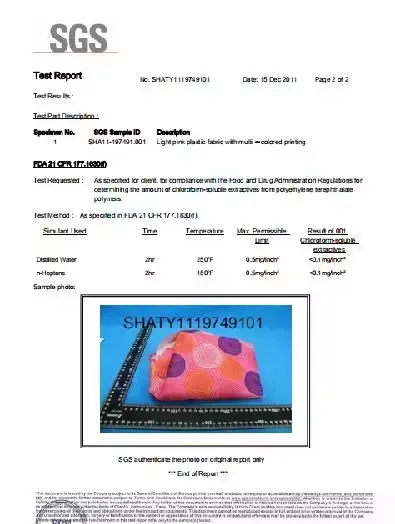 This product is also quite good, one piece costs 29 yuan, anti-dressing only 49 yuan, stupid dad conservatively estimated, one piece for two years is completely fine.
The group purchase product launched by Stupid Dad this time is provided by the Chinese online distributor of the Bumkins brand.
Authenticity guaranteed
Do not worry.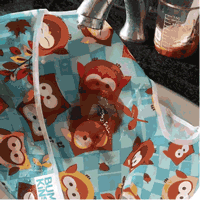 6. Group purchase information
Bib style
owl
Pink birdcage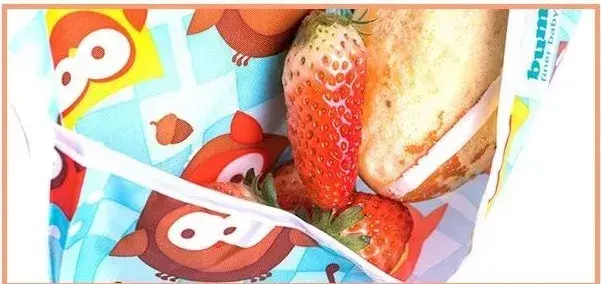 Blue waves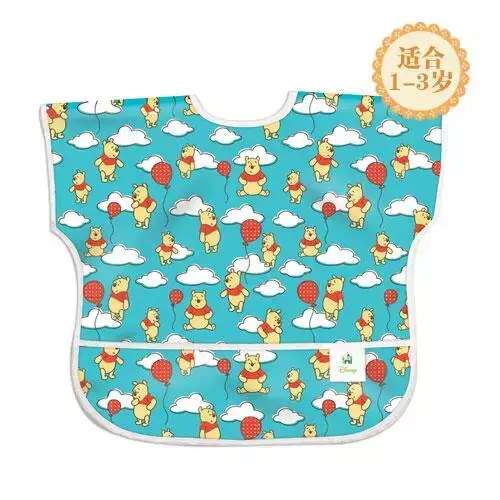 Colorful water droplets
fire engine
Reverse dressing (1-3 years old)
Reverse dressing (3-7 years old)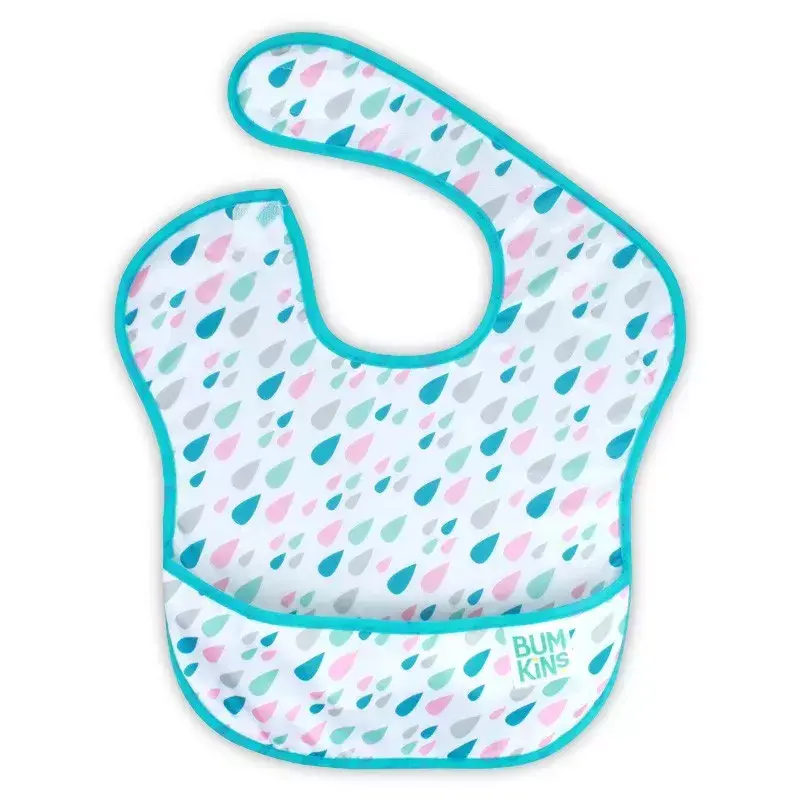 Group Purchase Price:
Bib: 29 yuan / piece
Reverse dressing (1-3 years old): 49 yuan / piece
Reverse dressing (3-7 years old): 69 yuan / piece
Free shipping for the whole country over 58 yuan, 6 yuan shipping fee will be charged if it is not full
Group purchase method: Follow the "baby evaluation" WeChat public account (ID: baobaopince) and enter the "bib" keyword in the background.
If you have any questions you want to consult, welcome to leave a message, stupid dad will answer for you.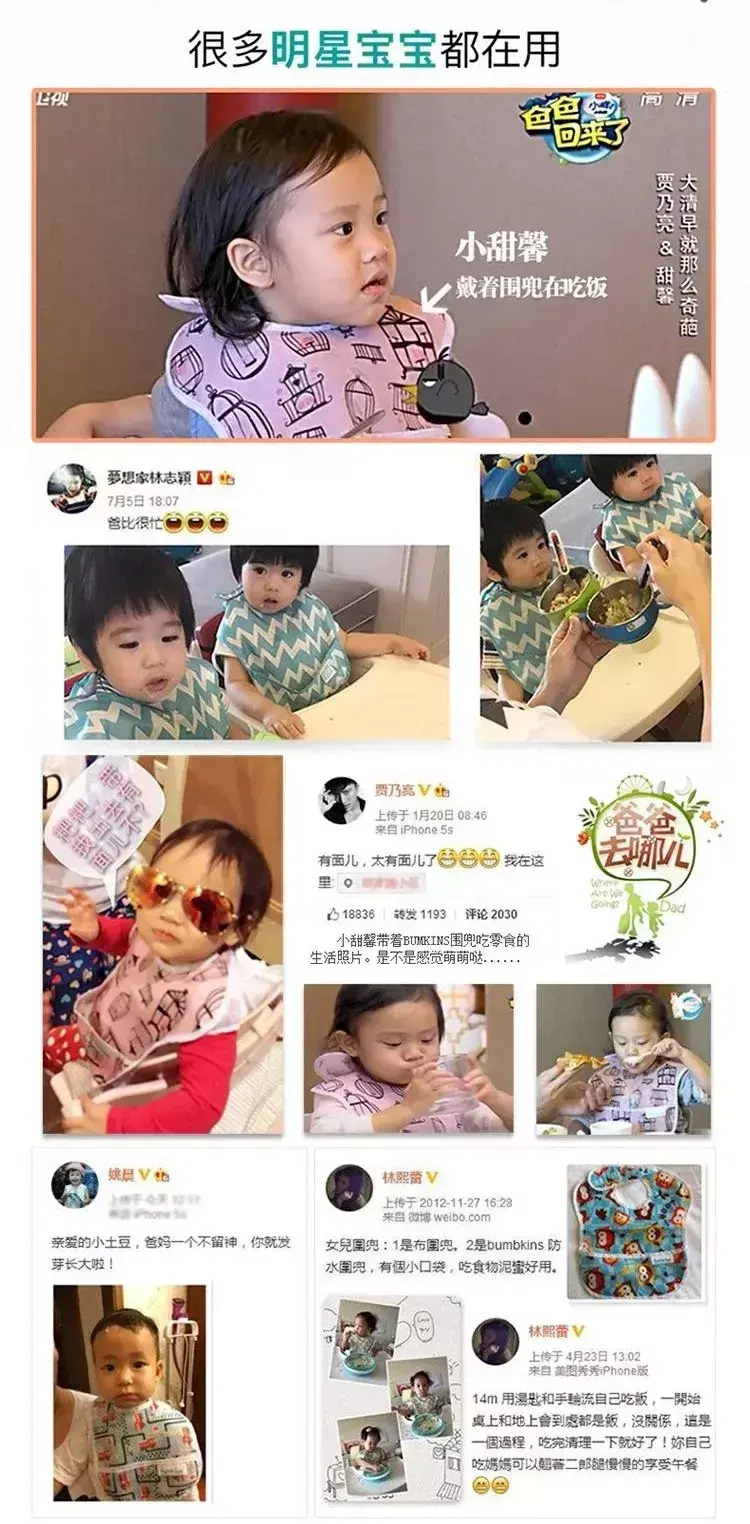 Historical Review:
1. Comprehensive evaluation of 32 National Bank version milk powder

2. Comprehensive evaluation of 38 domestic milk powders
3. Comprehensive evaluation of the five versions of Aitamei's milk powder
4. Comprehensive evaluation of 23 milk powders of Meisu Jiaer
5. Mead Johnson 33 milk powder comprehensive evaluation
6. Abbott 46 milk powder comprehensive evaluation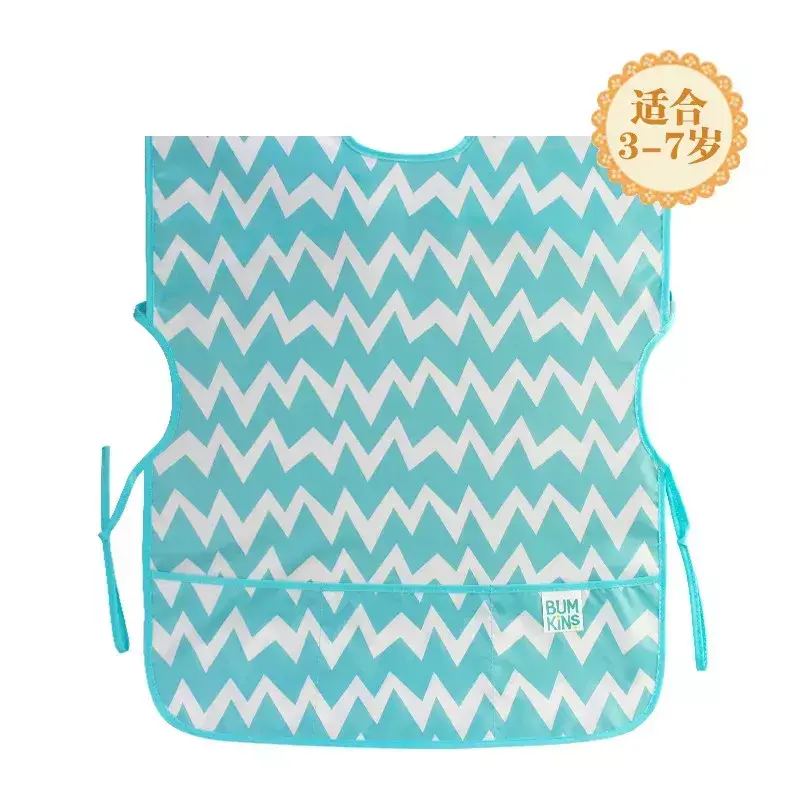 7. Comparative evaluation of cowpen VS Nuoyouneng's milk powder
8. Comprehensive evaluation of A2 milk powder
9. Comprehensive evaluation of Hypnochem milk powder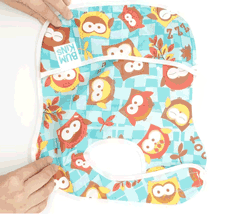 10. Evaluation of 66 bottle teats
11. Baby sunscreen assessment
Check out the "Baby Reviews" headline history article; Or follow the "Baby Evaluation" WeChat public account (ID: baobaopingce) and enter the corresponding keyword query in the background.
For "Baby Reviews", please click "Learn More" below.
Welcome to "Baby Review". 6 years of experience in commodity comparison and testing, not opportunistic, using scientific and rational stupid methods to provide reliable consumption suggestions.