On September 1, the Chinese fan support club of South Korean boy group BTS member Park Jimin – Baidu Park Jimin Bar @Park Jimin JIMIN_JMC announced that in order to celebrate the idol's birthday, their "customized exclusive aircraft" in cooperation with Jeju Air has been launched, and the entire fuselage, cabin and even the ticket required for the flight are exclusively customized for Park Jimin. The support will last for 3 months, and this is only part of the birthday support.
In order to give the best birthday support to idols, Park Jimin's Chinese fans have been raising funds since April this year, and Park Jimin Bar raised more than 1 million yuan in 3 minutes and more than 2.3 million yuan in 1 hour.
The fuselage is spray-painted with Park Jimin's "customized exclusive aircraft" (Source: Park Jimin Bar @Park Jimin JIMIN_JMC)
On September 1, Park Jimin Bar @Park Jimin JIMIN_JMC announced the completion of their "custom exclusive aircraft" in cooperation with Jeju Air, which will be launched from September 1 to November 30, flight number HL8087, and the current routes are Seoul Gimpo – Jeju, Busan – Seoul.
On September 4, Park Ji-min released an aerial return map of the aircraft.
On September 2, the relevant support appeared on the South Korean TMI NEWS variety show.
And the plane support is only part of this birthday support. Park Jimin Bar posted that the New York Times and The Times on Park Jimin's birthday on October 13 this year will simultaneously publish Park Jimin advertisements, of which the New York Times is a full-page color advertisement.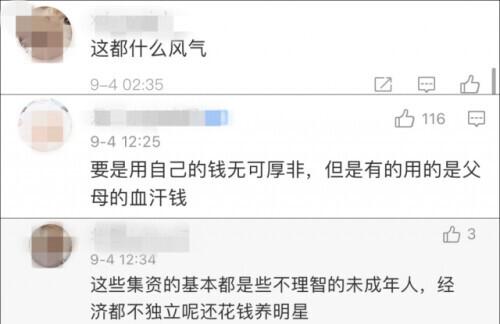 Park said that in order to achieve the launch, they paid "unimaginably high advertising fees", and the preparation took half a year, during which there was a lot of email communication.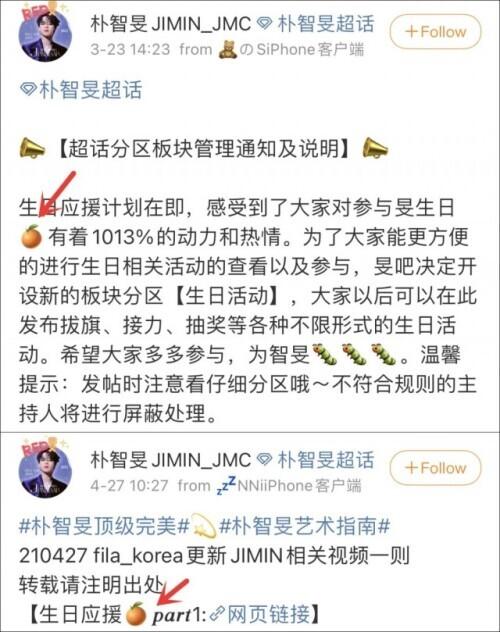 Park Jimin posted a preview of the New York Times commercial
In response to fans' demand for buying these two newspapers, Park Jimin Bar will also carry out "daigou" work. Where does the money come from to be able to prepare for a birthday event of this scale? The answer is fan funding.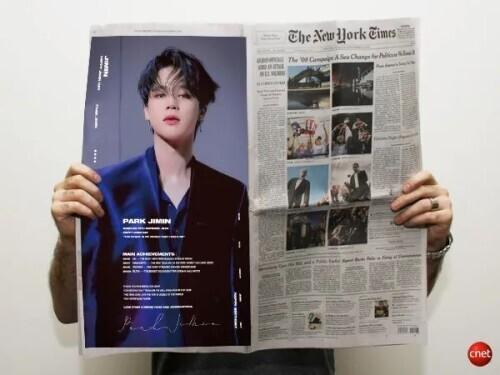 As early as late March this year, Park Jimin Bar began to preview birthday fundraising. Since April, Park Jimin Bar has posted fundraising links on several Weibo posts using the symbol "fundraising").
According to the statistics of Park Jimin Bar, on the first day of the first batch of fundraising on Park Jimin's birthday in 2021, the first day of fundraising exceeded 1 million yuan in 3 minutes, the "number of heads" exceeded 10,000 in 46 minutes, the amount of funds raised reached 2.15 million, and the amount in the first hour reached 2302579 yuan, creating a "new record for the first hour of fundraising on the birthday of the Korean circle".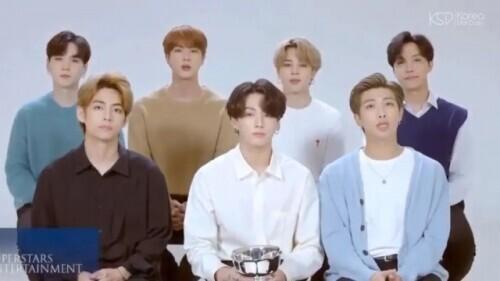 In this regard, some netizens expressed their incomprehension, believing that some fans who participated in fundraising may not be financially independent, and this culture should not be promoted.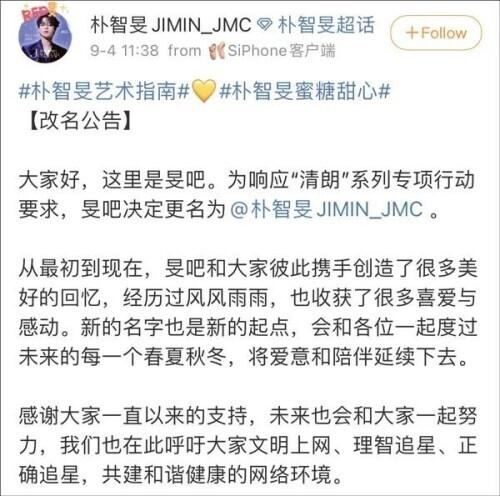 Last year, BTS's remarks related to the Korean War caused dissatisfaction among Chinese netizens, and then logistics companies such as Yunda, Yuantong, and Zhongtong refused to carry BTS-related items. In this regard, Foreign Ministry spokesman Zhao Lijian once said that he had noted the relevant reports and the reaction of Chinese netizens to this matter, taking history as a lesson and facing the future, cherishing peace and promoting friendship should be our common pursuit and worthy of our joint efforts.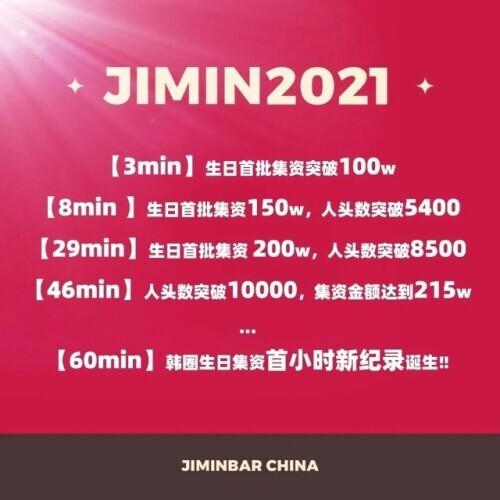 BTS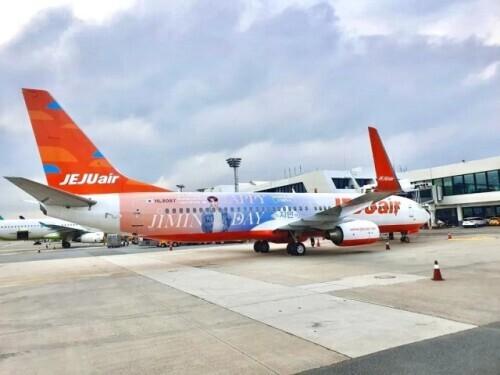 Fan fundraising has always been controversial, and the phenomenon of underage fans being induced to participate in fundraising has also occurred frequently, in order to avoid risks, rice circles began to replace "fundraising" with "orange", orange symbol, and pinyin acronym "JZ".
Nowadays, rectifying the chaos of fund-raising is the focus of governance in the cultural and entertainment sector. On June 15, the Cyberspace Administration of China announced a nationwide launch of the "Qinglang· The special operation of 'rectifying chaos' in the rice circle will focus on cracking down on behaviors such as inducing minors to respond to fundraising, high consumption, and voting on lists, and will close and dissolve a number of accounts and groups that have a bad impact such as inducing fundraising, rumor-mongering attacks, and invasion of privacy.
In response to the "Cheonglang" series of special actions, Park Jimin Bar also announced that the Weibo name will be changed to "Park Jimin JIMIN_JMC".
In response to problems in the cultural and entertainment fields such as traffic first, "rice circle" chaos, and illegal and immoral problems, the Central Propaganda Department recently issued the Notice on Carrying out Comprehensive Management of the Cultural and Entertainment Sector, prohibiting minors in the compulsory education stage from participating in idol groups and offline support activities, while strengthening the popularization of law education among young people, and strengthening the warning and education role of negative cases such as "rice circle" fund-raising chaos and bad online loans.
The Central Cyberspace Administration recently issued the Notice on Further Strengthening the Governance of the Chaos of the "Rice Circle", in order to further strengthen the governance, tighten and consolidate the main responsibility of the website platform, effectively break through key and difficult problems, continuously consolidate and expand the results of the special action, and strike hard to solve the problem of the "Rice Circle" chaos, ten measures were proposed, including canceling the list of star artists, optimizing and adjusting the ranking rules, and strictly managing star brokerage companies.
On September 2, the State Administration of Radio, Film and Television issued a notice on its official website on Further Strengthening the Management of Literary and Art Programs and Their Personnel, requiring radio and television institutions and online audiovisual platforms not to broadcast idol cultivation programs, and not broadcast variety entertainment and reality shows in which celebrities' children participate. Talent shows should strictly control the setting of voting links, and must not set up links and channels such as off-site voting, rankings, and assistance, and it is strictly forbidden to guide and encourage fans to spend money to vote in disguised form by materialized means such as shopping and membership membership, and resolutely resist the bad "rice circle" culture.
At present, the special action of relevant parties of the state against the chaos of the "rice circle" has been launched and achieved certain results, and with the action of all relevant parties, the whole society has made concerted efforts to resist the situation of bad "rice circle" culture, and a clear network environment is coming head-on!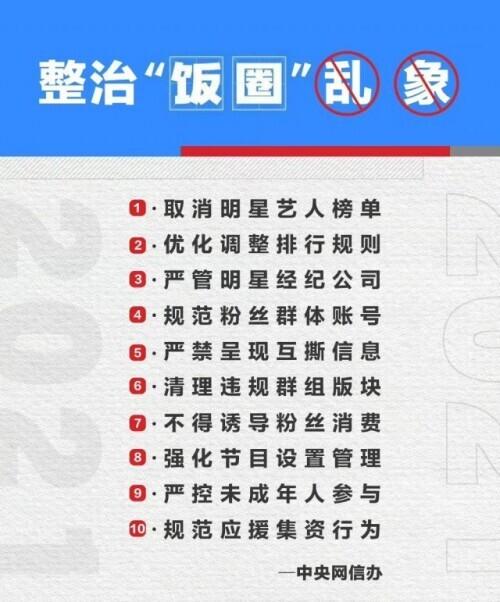 Source: Central Committee of the Communist Youth League