Dear big friends and children, hello everyone! Today, the editor shares "The Emperor's New Clothes" in the second series of "Baby Bedtime Enlightenment Short Stories" series.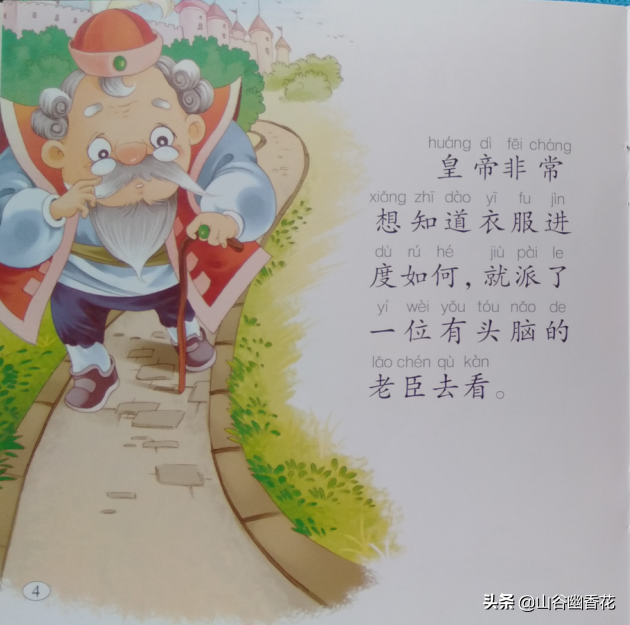 The editor will show the original picture of the picture book in front to facilitate children to read, and in the back, the editor will attach a more complete story, so that the big friends can supplement the acceptance ability of their children, I hope you can gain something after reading!
【The editor has something to say】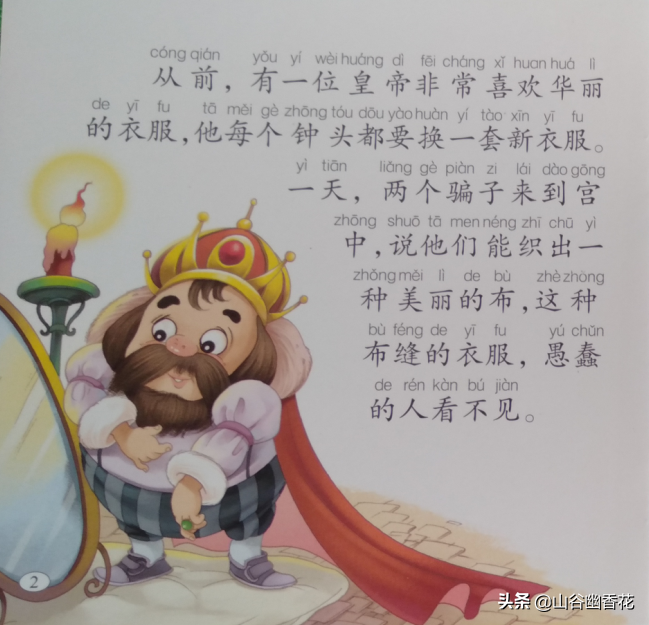 The emperor who stood high, the minister of culture and military affairs of the Manchu Dynasty, how could the managers of these countries be so stupid and deceived so badly by such a simple trap of swindlers? In fact, they are all blamed for their love of vanity too much, so they are led by the nose by scammers. Children's eyes and hearts are the most pure, and they dare to tell the truth, which is really the most precious!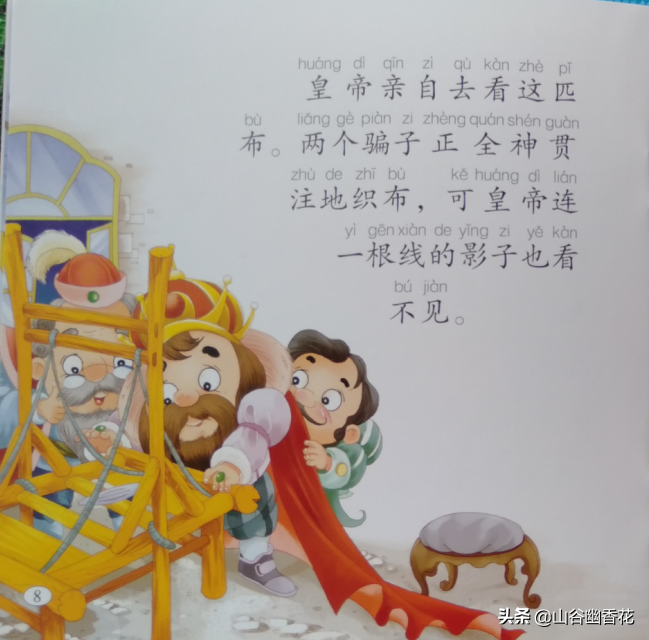 【Original story】
Many years ago there was an emperor who was very fond of wearing nice new clothes. He spends all his money on clothes in order to dress beautifully, he does not care about his army at all, and he does not like to go to the theater. Unless it's to show off his new clothes, he doesn't like to take a carriage to the park. He has to change into a new outfit every hour of the day. People always say when they think of the emperor, "The emperor is in the conference room." But when people mentioned him, they always said, "The emperor is in the dressing room." In the big city where he lives, life is easy and pleasant. Many foreigners arrive every day. One day came two scammers. They say they are weavers. They say they can weave the most beautiful cloth no one can imagine. Not only is the color and pattern of this cloth very good-looking, but the clothes sewn from it also have a strange effect, that is, all incompetent people or stupid people cannot see this clothes.
"That's my favorite outfit!" The emperor thought to himself. "When I wear such clothes, I can see which people in my kingdom are incompetent; I can tell which people are smart and which are fools. Yes, I'm going to tell them to weave this cloth right away!" He paid a lot of cash to the two scammers and told them to start working immediately.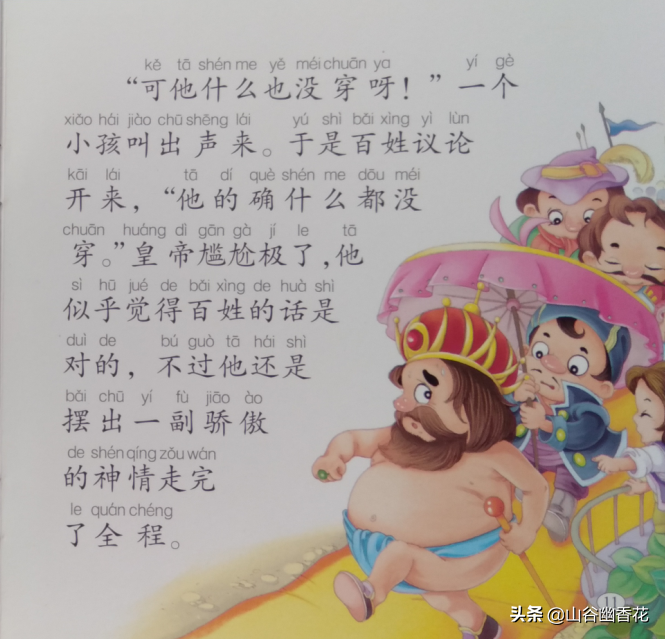 They put out two looms and pretended to be working, but there was nothing on their looms. One after another, they begged the emperor to send them some of the best raw silk and gold. They packed them all into their pockets, but pretended to be busy working on the two empty looms until late at night.
"I'm curious to know how well they weave the cloth," the emperor thought. However, he immediately remembered that stupid or incompetent people could not see this cloth. He did feel a little uncomfortable in his heart. He believed he had no need to be afraid. Nevertheless, he felt that it was better to send someone to see it first. The whole city had heard that this cloth had a strange power, so everyone wanted to take the opportunity to test it out to see how stupid and stupid their neighbors were.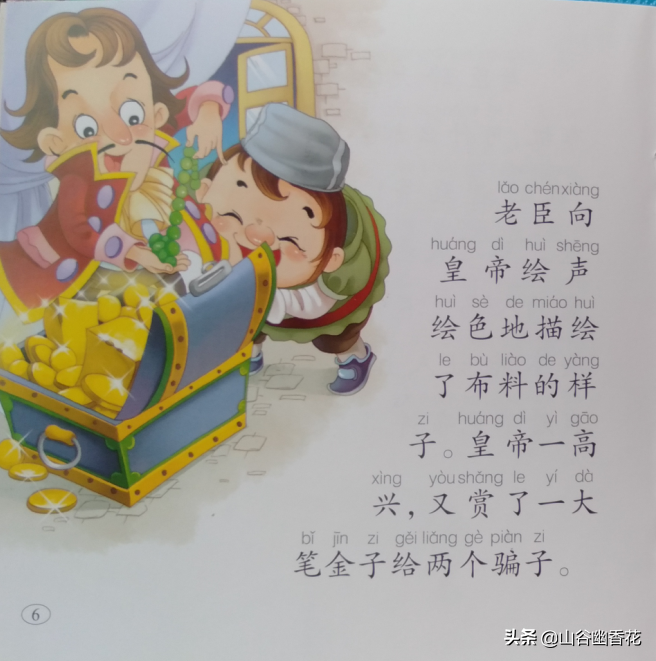 "I'm going to send honest old ministers to the weavers," the emperor thought. "Only he can see what this cloth looks like, because he is a very intelligent man, and no one is as competent as him."
So the kind old minister went to the place where the two crooks worked. They were busy working on empty looms.
"What's going on?" The old minister thought, opening his eyes as wide as the mouth of a bowl.
"I didn't see anything!" But he did not dare to say it.
The two crooks begged him to come closer, and at the same time asked him if the pattern of the cloth was very beautiful and the color was beautiful. They pointed to the two empty looms.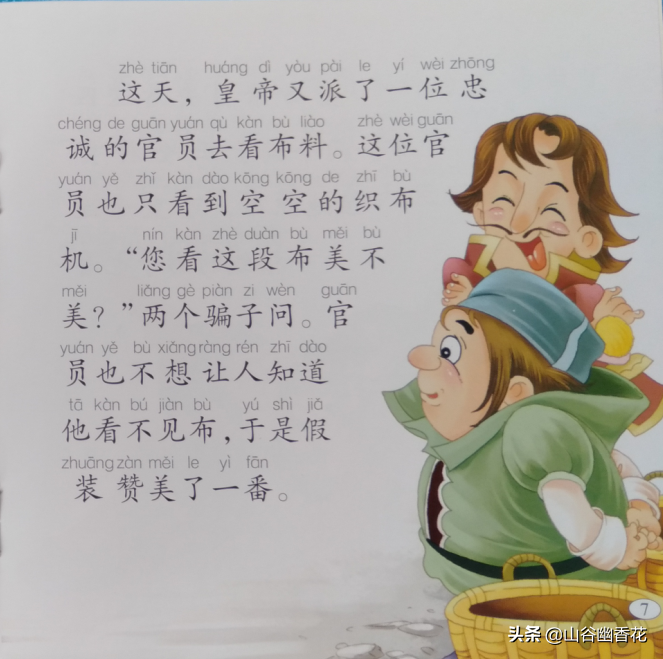 The poor old minister's eyes widened wider, but he still couldn't see anything, because there really was nothing to see.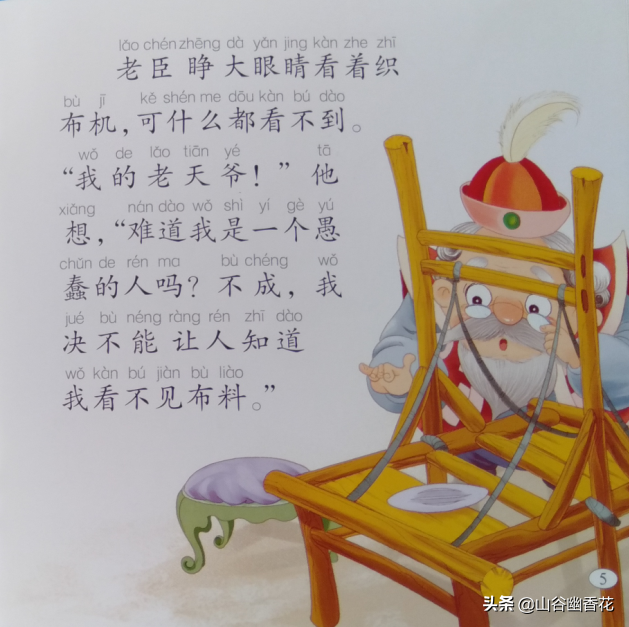 "My God!" He thought. "Am I a stupid person? I never doubted myself. I must not let people know about it. Am I incompetent?– can't do it; I must not let people know that I can't see the fabric. "
"Hey, don't you have any opinions?" A weaver who was weaving cloth said.
"Ah, beautiful! It's wonderful!" The old minister said. He looked carefully with glasses. "What a beautiful pattern! What a beautiful color! Yes, I am going to report to the Emperor that I am very satisfied with this cloth. "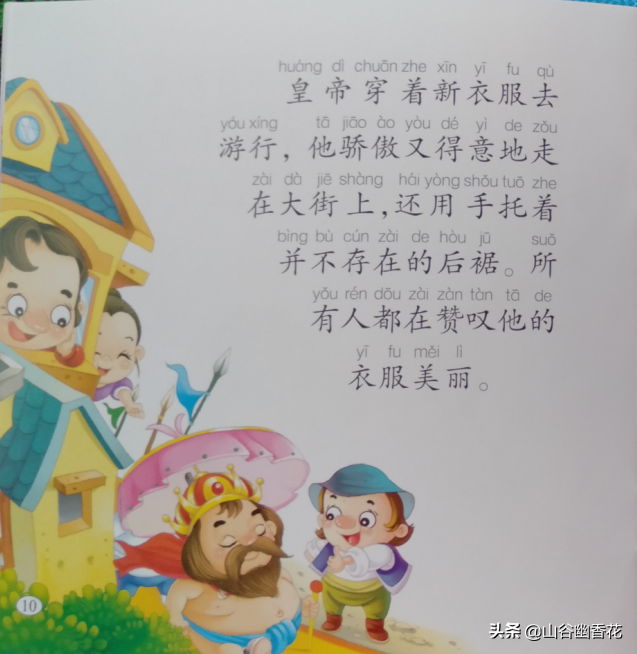 "Well, we're glad to hear you," the two weavers said together. They described these rare colors and patterns, and added some nouns. The old minister listened attentively so that when he returned to the emperor, he could still recite it. In fact, that's exactly what he did.
The two crooks asked for a lot of money, more silk and gold, which they said was for the need to weave cloth. They packed all these things into their fanny bags, and did not put even a single thread on the loom. Still, they continued to work on empty racks.
Soon after, the emperor sent another honest official to see if the cloth could soon be woven. His luck was no better than that of the first minister: he looked and looked, but there was nothing on the two empty looms, and he could not see anything.
"Do you think this cloth is beautiful?" Two scammers asked. They pointed to some beautiful patterns and gave some explanations. In fact, there is no pattern.
"I'm not stupid!" The official thought. "This is probably because I am not worthy of such a good official position as I am now, right? It's funny enough, but I can't let people see it!" So he complimented the cloth that he had not seen at all, and told them that he liked the beautiful colors and ingenious patterns very much. "Yes, that's beautiful," he said back to the emperor.
All the people in the city were talking about this beautiful fabric.
When the cloth was still being woven, the emperor was eager to see it in person. He chose a specially circled group of attachés – including the two honest ministers who had already gone to see them. With that, he went to the place where the two cunning liars lived. The two guys were weaving cloth with full spirit, but the shadow of a thread could not be seen. "Isn't that pretty?" The two honest officials said. "Your Majesty, please see, what a beautiful pattern! What a beautiful color!" They pointed to the empty loom because they thought others would be able to see the fabric.
"What's going on?" The emperor thought to himself. "I didn't see anything! This is ridiculous! Am I a stupid person? Am I not worthy to be an emperor? It was one of the scariest things I've ever seen. "
"Ah, it's beautiful!" The emperor said. "I am twelve points satisfied!"
So he nodded in satisfaction. He pretended to look at the loom very carefully, because he was reluctant to say that he saw nothing. All the attachés who came with him also looked and looked carefully, but they did not see anything more. However, they also followed the emperor's words: "Ah, what a beauty!" They advised the emperor to make clothes out of this novel and beautiful cloth and wear them to attend the upcoming parade in person. "How beautiful! How exquisite! That's great!" Everyone echoed. Everyone has indescribable happiness. The emperor gave each of the crooks a knighthood and a medal that could be hung on a button hole; He also named them "Imperial Weavers".
The next morning, the parade was about to take place. On the night before, the two crooks stayed up all night and lit 16 candles. You can see that they are rushing night workers to finish the emperor's new clothes. They pretended to take the fabric off the loom. They cut in the air for a while with two large scissors, and at the same time sewed a stitch with a needle without threading. Finally, they said in unison: "Look! The emperor arrived personally with his group of noblest knights. The two crooks each raised a hand as if they were holding something. They said, "Look, this is pants, this is a robe!" This is the coat!" Wait a minute. "The dress is as soft as a spider's web: the person wearing it will feel as if there is nothing on it – and that's the beauty of this garment."
"Not bad at all," all the knights said. But they saw nothing, because there was actually nothing.
"Now ask the Emperor to take off his clothes," said the two liars, "and we will change His Majesty's clothes in front of this big mirror."
The emperor stripped off all his clothes. The two crooks pretended to hand him the new clothes they had just sewn into him, one by one. They simmered for a while at his waistline, as if they were tying something: this was the back (note: the back (Slaebet) is a long piece of cloth that drags behind the gown; It was a dress of the European aristocracy in feudal times. )。 The emperor turned in front of the mirror and twisted his waist.
"God, how fitting this dress is! How nice the style is!" Everyone says. "What a beautiful pattern! What a beautiful color! This is really a valuable outfit!"
"Everyone has already prepared the canopy outside, just wait for His Majesty to go out, you can hold up and go to the parade!" The ceremonial officer said.
"Yes, I am already dressed," said the emperor, "does this dress fit my body?" So he turned his body in front of the mirror again, because he wanted everyone to see that he was seriously admiring his beautiful clothes. The courtiers who were about to hold up their coats all touched their hands on the ground, as if they were really picking up their coats. They walked with air in their hands – they didn't dare to let people see that they really didn't see anything.
In this way, the emperor marched under that rich canopy. People standing on the street and in the windows said: "Obedient, the emperor's new clothes are really beautiful!" How beautiful the back hem underneath his blouse is! How well the clothes fit!" No one wants to let people know they can't see something, because that would expose them as incompetent or stupid. Never before had all the emperor's clothes received such universal praise.
"But he didn't wear anything!" A little child finally cried out.
"God, listen to this innocent voice!" Dad said. So everyone whispered what the child said.
"He's not wearing any clothes! One kid said he wasn't wearing any clothes!"
"He's really not wearing any clothes!" In the end, all the common people said.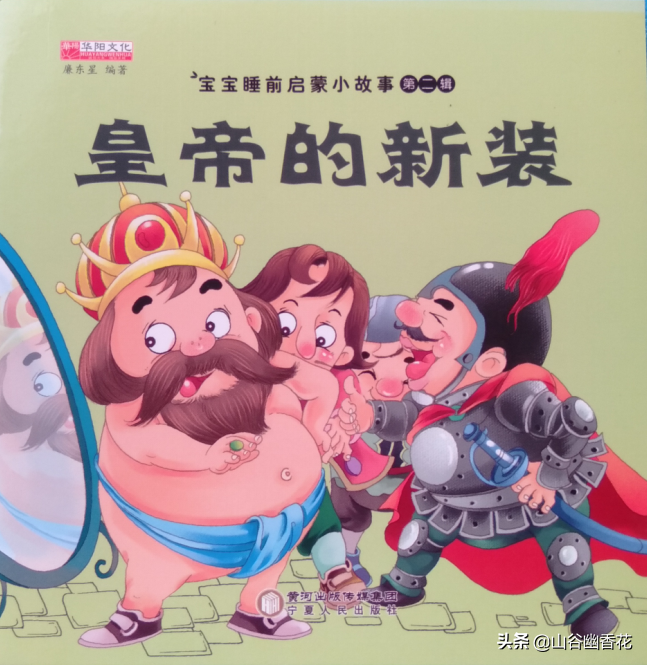 The emperor trembled a little, because he seemed to feel that what the common people said was right. But he thought in his own heart: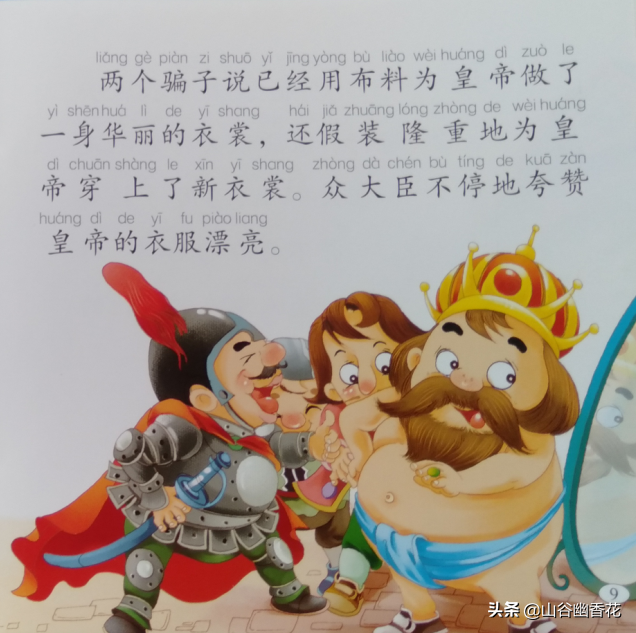 "I have to finish this parade." So he put on an even more proud look, and his courtiers followed him, holding a non-existent back coat in their hands.
(The story originates from the Internet, if there is any infringement, please contact the editor to delete)