Source: China News Network
China News Network Chengdu, August 19 Topic: Chengdu's "low-priced cafeteria" human affection and goodwill: 14 yuan and more than 20 kinds of dishes for the elderly and children are free
Written by Chen Jing He Shaoqing
"My nephew is a ride-hailing driver and often worries about where to eat, and my daughter complains that eating out is too expensive after work. I wanted to open a restaurant where customers could eat well, fill up, and be inexpensive. At noon on the 19th, a "low-priced cafeteria" located in Dongtongshun Street, Qingyang District, Chengdu, ushered in the best time of the day for business. When customers carefully choose between plates of dishes, the hostess Zhao Suying usually warmly reminds them to make another bowl of mung bean soup.
Crispy fish, lotus white back pot meat, carrot stir-fried meat, leek dried beans… In this "low-cost cafeteria", diners can eat more than 20 kinds of meat and vegetarian dishes for only 14 yuan. In the first half of this year, the store also launched preferential activities such as free for the elderly over 85 years old, children under 4 years old, and half price for children under 10 years old.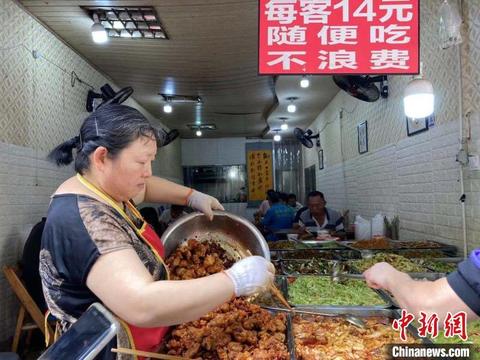 At noon, the cafeteria is packed. CHEN Jing. absorb
Looking at more than 20 tables full of customers inside and outside the store, Zhao Suying proudly said that almost all dishes need to be "renewed" 1 to 2 times, the most popular crispy fish is fried about 60 catties a day, salty and roasted white is steamed for more than 10 plates, and pig, chicken, duck and other poultry meat is purchased more than 100 catties per day.
Because it is not convenient to cook at home alone, Cao Zhicheng, 87 years old this year, spends lunch at this restaurant about four times a week. "The owner here is good, I like the salty white in the store the most, it tastes soft and rotten."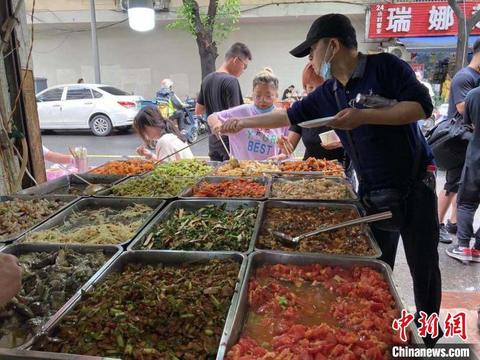 The waiter is serving. Photo by Chen Jing
As soon as Ling Guangming, a taxi driver, walked into the store, he shouted "add some salty and burnt white." For nearly 4 years, he has been dining here almost every day. He believes that not only does it have the characteristics of the traditional "fly restaurant" that is affordable and rich in dishes, but also the quality of the dishes and the sanitary conditions are very good.
Especially conveniently, the opposite street can park for free for 2 hours at noon every day, which solves the problem of eating and parking for many taxi drivers. A few years ago, the experience of being fined for parking for lunch elsewhere is still unforgettable. Looking at the hot business in the store, he sighed: "The owner here is caring, and the business is not completely for profit, so the store is very popular." "
Diners can eat more than 20 kinds of meat and vegetarian dishes for only 14 yuan. Photo by Chen Jing
Lei Yuan, wearing a white sweater, was choosing dishes, but accidentally rubbed the oil. Zhao Suying hurriedly stepped forward with a tissue to help wipe it, and took her to the bathroom to clean up. She just went to work nearby this year, but found that it "tasted good" when recommended by a colleague, and has been coming about twice a week since then. "The hostess's behavior makes me feel very warm."
At present, this cafeteria has a total of 5 employees, all of whom are Zhao Suying's family. They go to the wet market every morning at 6 a.m. to shop, and at about 6:30 a.m. they go to the store to divide up the work of washing, chopping, stir-frying and other preparations. At 10:30, the shop opened to welcome customers, and nearby residents, office workers, taxi drivers, couriers, and delivery workers were all regular customers.
"The store is all helped by my own family, and there is no pressure to pay salaries, so I don't pursue high profits too much, and I want to make it as convenient as possible for customers." The people I met were nice to me, so I was good to others. The "human touch" praised by customers is a natural thing in Zhao Suying's opinion. Some customers once suggested that she increase the price to 16 yuan, but considering the friendship with old customers, she has maintained the price to this day.
Around 14 o'clock, seeing that the dishes in the store were reduced, Zhao Suying gradually lowered the price to 12 yuan and 10 yuan. She began to clean up the street tables and chairs and clean up the garbage on the floor. She was touched to think that customers had said, "Eating here is like going home." "If this place is demolished, I hope to have a shop with better conditions to continue doing business for a few years." Not only to earn more pension money for themselves, but also hope that old customers have a suitable place to eat. (End)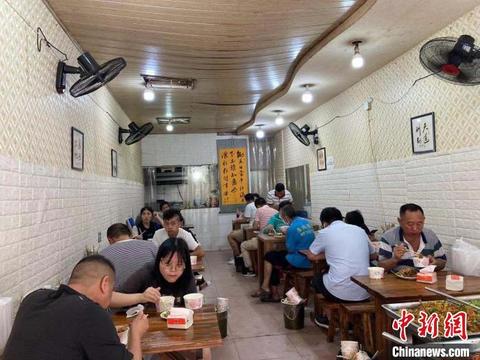 Diners can eat more than 20 kinds of meat and vegetarian dishes for only 14 yuan. Photo by Chen Jing