Wearing pants is a common thing for contemporary people. Pants are comfortable to wear, easy to move, can be warm, can cover up, is a very beautiful and practical human bottom.
But you know what? The various pants we wear now were gradually formed after the Republic of China and influenced by Western dress culture.
In ancient China, although pants originated very early, their historical status has always been very low, and their limelight has always been suppressed by clothes, skirts, deep clothes, robes, and shirts, which is a lowly dress that is difficult to climb the hall of elegance.
01 Pants have a long history
Our ancestors invented the trouser very early, and archaeological data show that
The history of trousers in our country has lasted for at least four or five thousand years.
The Shijiahe cultural site in Tianmen City, Hubei Province, has unearthed a large variety of exquisite jade objects, including a jade god man, whose waist stripes are likely to be an early type of underwear, indicating that in the Neolithic period, people may have begun to wear pants to cover their shame.
Neolithic jade god people unearthed at the Shijiahe cultural site
Pants, written in ancient Chinese, hakama and 绔. According to historical records, around the time of Dayu, there was already a hakama. "Gezhi Kagamihara" quotes "Monohara": "Yu Zuo Hakama." According to the "Shi Na": "Hakama, cross." The two strands are also crossed. It can be seen that the origin of the word "hakama" has a certain relationship with the wearing posture "straddling", emphasizing the separation of the legs.
Historically, there are two forms of hakama.
One is the shin
, is the two trouser tubes put on the calf, without the waist and crotch, tied with a belt around the waist, mainly to keep warm, and wear clothes, deep clothes, etc. to cover the entire lower body. After the Song Dynasty, the popular knee pants and overpants were the development form of shin clothing.
The other is open pants with a waistband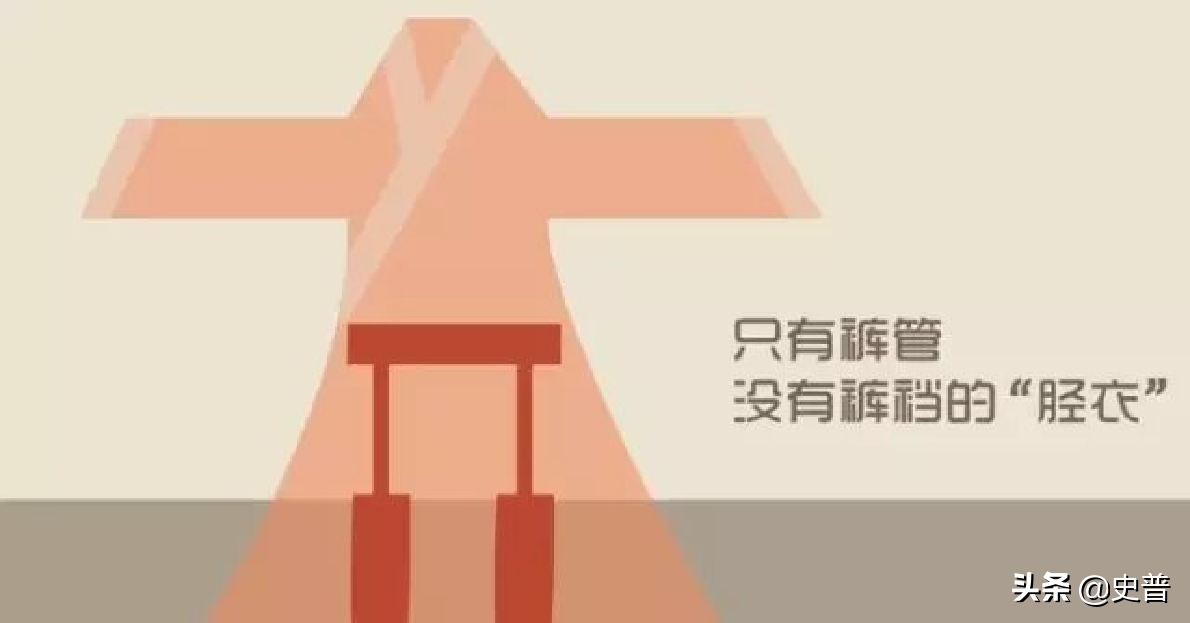 , a cotton hakama unearthed from the Warring States Chu Tomb No. 1 in Mashan, Jiangling, Hubei, with a crotch in the front, no crotch in the back, and an open waist, is the earliest open crotch pants unearthed in the Central Plains of China.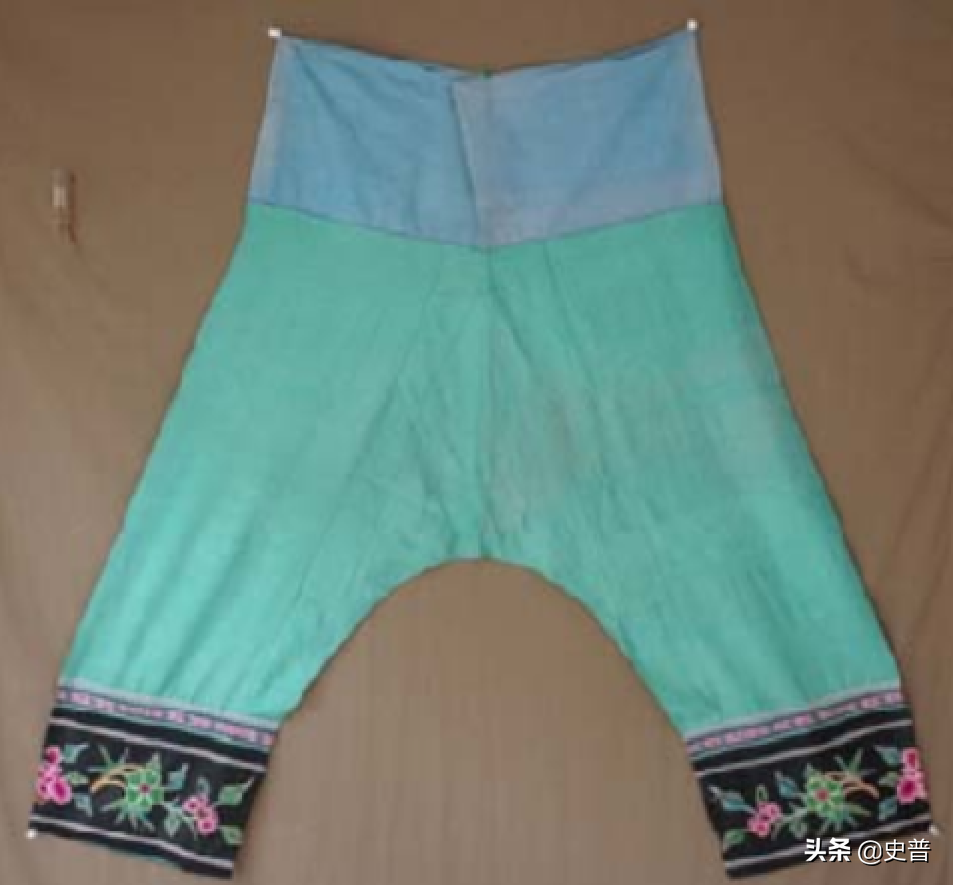 Ancient crotch pants, called crotch.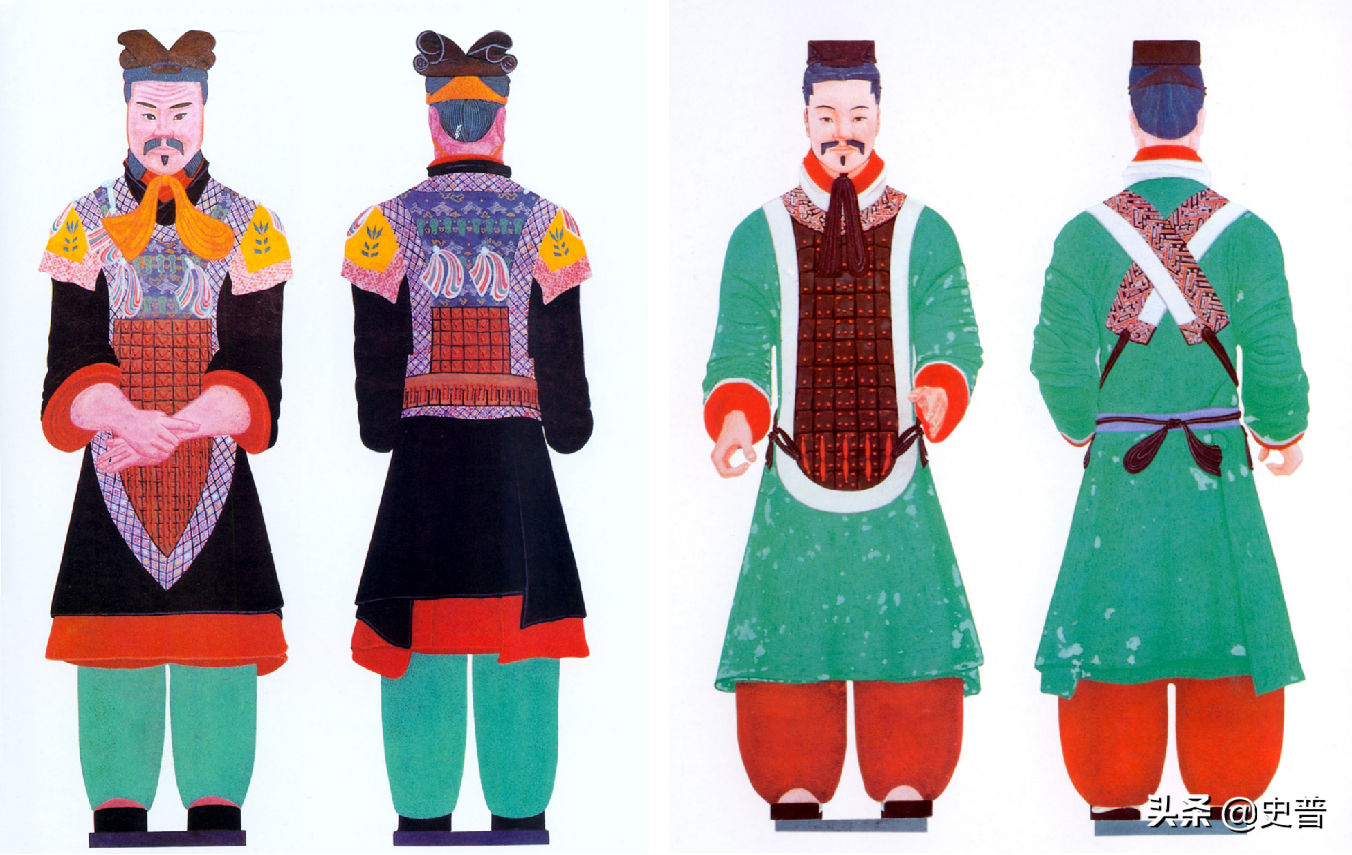 China's crotch pants also have a long history.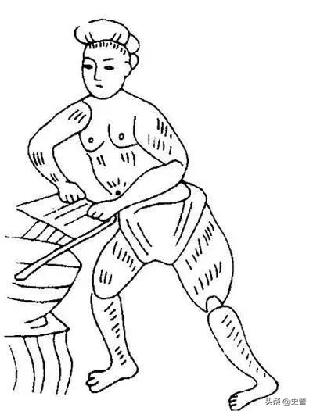 In 2004, archaeologists found pants worn by two dried corpses in the Yanghai Ancient Tomb in Xinjiang, whose shape is basically the same as modern pants, about 3,300 years ago, and may be the earliest crotch pants in China.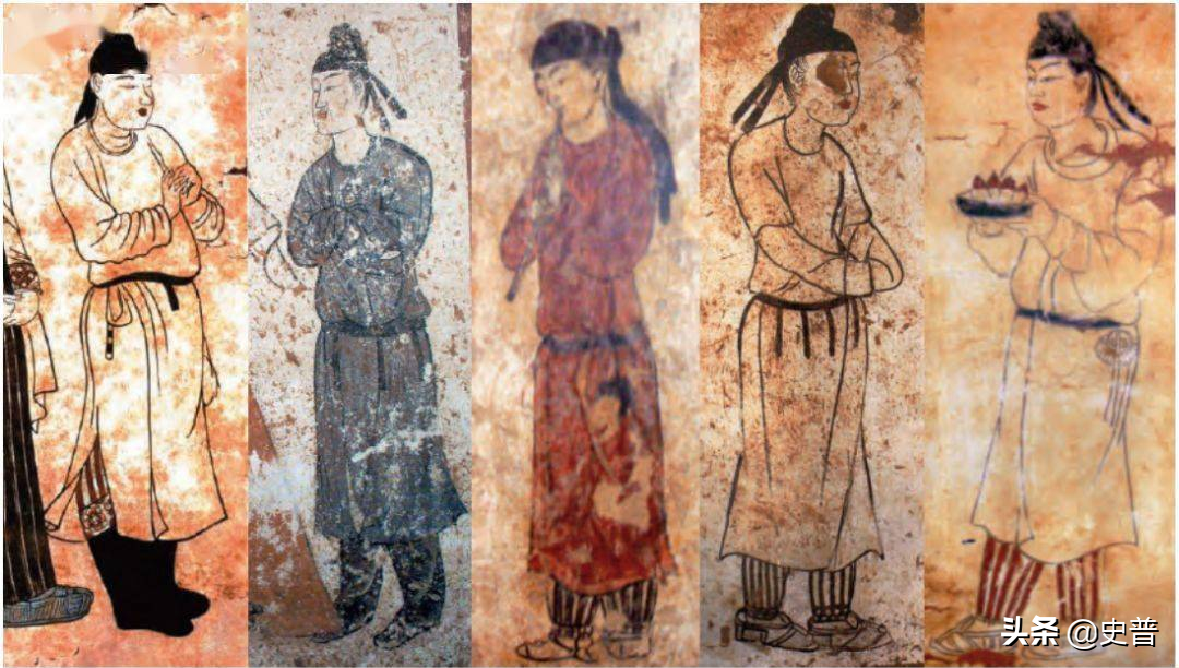 Crotch pants unearthed from the Yanghai Ancient Tomb in Xinjiang

The calf nose that was popular in the Han and Wei dynasties, wide at the top and narrow at the bottom, with holes at both ends,
Shaped like a cow's nose,
It was a very short crotch pants, similar to today's briefs.
Shandong Yinan Eastern Han Portrait Stone Tomb Line Drawing
The hakama pleats of the Wei and Jin dynasties were a kind of clothing with a top and a lower hakama and no cover outside the hakama, and the lower hakama here also belongs to the crotch pants. Under the influence of the Southern Dynasty's broad clothes and boding customs, the hakama pleats of the Northern Dynasty also show a broad appearance. For example, there is a large-mouth hakama, also called wide-mouth hakama, which is very similar to today's flared pants. There is also a type of hakama, tied with a damask ribbon at the knee of the hakama tube to facilitate movement, similar to the later leggings. Soldiers put on hakama, running and riding are not a problem.
A Northern Wei faience figure wearing a large hakama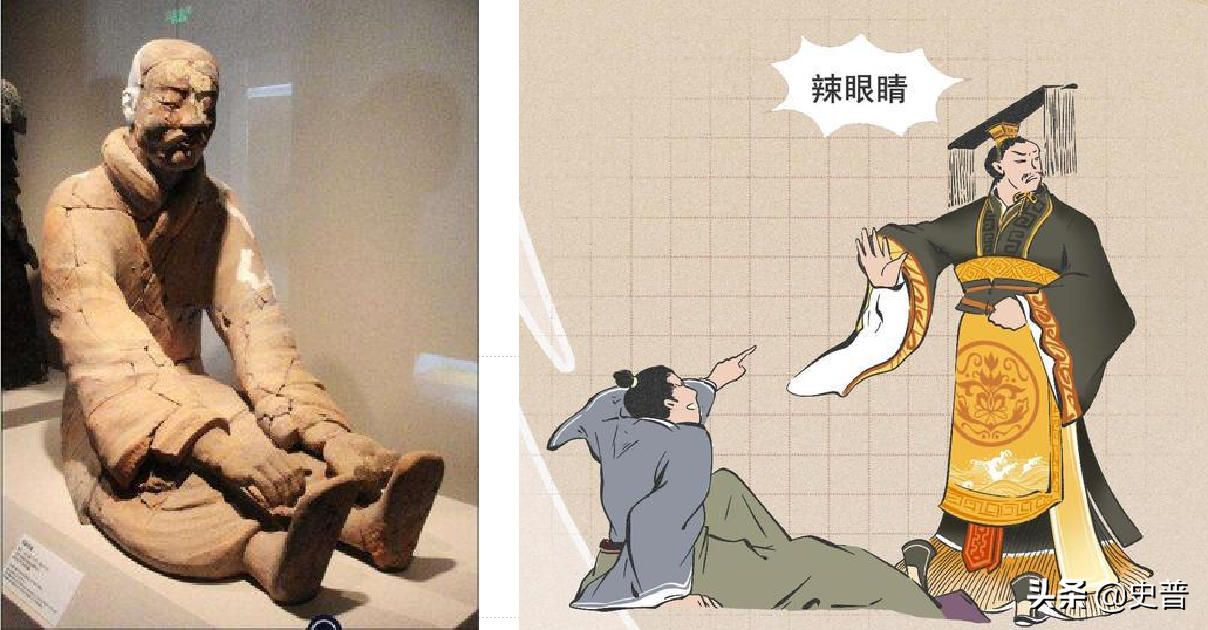 A Western Wei painted military attaché terracotta figure wearing a hakama
Tang Dynasty
After the Song Dynasty, with the popularization of tall furniture such as chairs and stools, the ancients began to change from "sitting on the floor" to "sitting with hanging feet". The change in sitting posture has led to new changes in people's bottoms, not only wearing various pants inside the robe and skirt, but also adding open "knee pants" to the crotch pants worn closely. There are 24 pieces of various pants unearthed from the tomb of Huangsheng of the Southern Song Dynasty in Fuzhou, including 15 open pants, 8 closed pants, 1 waistless and crotch pants, and the size of open pants is larger than that of closed pants, reflecting that people at that time generally wore open pants in addition to closed crotch pants.
A maid wearing a robe and pants under a mural painting in a Tang tomb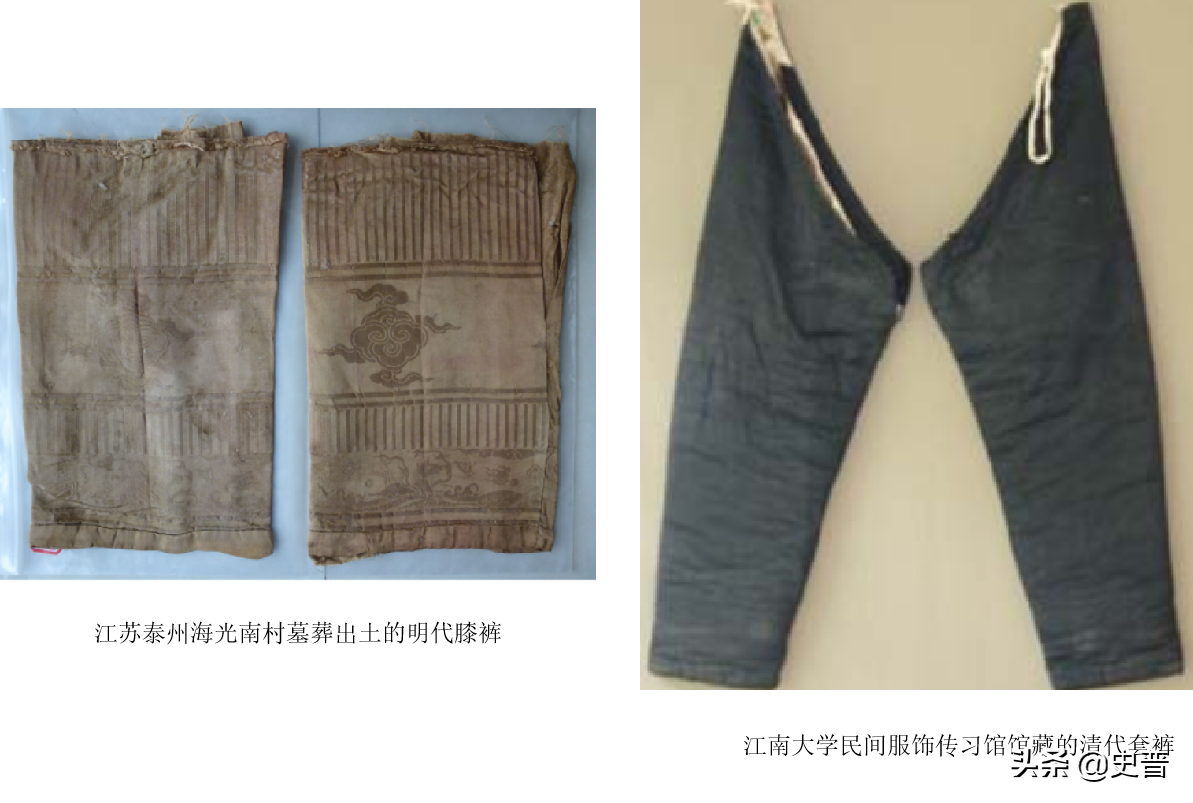 Tang dynasty painted horse taming warriors wearing open pants
Open pants and closed pants unearthed from the tomb of Huangsheng of the Southern Song Dynasty in Fuzhou
During the Ming and Qing dynasties, people's pace of life accelerated day by day, and the way of dressing also changed. The middle and upper classes can usually wear no robes and gowns at home, only shirts and pants. Among the common people, trousers are the main form of clothing.
The Ming and Qing dynasties still continued the shape of the previous generation of knee pants, and in order to keep warm and cold, the Qing dynasty often wore crotch pants similar to the pre-Qin period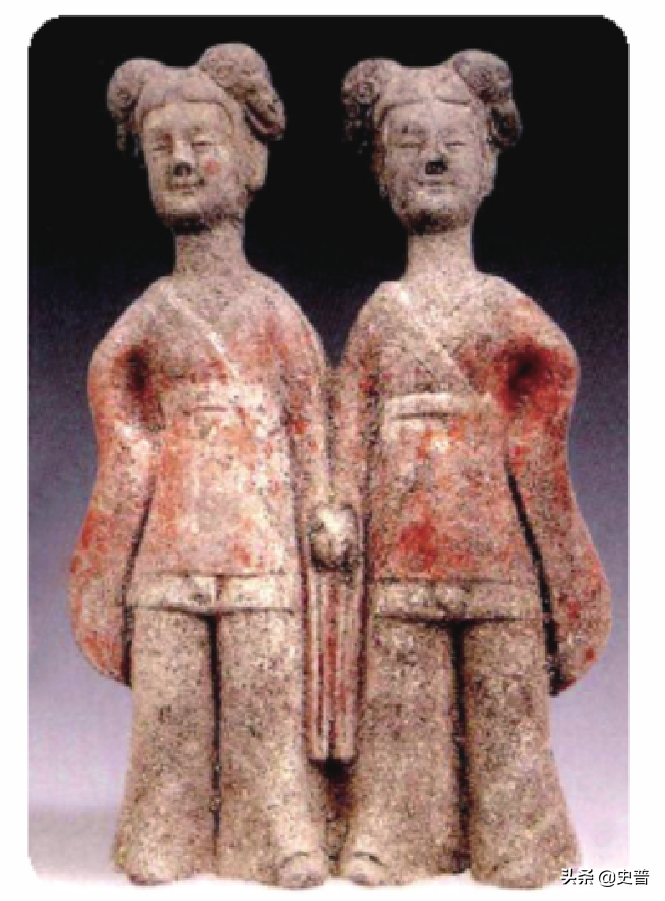 shin-coat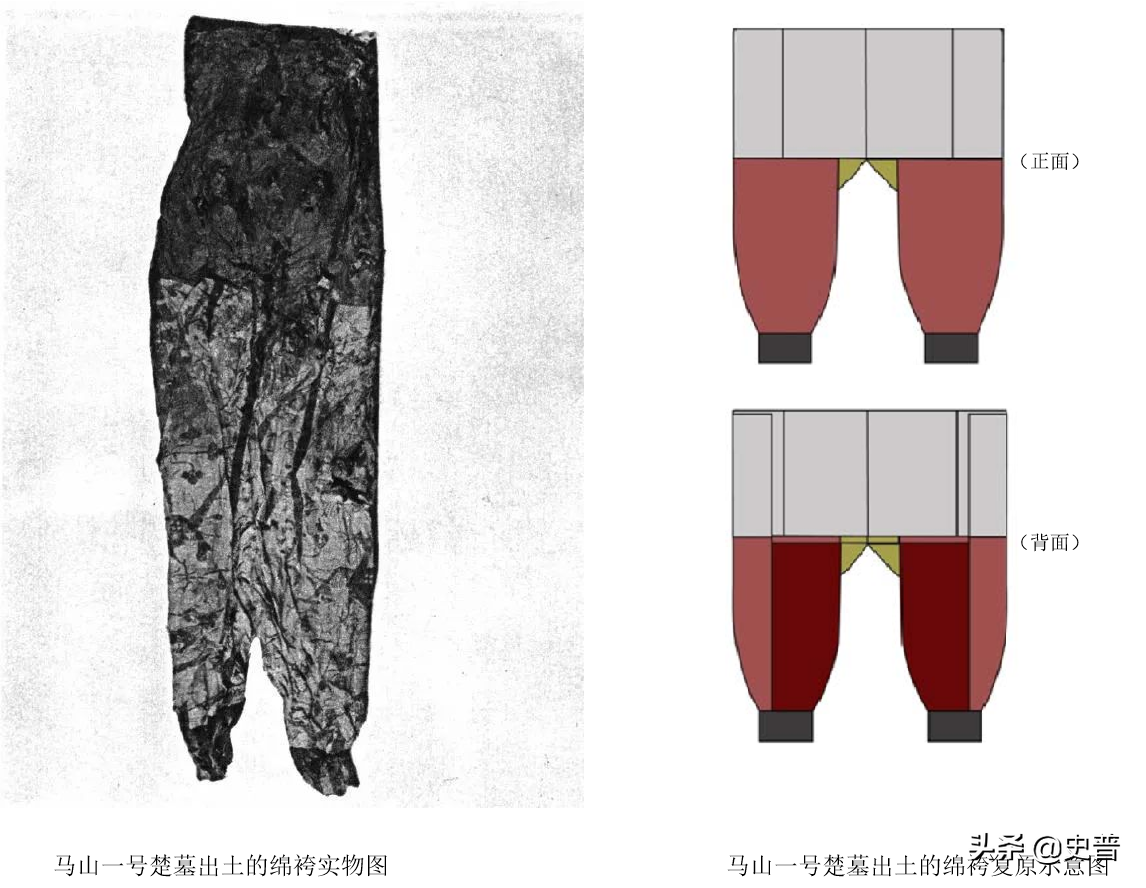 "Pullovers", the legs do not have a crotch, but their length is no longer limited to the knees, generally up to the thighs.
Ming and Qing Dynasty foot binding women, in order to correspond to the small feet wrapped, often wrapped the calf part with knee pants. These knee pants consist of two sleeves, with a tie at the top and trimmed with the edges of the legs.
Photo of a Qing Dynasty woman wearing knee pants wrapped in small feet
One was also popular in the Qing Dynasty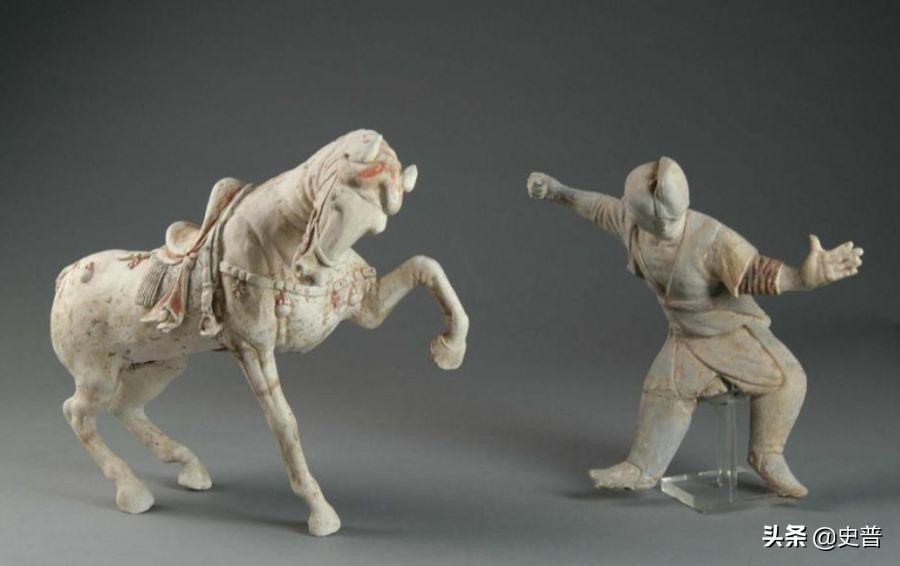 Wide waist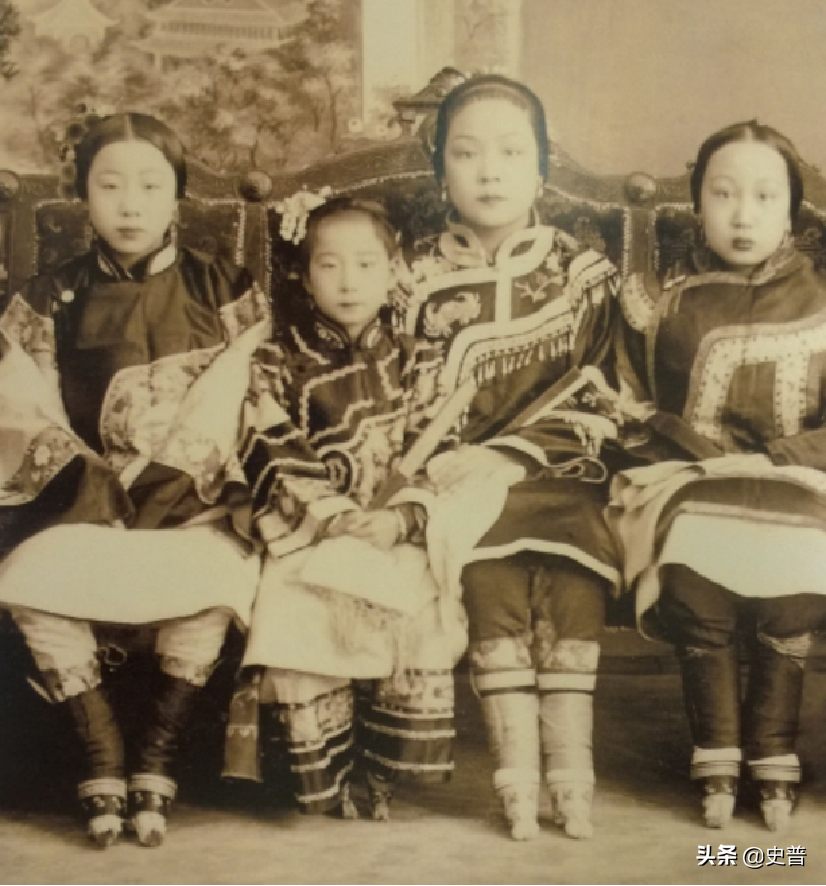 Large crotch pants, its waist does not open, the crotch is not divided into front and back, the waist is very wide, and the folded outer cloth belt can be tightened. Older people may remember that in the sixties and seventies of the last century, there were still many places in our country that wore such large crotch pants.
Qing dynasty wide-waisted large-crotch pants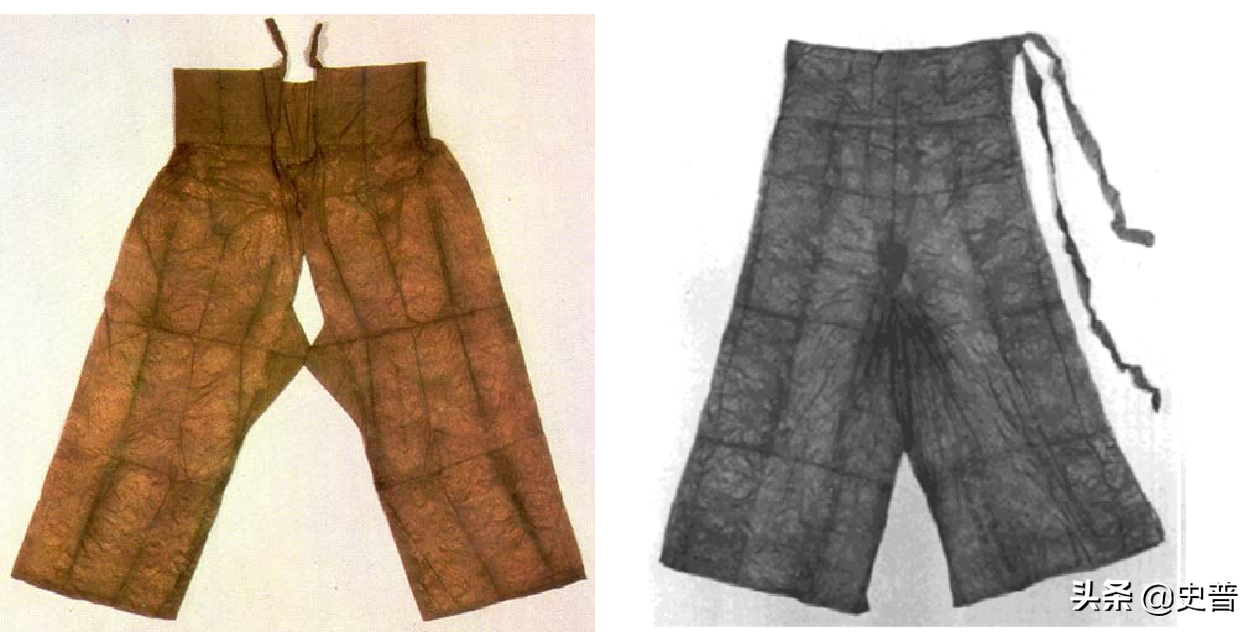 02 The status of pants is very low
From a human anatomy point of view, pants are undoubtedly the most suitable bottoms for the human body.
However, in ancient China, where "tops and bottoms" were still used, people's lower bodies were mainly dressed and skirts evolved from clothing, or deep clothes and robes that integrated the upper and lower parts.
Pants, for a long period of history, have been regarded as things that cannot be put on the table.
1. People with status and status do not disdain to wear pants
As a country of clothing and etiquette, the Chinese nation has well-wrapped and culturally rich clothing and clothing, and there are corresponding dress rules for different ceremonial occasions. Coarse clothing such as trousers, which separates the legs, is the dress of vulgar inferiors and uncivilized barbarians, and people of status and status do not disdain to wear.
In order to prevent the body from accidentally walking away without pants, the ancients established many strict rules for sitting and standing, and regarded these as important etiquette. If you need to kneel on the seat with your knees together when sitting, with your hands flat on your thighs, instead of stretching your legs forward, like a dustpan; When standing, you should arrange your clothes, tie your belts, and add jade silk and other accessories around your waist to press the hem of your clothes; The stride length should not be too large when walking; No matter how hot it is in summer, you can't lift your hem and so on.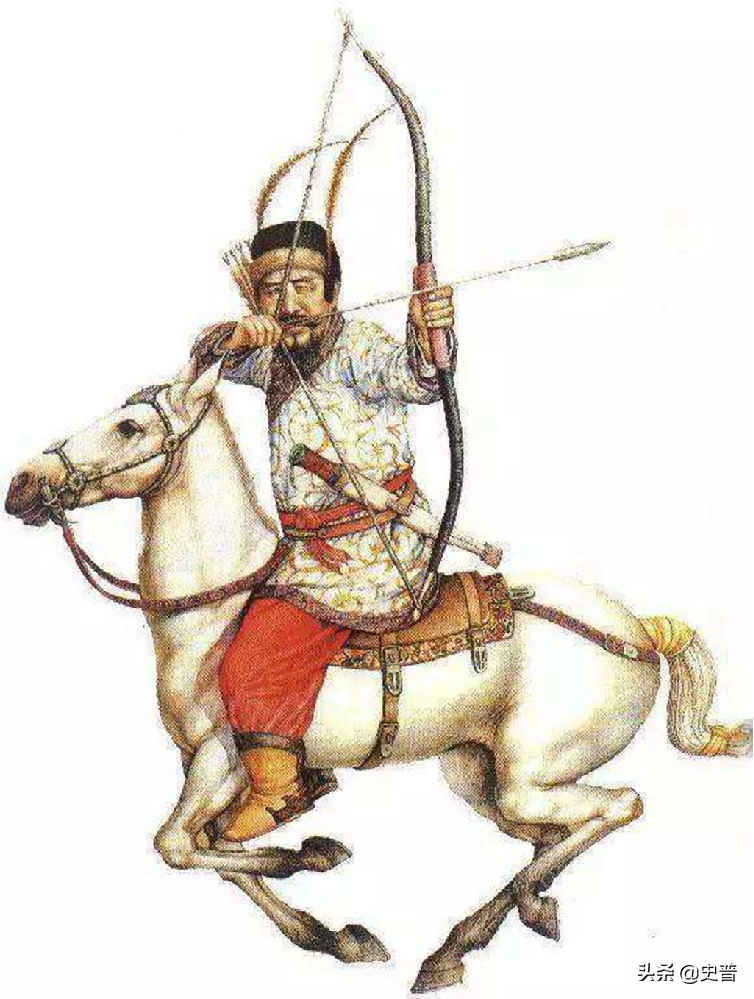 Sit on your knees
2. Ancient pants belong to profanity, which cannot be exposed casually
If you wear pants for warmth, cover them tightly with clothing, clothing, etc. Especially in ceremonial occasions, showing your pants is very impolite, even humiliating.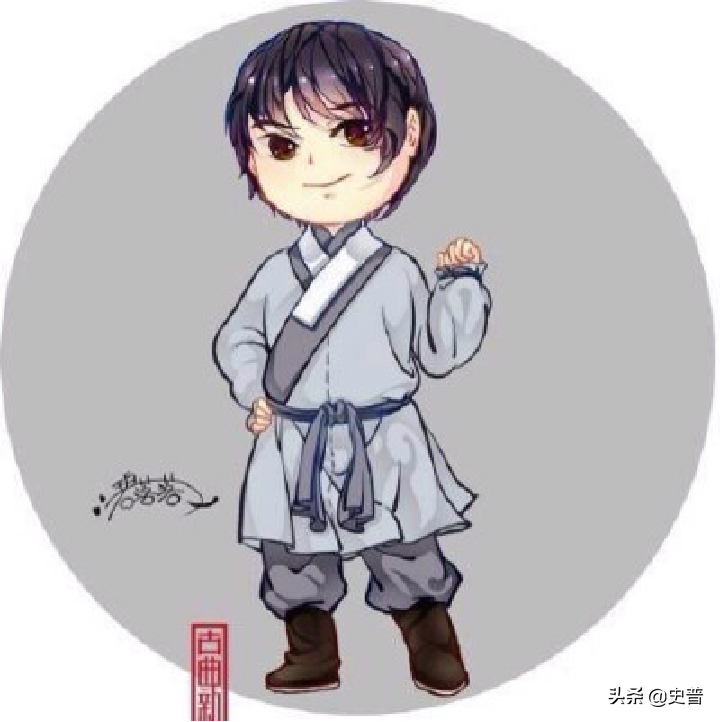 Chun Yuchang of the Eastern Han Dynasty, who was the aunt of Emperor Chengdi of Han, saw that Wang Mang's mother was also his aunt, and did not be humble and courteous, but directly stepped into the carriage in front of the elders, presumably showing his pants, which gave Wang Mang a handle, and as a result, he was removed from his post, sent back to his fief, and finally gave his life.
Everyone is familiar with the story of Jing Ke's assassination of King Qin. Jing Ke, leaning against the pillar after the failed assassination, sat on the ground with his legs spread like a dustpan, laughed and scolded, and was then killed. Mito
This gesture was almost equivalent to the middle finger at the time, and it was an extremely crude insult.
Jing Ke's "scolding", I am afraid that scolding is not as insulting as sitting in front of so many people and exposing his body.
3. Wearing pants is the dress style for low-status farmers, servants, soldiers, and barbarians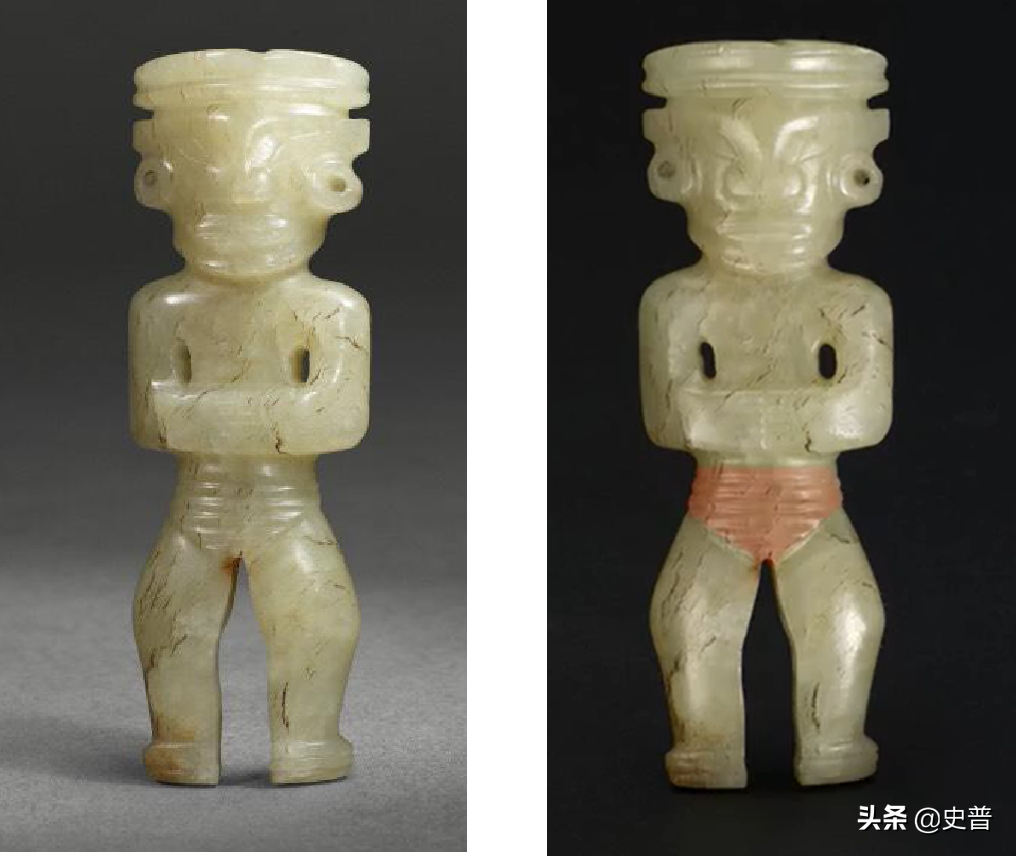 In ancient times, people with low status such as farmers and servants often wore short clothes on the upper body and crotch pants on the lower body, called "caftan brown", also known as "short fight". Such dressers need to work frequently, wearing too many clothes is too cumbersome and affects efficiency, and it is easy to stain clothes, and they do not have the conditions to add clothes over their pants.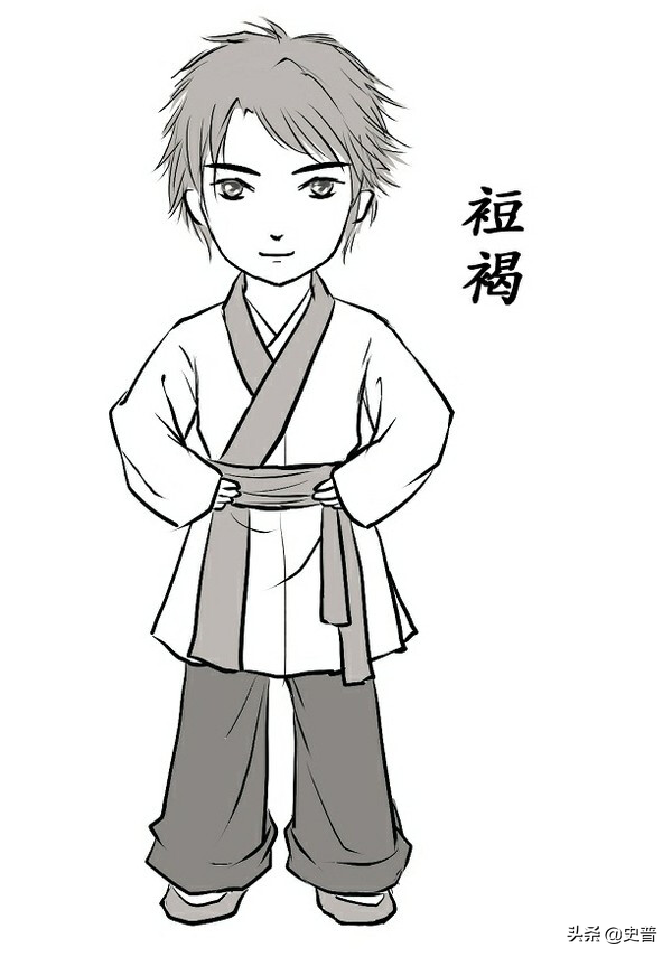 Caftan brown
Crotch pants are also a regular uniform for soldiers, which is to facilitate movement during combat.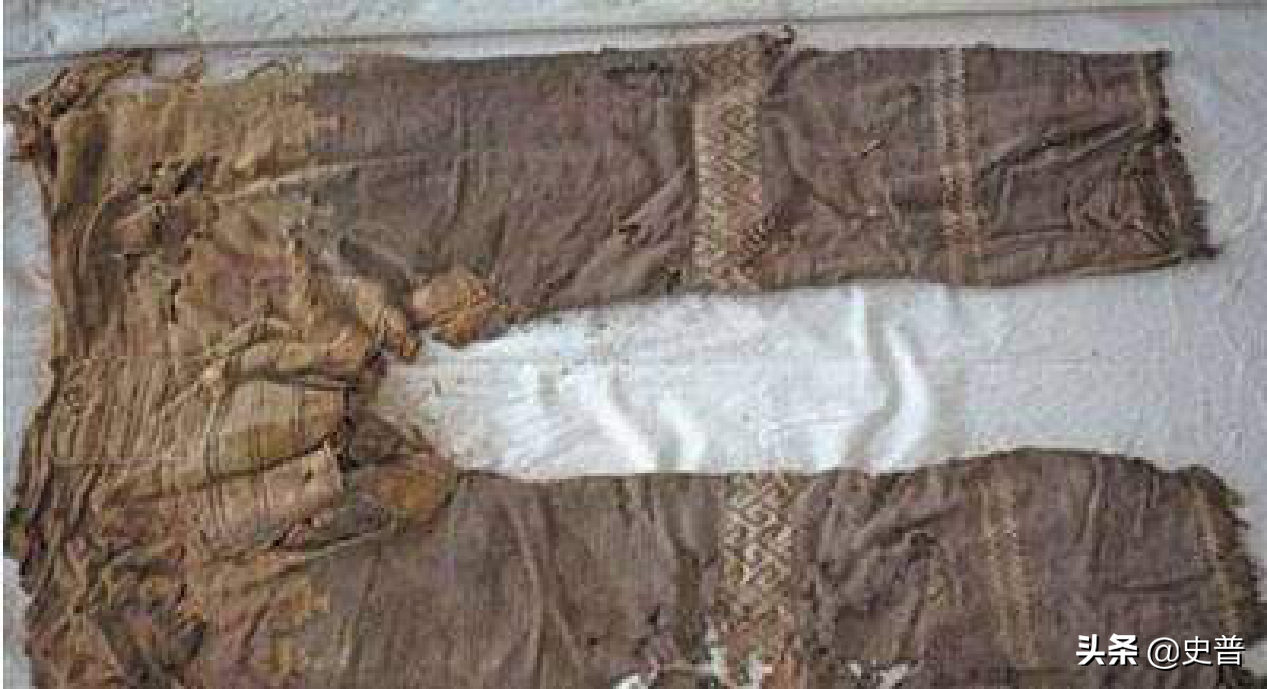 Color restoration of a high-ranking military officer
The nomads of the north needed to ride horses, and they all wore pants.
(To be continued)