Nanjing used a sentence to position itself, "Jiangnan beautiful land, Jinling imperial state". Whether it is the Ten Dynasties or the Six Dynasties, the most eye-catching is Qin Huai. Time is like a river, flowing and never returning. And the fat powder on the surface of the Qinhuai River seems to have been piling up, making the river condensed for hundreds of years, no matter how the world changes, it cannot brush away the fragrance.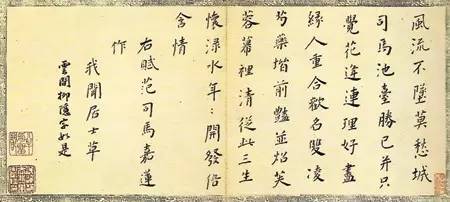 Qin Huai's fame was outside, as if those women in the green building only had the impression of indulgence and debauchery, and then it seemed that there were only eight yans in the green building on both sides of Qin Huai, and the rest had long been lost in the dust. The monsoon of history may be able to blow away the fog, but it has never been able to lift the light veil on their faces. I can only taste their unique elegance and temperament from the calligraphy and paintings and legendary stories of the past.
◆ ◆ ◆ ◆ ◆
Qin Huai's songs are all over the place, and Ba Yan is famous for his autumn color.
Ten miles of Qinhuai, a water separated by two banks of the river,
A side of the Jiangnan Gongyuan world talent out of this place,
One side of the sect, the pearl city, Qin Huai, the eight yan crowns, the four directions.
Qin Huai Bayan has its own characteristics, and among them, Liu Ru is famous for his integrity, so much so that the later scholar Chen Yinke spent ten years writing the 850,000-word magnum opus "Liu Ru is Another Biography" while blind; Dong Xiaowan is the most elegant, and her romantic living habits still seem to amaze people to this day. After being buried in Rugao Yingmei'an, many literati have been mourned by successive generations.
——The content of this article is excerpted from "Late Ming Feng Yue", Nanjing University Press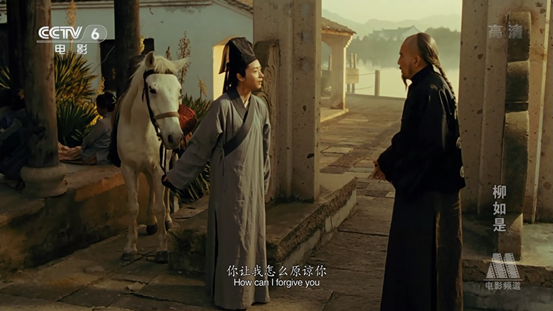 Author: Wang He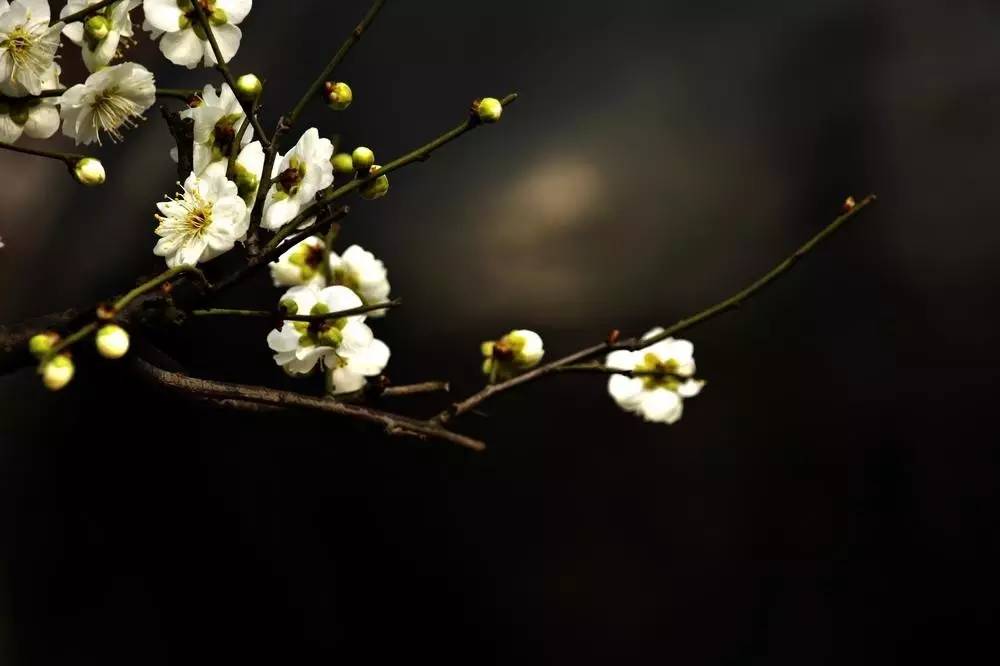 Dong Xiaowan
Dong Xiaowan was born in the "Dong Family Embroidery Village" in Suzhou City, a Suzhou embroidery family, because of the fine work, so the business has been prosperous. Since she was a child, her parents regarded her as a treasure and carefully taught her poetry and painting, needlework and female red. Unexpectedly, when he was 15 years old, his family fell into the middle, and he agreed to the recommendation of others, and came to Nanjing to sell art in a painting shop on the bank of the Qinhuai River and changed his name to Xiaowan.
Dong Xiaowan has outstanding talent, talent and wisdom, and has learned the method of family embroidery since childhood, and is known as the "Needle Divine Comedy Saint" on the Qinhuai River. The recipe tea sutra is not unsophisticated, and it is listed as one of the "Top Ten Famous Chefs in Ancient Times".
Ben is a graceful person
It's dusty
Yu Lanxin's description of Dong Xiaowan in "Banqiao Miscellaneous":
Sex is idle, and when you encounter a distant stream in the forest and a lonely cloud, you can't bear to give up your love. To men and women sitting together, singing and noisy, disgusted and depressed, and also discouraged. Muwumen landscape, migration to Bantang, small construction riverside, bamboo fence thatched huts. Those who pass through their homes hear the sound of songs and poems or drums.
Leisurely and distant, a bit like a hermit who travels in the mountains, there is quite a gap with her identity. Supposedly, her temperament is very out of place. However, Dong Xiaowan's rare quiet and distant, which is not only unique in addition to the richness and richness of all the beauties, but also happens to fit with the aesthetics of some scribes who like the demeanor under the forest and advocate light and elegant and quiet. Therefore, she has different styles from Gu Mei, Li Xiangjun, Li Shiniang and other famous concubines, but they are all famous.
Dong Xiaowan was familiar with the poems of Qu Yuan, Du Fu, Li Shangyin, Wang Jian, and Mrs. Hua Rui, and became addicted to books, and when the country was fleeing, he would rather discard the dressing box and bring his cherished paintings and calligraphy. If it weren't for the chaotic times and premature death, in a family with a poetry heirloom and a rich collection of books, Dong Xiaowan would have enjoyed the days of sitting on poetry books very much.
Will be trivial everyday
Live romance
Dong Xiaowan is not only outstanding in poetry and song, but also has a unique study of recipes.
Just looking at the recipes she has written is eye-catching. For example, clams are the freshest in the world, but the side dishes used when stir-frying are the best ones with tender leeks after rain. White shrimp: Although it belongs to the South Yellow Sea fresh, it is necessary to pick the production before the Qingming Festival, and drizzle it with Chen Yuan wine after the raw boil to "penetrate the fishy fragrance", and it also has a slight crispiness of yellow shrimp.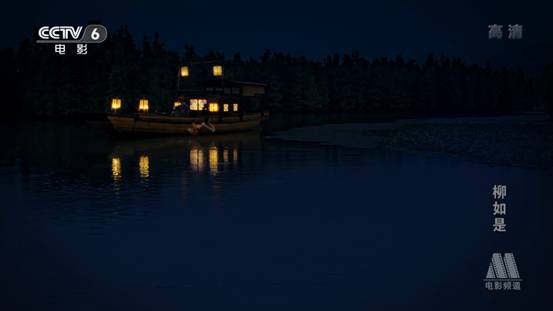 Tiger skin meat: choose fat and lean and even pork with ribs with skin, scrape and clean it, cut into rectangular pieces, put it in a pot of boiling water, add green onions and turmeric wine and cook for a while, take out, rinse, and then cook in the pot until eight years old, clean the moisture, smear the skin with sugar while hot, fry in 80% hot peanut oil, take out and cool when the meat skin is frothy, take out and cool when it is red, cut thin slices instead, require each slice to be half a centimeter thick, one and a half inches long, one inch wide, yarded in a large bowl, add rice wine, soy sauce, sugar, green onion, ginger to an appropriate amount, steamed in a basket. Pick out the green onion and ginger, decant the soup and put on a plate. Concentrate the broth, pour over the noodles, and top the plate with stir-fried pea seedlings or green vegetables. Its meat color is like tiger skin, crispy texture, mellow and delicious, commonly known as tiger skin meat, also known as "dong meat".
Tiger skin meat
"Huaiyang Gleaning" records that Shi Kefa, a famous general of the Anti-Qing Dynasty, commented on "Dong Meat" as follows: fat but not greasy, salty and sweet, fragrant wine, tiger skin. This water-painted garden guest was full of praise after tasting it.
As the lace of life, snacks and snacks are also operated by her elegantly, delicately, sweetly and moisturized. Dong Xiaowan often brewed the sugar into manna, added pickled plum blossoms, the flower juice dissolved in the dew, and the import sprayed incense, which felt strange.
Ripe yellowed oranges, reddened oranges, bergamot, citrons, remove the white veins, and the color and fragrance are better. After the guests drink, she can take out dozens of them, floating in the white porcelain, and let others quench their thirst.
Summer came, Dong Xiaowan squeezed peach juice and watermelon juice, filtered out all the seeds and tendons, and carefully refined them by frying them over fine heat and stirring them with sugar. Even if it was hot and hot, Xiaowan must have squeezed these juices by herself, and she personally sat by the fire and quietly watched the fire so as not to let it scorch.
Dong Xiaowan's husband bravely loves tea and fragrance, and loves Zhejiang's slices the most, and also has a lot of famous incense produced at home and abroad, and Dong Xiaowan also has this love. They often taste good tea before the flowers and under the moon; Or sit quietly in the incense pavilion and savor the famous incense. When the plum blossoms were planted all over the family yard, Dong Xiaowan looked at the horizontal slope of the flower branches in advance and chose a plum bottle that matched it; Or prune the branches in advance to make their posture complement the plum bottle. With Hui quality orchid heart, she will "four times grass, flowers and bamboo leaves, all of which are brilliant." Make the cold rhyme fragrant, Hengfei slightly in the Qufang bucket room, until the green and fat red, it is not his reward."
Liu Ru
Liu Ru is his real name Yang Ai, the character is like this, also known as Hedongjun, because he read the Song Dynasty Xin abandoning illness "He Bridegroom": "I see that Qingshan is more charming, and I expect Qingshan to see me as such", so he called himself so.
A still from the movie "Liu Ruyi"
Among the "Qin Huai Eight Yans", Liu Ruyi's literary talent and achievements are the most prominent, the most tortuous and twisty, the most complex and multifaceted personality, and the most violent inner entanglements and conflicts. Contemporaries and later generations of literati could not help but discuss, think, and ridicule her with various moods. Many years after her death, not only her poetry, calligraphy and paintings have been tasted by many people, but even a small frame, a makeup mirror, seal, inkstone, pen holder, etc., can attract countless chants. Her beautiful or ordinary portraits are talked about by the descendants of her wind god.
Outrageous "Liu Rushi"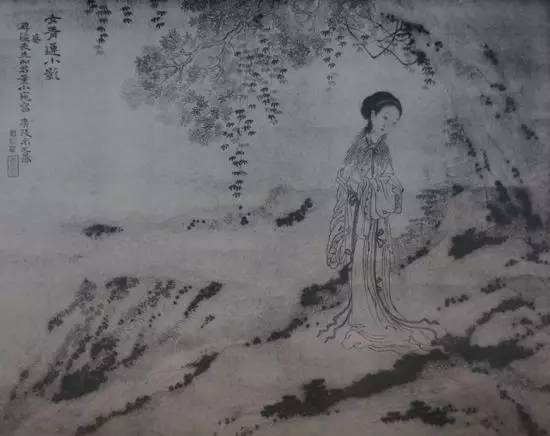 At the age of 23, Liu Ru married 59-year-old Qian Qianyi. At that time, Qian Qianyi's main chamber Chen was still there, and he risked the world's great disapproval to accept a famous prostitute with the etiquette of marrying a wife, which was a big violation of the normal ethics, and the gentry were stunned, feeling that it was contrary to the system of the scholars. For a while, public opinion was in an uproar, and the discussion was boiling, and everyone was so angry that they couldn't serve with their fists to the cheeky groom official who was full of new crown belts, and even the light boy threw bricks and stones at the bow and stern.
Whenever Qian Qianyi wrote a poem, he would immediately present it to Liu Ru for appreciation. Qian Qianyi is a great figure in the literary world, and many juniors want to get his favor, in order to increase his value, and visitors come to visit with poetry collections. There are many visitors, and people are rarely lazy, so he simply asked Liu Ru to come forward to entertain on his behalf. Some of the guests who returned to worship also took a palanquin to the guest's residence to visit back.
Liu Ru was happy to show her face, and when meeting guests, she wore brocade boots and sable hats, gorgeous dresses, or wore Confucian clothes with flowing scarves and large sleeves, and talked generously with various guests. His eloquence and arrogance, his own attitude of a bearded husband, and his strong talking, often make Su Ru Junyan speechless. When encountering a verbal contractor, Liu Ru and a group of big men are in a hurry, flying poetry, and Qian Qianyi has no mustard. He jokingly called her Liu Rushi, and referred to her as "brother": "This high brother, also good remembered room".
Liu Ruyi's calligraphy and paintings
Liu Ru's body was mixed with the double helplessness of Tan Chun and Qingwen. Tanchun lamented his gender: "If I am a man, I can go out, I will leave early and set up a career, and then I have my own reason." "With Tanchun's heart and talent, if she is a man, why should she hold back in Jia House? No matter how spicy and noble Qingwen is, she can't break free from the shackles of the slave. Why is Liu Ru not "only from Qingming and self-exalted, born in the end of the world"? With her talent, if she is a man, she can naturally have a wide sky. Moreover, she has more professional embarrassment than Qingwen's "heart is higher than the sky, and she is inferior".
The higher the heart, the deeper the scars. Gifted and talented, the "congenital deficiency" of gender and identity is always with him. Therefore, Liu Ru likes to wear men's clothing, talks generously, has a bold temperament, and writes many poems with eloquence… In short, she is very "out of line", talking, style, and behaving as close as possible to men – both because of her true colors and inclination, but also because she uses arrogant indulgence as scissors, wanting to poke off those humble imprints, and is it not a signboard-like pretentious posture and high value? The wild and unruly nature coupled with exaggeration and performance has made her gain a lot of pleasure, admiration and ridicule, and white eyes.
Water too cool?
If you don't jump, then I jump
"The Legend of the Emperor of Hedong" and "The Remains of Muzhai" tell that after the Qing army occupied Nanjing, Liu Ru advised Qian Qianyi to martyr the country, "It is appropriate to take the righteous and the whole festival." According to Liu Ruyi's meaning, you are a high-ranking official, a celebrity and a prominent family, you must not do anything to the enemy that is sorry for the ancestors and the country, we should martyr the country with your body. The three ways of death of knife, rope and water are the same, you martyr the country and I martyr. Qian Qianyi thought left and right and said, then let's commit suicide by throwing ourselves into the lake.
He solemnly carried wine with his protégés on Changshu Shanghu Lake and generously told everyone: I will imitate Qu Yuan today to sink into Xiangshui. However, his boat hovered on the surface of the lake until the sun tilted to the west, and then he hesitated to gaze at the scenery of the western mountains, reached out to probe the temperature of the water, and regretted, "The water is too cold, I am afraid that my body and bones will not work." Let's come back another day! "
The water is too cool (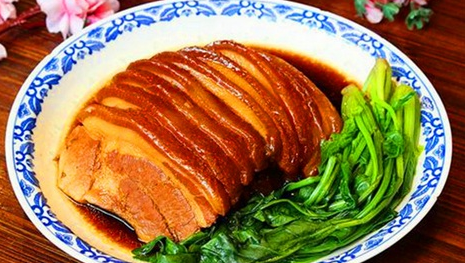 Stills from the movie "Liu Ruyi")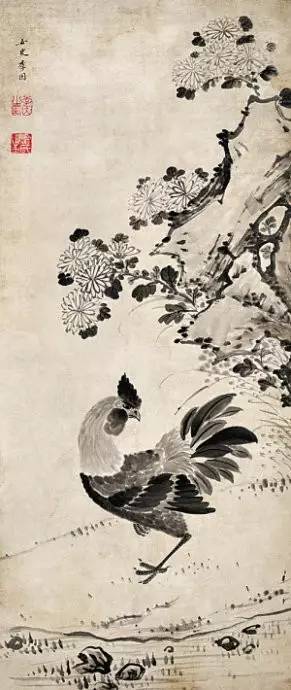 Liu Ru shook her head at him, rolled over and jumped into the lake. Qian Qianyi and everyone hurriedly rescued Liu Ru. In the following days, the famous literary giant Qian Qianyi went out of the city to surrender to the enemy. From then on, Liu Ru gave Qian Qianqianyi, only with contemptuous eyes.
The Southern Ming subordinates all followed the new master to Beijing to take office, but Liu Ru did not follow Qian Qianyi north, she silently stood by the side of the road to see off.
In the movie "Liu Ruyi", there is one of the most shocking shots: Liu Ru is dressed in the Ming Dynasty clothes that Qian Qianyi once wore, facing and examining the Qian Qianyi who shaved his hair and wore Qingren clothes, and couldn't help but roar: "How do you let me forgive you?" "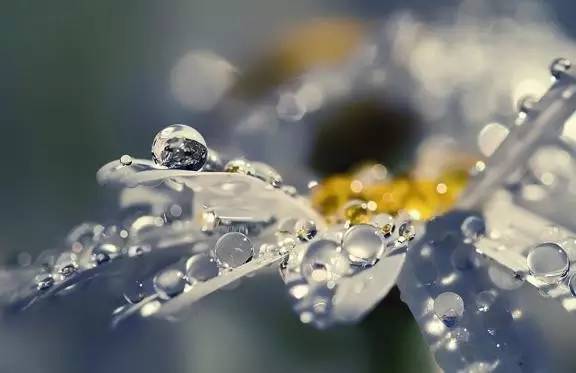 This is the biggest climax in this little story.
Qian Qianyi worked as a courtesy attendant and Hanlin bachelor in the Qing Dynasty for half a year, and was influenced by Liu Ru to return from illness. Later, because of the case, he suffered two lawsuits. Liu Ru bribed him to rescue him from prison during his illness, and encouraged him to contact Zheng Chenggong, Zhang Huangyan, Qu Shiyun, Wei Geng, and others who were still resisting, and sold his dowry and did his best to fund and comfort the anti-Qing rebels.
However, she has always been worried about the past of "the water is too cold". Years later, swimming together in the Shuishui Villa, seeing that the stone stream spring was clear and clear, Qian Qianyi stepped in to wash his feet on a whim, and then hesitated and stopped, Liu Ru laughed unconsciously: This is ditch water, do you think it is the Qinhuai River? Qian Qianyi was ashamed to say it; Gu Gongxie's "Summer Leisure" recorded that Qian Qianyi was unhappy in his later years, and often said indignantly: I want to die! Die! Die! Liu Ruyi scoffed: You did not die in the year of acetate (1645, the Qing army fell to Nanjing), isn't it too late to say that you died?
Sharp and sharp, it was clear that he was in possession, and he had to retreat with a snort.
I have never been angry in this life
After Qian Qianyi died, the bones were not cold, and the Qian family was in trouble. Qian Qianguang and Qian Zeng, who had been favored by Qian Qianyi and were extremely obedient to his people, immediately turned their faces and entered the house with their entourage, or took away the land property from Qian Qianyi's son and son-in-law with great momentum, or committed murder and deception, defrauded the silver money land deed from the steward's office, or coerced Liu Ruyi, claiming that on the order of Qian Chaoding in the clan, he demanded that she immediately hand over 3,000 silver taels – "If there is one, one will live, and if there is none, one will die."
In the face of this group of cunning gangsters, Liu Ru couldn't retreat, failed to argue, and calmly replied: "You guys be quiet for a moment, let me go upstairs to cook." She went upstairs with a pen and paper, and Qian Zeng and Qian Qianguang were still scolding her teen-year-old daughter and son-in-law: "Sweep you two out of the house on the first day of junior high school!"
After waiting for a long time, there was no movement, everyone kicked open the closed door, and Liu Ru had hanged herself, and the day was June 28. Human life was at stake, and Qian Zeng waited for this before he rushed out and fled.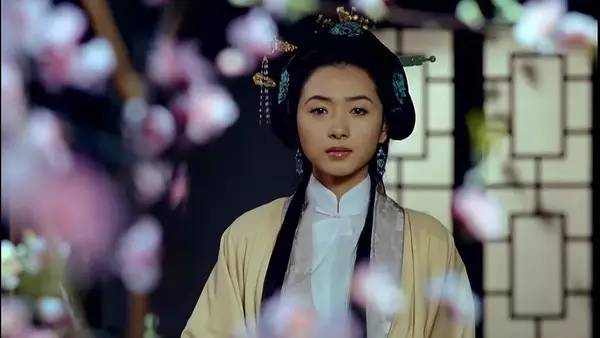 "Never been angry" is the key to her sudden loss of interest. Qian Qianyi's "Sick Bed Elimination Summer Miscellaneous Songs" a year before his death was still saying, "Buy back thousands of golden laughs in the world, and send away all the worries of a hundred years of life", which is regarded as the last tribute to her. She has always been accustomed to being praised, is she not only angry? At this moment, the situation has plummeted, the clan is evil and arrogant, and they are humiliated and helpless! Swallow your anger, or is Liu Ru? How does her lifelong pride fit in?
She used her death to quell an almost unmanageable storm. After Qian Qianyi's death, the Qian family did not break the family, all relying on Liu Ru's fierce and decisive death.
Born magnificently, died wonderfully. After all, Liu Ru bloomed, bloomed, and swaggered as much as possible.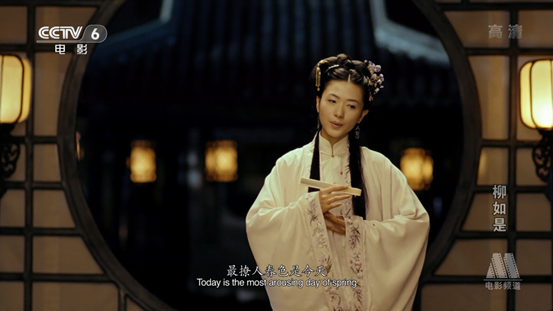 Ba Yan, a title with heavy makeup, is disrespectful in the eyes of the world, full of frivolous banter. And behind all these worldliness, they condense the elegance of an era and the misfortune of the change of the times. In the same environment, individuals choose different paths due to their own personality, ethics, and cognition, and experience different stories, or legends, or compassion, or chastity, but in the end, they all die, leaving behind more embarrassment.
The dances inside the fence are still as wonderful as possible.
Reading gives color to our lives.
If you have a good article recommendation and want our anchor to read it for you, welcome to submit to: shenyeyuedu@qq.com
Editor: Peach
Minerva's owl
Music: Yu Xuanji "Qin Huai Eight Yan"
◆ ◆ ◆ ◆ ◆
A still from the movie "Liu Ruyi"
A still from the movie "Liu Ruyi"