This day is cold, many parents can't wait to put on one thick clothes after another for the baby, three layers inside and three layers outside, but it is missing a small hat. It is understood that the younger the child, the greater the proportion of heat dissipation in the head to the whole body, and when dressing and covering infants, the first thing to pay attention to is the insulation of the head. It seems that if you want to do a good job of keeping your baby warm, you have to start from the "head".
It turns out that the blood vessels of the baby's head are relatively rich, close to the heart, and there is no protection of subcutaneous fat, plus the volume of the baby's head occupies almost half of the body, especially newborns, and its head heat dissipation can even reach 50% of the whole body heat dissipation! Excessive heat dissipation in the head may cause the baby's body temperature to drop significantly, so this is why newborns wear hats.
Parents should consider the age of the baby when buying hats, if it is a newborn baby, the first choice is a cotton hat with a light texture, soft feeling, heat preservation and breathability, while babies over 1 year old can choose thicker hats such as knitted hats. In autumn and winter, the temperature is low, and the hats parents choose for their babies should be mainly warm, such as woolen hats, knitted hats, cotton hats or velvet hats, so as to better protect the baby's ears and head. On the contrary, when the temperature is high in summer, parents should choose a sunhat with better ventilation to avoid sunburn or prickly heat.
A hat that is too tight will be detrimental to the development of the baby's head, and it is more appropriate to enlarge 1-2 cm according to the circumference of the baby's head and tail. As the weather gradually gets colder, the baby should also wear a thicker hat, if the baby stays in the heated room for a long time, the hat should not be too thick, otherwise it is easy to catch a cold after sweating.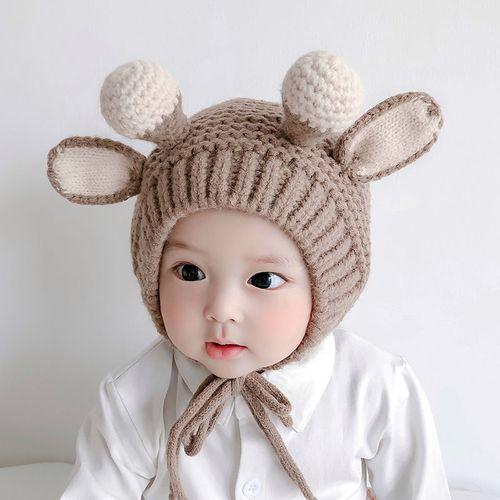 Not all hats are suitable for babies, and overweight, hard hats will not only affect the comfort of babies, but also may compress the baby's brain development. It is best to choose a baby cap without a brim, which can facilitate the mother's embrace and breastfeeding, and when the baby is lying in bed, he can see things around him. In addition, hats with raw edges are not suitable for infants and young children, as they are likely to irritate their delicate skin.
Editor: Cao Yujia