Preface: "Vessel is the father of tea, water is the mother of tea", tea ware and tea like the relationship between water and tea, are indispensable existence, today mainly to introduce you to the characteristics of various materials of tea utensils and what kind of tea utensils to buy is most suitable for themselves, and love tea friends to share together.
Jingdezhen ceramics live broadcast
Porcelain tea sets have slow thermal conductivity, and it is not easy to burn hands when brewing tea; Stable physical properties, no water absorption, not easy to chemically react with tea, can maintain the original taste of tea to the greatest extent; It is mainly suitable for brewing West Lake Longjing, Dongting Biluo Chun, Anxi Tie Guanyin and other light fermentation, heavy aroma tea.
White porcelain tea ware is widely produced, such as Jingdezhen in Jiangxi, Dehua in Fujian, Dayi in Sichuan, Tangshan in Hebei, etc., among which Jingdezhen and Dehua are the most famous.
Celadon tea sets are mainly produced in Sichuan, Zhejiang and other places, starting in the Jin Dynasty.
Black porcelain tea sets are mainly produced in Fujian Jianyao, Jiangxi Jizhou Kiln, Shanxi Yuci Kiln, etc., among which the "Jianzhen" produced by Fujian Jianyao is the most praised; The porcelain is thick and heavy, simple and elegant, and the thermal insulation performance is better.
Clay tea sets generally refer to purple clay tea sets, with simple shape and elegant color; Purple clay is a kind of natural clay, rich in calcium, iron, sodium, zinc and other trace elements needed by the human body, improving human immunity; It is mainly suitable for brewing heavy fermented teas such as Pu'er, Zhengshan Small Seed, and Dahongpao.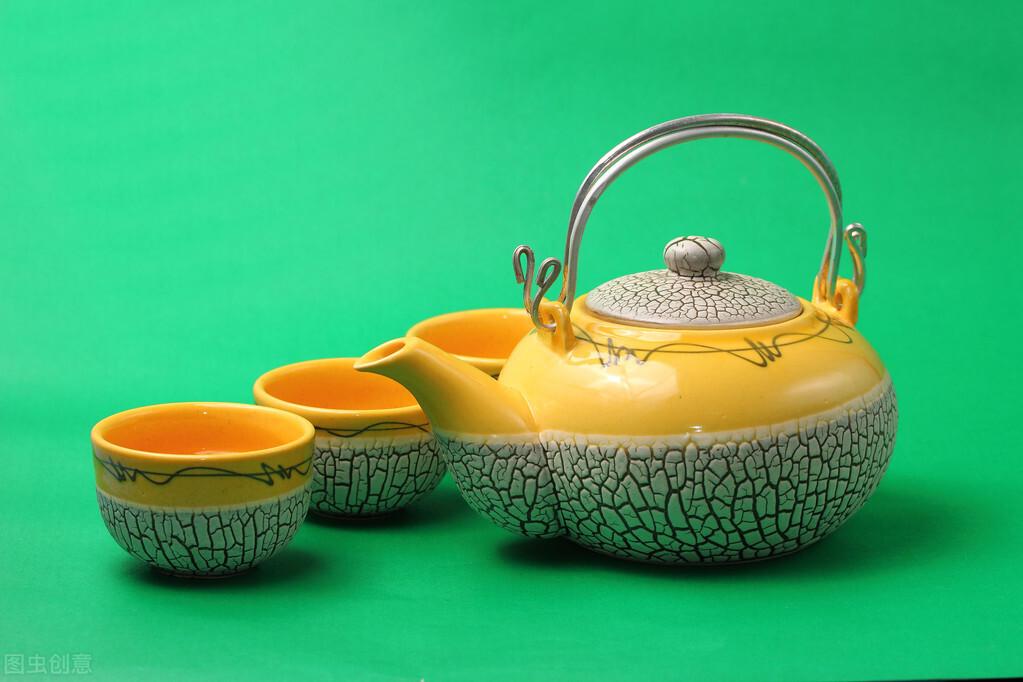 Glass tea set has transparent texture, dazzling appearance, strong plasticity, thousands of forms, and a wide range of uses; It is mainly suitable for brewing Xinyang Maojian, Junshan silver needle, Jin Junmei and other beautiful tea, which has high appreciation value.
Lacquer tea sets are mainly produced in Fuzhou, Fujian, and their appearance is colorful and suitable for placing in bedrooms or leisure rooms; Generally, silver is used as the main material, which has small density, light weight, bright color, extremely stable physical properties, and has the characteristics of high temperature resistance and acid resistance.
Metal tea sets generally use gold, silver, copper, tin and other metals with relatively stable physical properties as body materials; This kind of tea ware has good sealing performance and anti-oxidation, especially tin, which is commonly used as a material for tea storage utensils.
The production process of bamboo and wood tea sets is simple and economical, and it is still loved by the masses today; Taking pure natural bamboo wood as raw materials, the best feature is that it is not polished the original ecology, brewed tea, and can drink a faint bamboo fragrance; The bamboo aroma and tea aroma enrich the taste of the tea soup.