Section 4 The names of the parts of the flute
The flute is also called the bamboo flute, the horizontal flute or "horizontal blow".
Before learning to play, we must first know the flute, understand the flute, memorize the names of each part, please see the picture below.
The name marks of each part of the flute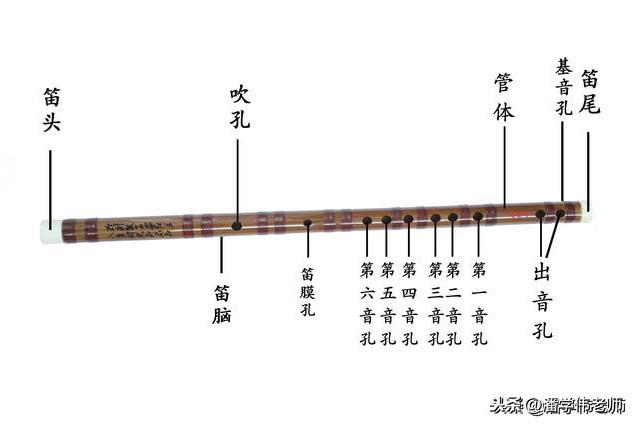 Note: 1. The tube body is called by some people: flute body (from the head of the flute to the tail of the flute).
2. There are generally two sound holes, and the sound hole on the left is also called: front sound hole; The sound hole on the right is also known as: the rear sound hole, their main role is to adjust the pitch of the cylinder and the pitch of other sounds, and the effect on the cylinder is the most obvious.
3. The base sound hole can be tied to a Chinese knot (commonly known as: floating spike) and play a beautifying role. At the same time, it also plays the role of adjusting the pitch, similar to the role of the sound hole.
4. The flute brain is inside the left flute tube of the blowing hole (also known as: mouthpiece), and it can be seen through the blowing hole that whether the workmanship of the flute brain is precise is an important factor in identifying the quality of a flute (please watch the video lesson on the maintenance and selection of the flute, which has detailed instructions).